Prepping for No. 1 Georgia reminded UAB coach Trent Dilfer of getting ready for NFL games
Thu, Sep 21, 2023
NCAAF News (AP)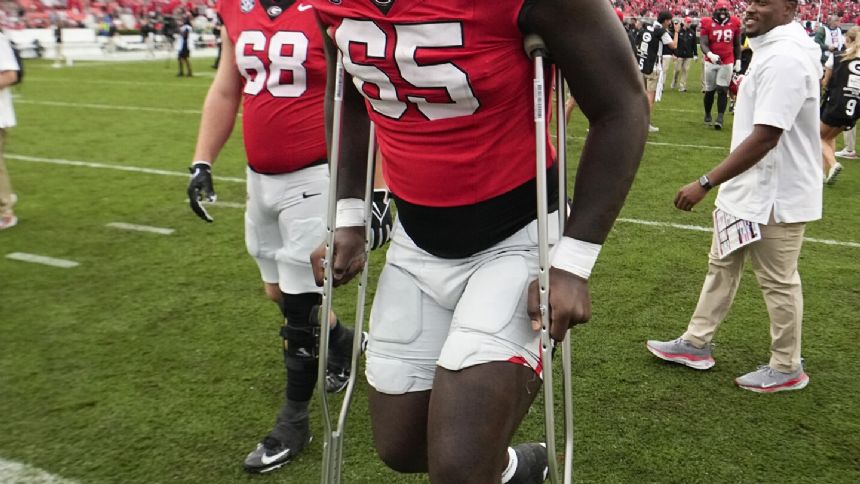 ATHENS, Ga. (AP) - First-year UAB coach Trent Dilfer says watching game film of No. 1 Georgia takes him back to his days as an Super Bowl-winning quarterback.
Dilfer realizes that's not good news for his Blazers against the two-time defending national champion Bulldogs on Saturday night.
Georgia (3-0) is favored by 41 1/2 points against UAB (1-2) as it puts its 20-game winning streak on the line. Dilfer, who led the Baltimore Ravens to a Super Bowl win to cap the 2000 season, says he understands why his Blazers are facing a difficult challenge.
"I'm trying to build this thing on embracing the challenges and doing hard things and I got what I asked for," Dilfer said Monday. "It can't get any harder than this. They've allowed 24 points this year. We allowed 24 points in the first half of one game. We've got our work cut out for us."
Other news
No longer in top 10, Alabama hosts Ole Miss in an SEC West showdown between two ranked foes
QB Travis Travis eager to lead No. 4 Florida State to milestone win in ACC showdown at Clemson
No. 23 Tennessee Volunteers find themselves at a crossroads as UTSA arrives for a nonconference game
Dilfer said his preparation for the visit to Georgia "looks very similar" to his game planning in the NFL.
"It looks very much like getting ready for the Baltimore Ravens or the Rams or the Chargers," he said.
Some Georgia fans didn't think the Bulldogs played like professionals in the first half of last week's 24-14 win over South Carolina. The Bulldogs trailed 14-3 at halftime, and there were scattered boos at Sanford Stadium as the players left the field.
Carson Beck passed for 269 yards and Georgia's defense dominated the second half as the Bulldogs rallied for the win.
"I felt we played together and every ball that came our way, we made it count," Georgia wide receiver Dominic Lovett said Monday. "We answered the bell."
MORE ON DILFER
Dilfer, who played 14 years in the NFL, was hired by UAB on Nov. 30, 2022 after after leading Lipscomb Academy in Nashville, Tennessee, to three state title games in four seasons as coach. Dilfer was a first-round draft pick by Tampa Bay in 1994 who retired as a player in 2008 and began a new career in broadcasting with ESPN before taking the high school coaching job at the private Christian school.
INJURY CONCERNS
The Bulldogs' offense faces the challenge of overcoming the loss of right tackle Amarius Sims, who needs surgery on his left ankle and is out indefinitely. Georgia could be without running backs Kendall Milton (knee) and Roderick Robinson (high ankle sprain). Wide receiver Ladd McConkey could miss his fourth consecutive game with a back injury.
BECK GAINING CONFIDENCE
Georgia coach Kirby Smart saw a sign Beck, in his first season as the starter, showed more confidence when faced with pressure from South Carolina's pass rush. Instead of backing up to escape the congestion, Beck stepped up in the pocket.
"He's got to be willing to step up, like they talk about race car drivers, when the smoke's there, you've got to go right through it," Smart said. "... You've got to be willing to step up and go through it and not always out and around it, because you can't always outrun it that way. So but I'm really pleased with the way he's playing, but there's certainly things he can continue to work on."
PASS-HAPPY BLAZERS
UAB junior Jacob Zeno set a school record with 38 completions against North Carolina A&T in the Blazers' opening game and added 33 completions, tied for the second-most, in a loss at Georgia Southern. Zeno ranks fifth in the nation with his average of 318.7 passing yards per game and third in completing 83% of his passes.
GEORGIA-UAB CONNECTION
Dilfer hired offensive line coach Eddie Gordon from Smart's staff. Gordon was an offensive quality control assistant in 2022 after serving as a graduate assistant in 2019-21.
Smart said he expects Gordon to have his offensive line motivated against Georgia.
"He worked hard. He recruited a lot of good players here," said Smart of Gordon. "... I've got a lot of respect for him. You see it in the way that his O-line plays. I know they are going to be wound-up for this one because I know that Eddie wants his kids to play well."
___
AP college football: https://apnews.com/hub/college-football and https://apnews.com/hub/ap-top-25-college-football-poll
CHARLES ODUM I cover Atlanta pro sports and college sports in Georgia.
twitter
mailto
"
Article Copyright © 2023 The Associated Press, All Rights Reserved.