Rams announce their plan to build a new training complex in Woodland Hills
Wed, Nov 15, 2023
NFL News (AP)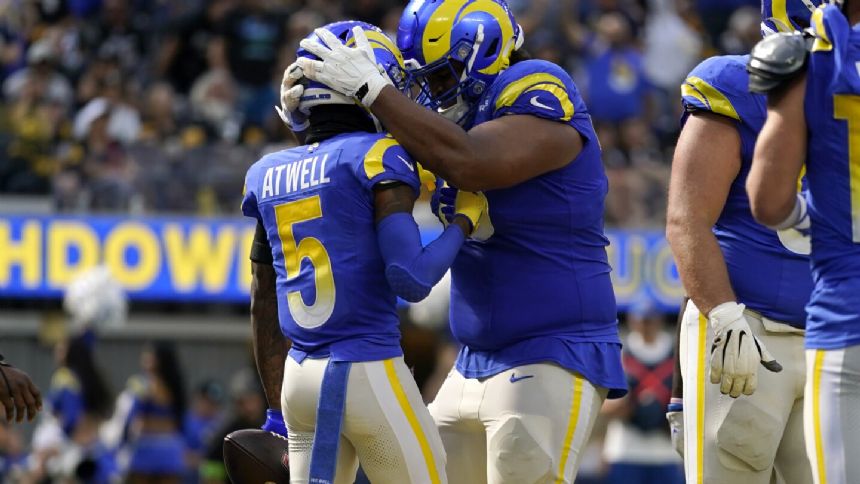 LOS ANGELES (AP) - The Los Angeles Rams have announced their plan to build their first permanent headquarters and training complex since the franchise returned to California.
The Rams will build in Woodland Hills, a neighborhood of Los Angeles in the southwest corner of the San Fernando Valley. The team will move to its new address next year, initially working in modular trailers similar to the temporary complex they've occupied since 2016 in Thousand Oaks.
While the announcement was made Wednesday in Woodland Hills, the Rams' intentions have been widely known over the past two years since owner Stan Kroenke began buying nearly 100 acres of property in the area, including two adjoining malls. The team already has begun growing grass for its new practice fields while intending to make the move before the opening of training camp in July.
Since Kroenke moved the Rams back home to the Los Angeles area from St. Louis in 2016, the team has practiced and worked in that temporary complex on the edge of the campus of Cal Lutheran University in Thousand Oaks, an outer suburb of Los Angeles.
Other news
Cleveland Browns QB Deshaun Watson out for the rest of this season with a throwing shoulder fracture
The Lions take fourth-down aggressiveness to a new level in their win over the Chargers
In firing offensive coordinator Ken Dorsey, Bills coach McDermott places more focus on himself
Coach Sean McVay built a team that reached two Super Bowls and won the championship after the 2021 season while working out of spare, modular trailers on a site that lacks any indoor practice fields as protection from the area's high winds, among many other standard amenities in the modern league.
The Thousand Oaks facility is roughly 50 miles from SoFi Stadium, which opened in 2020. The new training complex will be roughly half that distance from the Rams' palatial home venue.
Kroenke is finally getting started on a project that is expected to raise the Rams up to the standard reached by many NFL teams' training setups. The billionaire property developer intends to include residential, commercial and retail spaces in the complex, just as he did while building the stadium.
The Los Angeles Chargers, who share Kroenke's SoFi Stadium with the Rams, will open a new 150,000-square-foot training complex next year in El Segundo, an oceanside suburb just a few miles from the stadium.
___
AP NFL: https://apnews.com/hub/NFL
"
Article Copyright © 2023 The Associated Press, All Rights Reserved.