Rangers slugger Adolis Garcia and pitcher Max Scherzer could miss rest of World Series with injuries
Tue, Oct 31, 2023
MLB News (AP)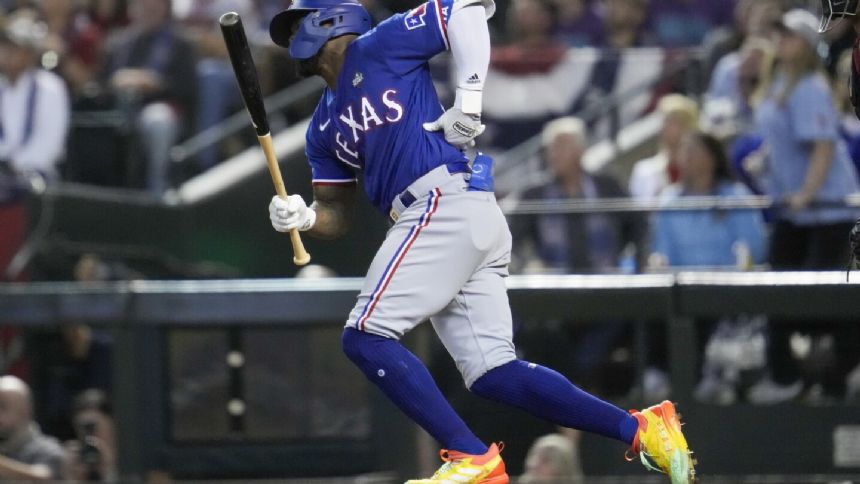 PHOENIX (AP) - Texas Rangers slugger Adolis Garcia and pitcher Max Scherzer could miss the rest of the World Series after getting hurt in Game 3 against the Arizona Diamondbacks.
Garcia, the AL Championship Series MVP, has a moderate strain of his left oblique, manager Bruce Bochy said Tuesday. Scherzer has a muscle spasm in the right side of his back.
Bochy said decisions on whether to replace them on the roster will be made closer to the start of Game 4 later Tuesday.
"Right now he's on the table getting further evaluation," Bochy said of Garcia about 2 1/2 hours before Game 4. "We have to make a call here pretty soon. It's unfortunate, but we'll wait and see in the next hour or so. We still have a little bit of time to see where we're at with him and the possibility of him coming around. But we have to be honest, it's not great news."
Other news
Diamondbacks manager Torey Lovullo woke up `steaming' mad over umpire Alfonso Marquez's strike call
Dodgers' Mookie Betts hopes MLB teams consider signing 'awesome guy' Trevor Bauer, report says
Seager stars with 2-run HR, stellar defense to lead Rangers over D-backs 3-1 in World Series Game 3
Garcia grabbed his left side while coming out of the batter's box on his flyout against Luis Frias in the eighth inning. When Garcia got to first base, he bent over and put both hands on his knees.
Garcia is hitting a team-high .323 in the postseason with eight homers and a major league-record 22 RBIs, one more than David Freese had for the 2011 St. Louis Cardinals. Garcia is 3 for 10 in the World Series with two RBIs, including an 11th-inning home run off Miguel Castro that gave Texas a 6-5 win in Friday's opener.
He hit .357 with five homers and 15 RBIs in the ALCS against Houston.
Scherzer left World Series Game 3 after three innings with a muscle spasm on the right side of his back.
Asked after the game whether he was taking a muscle relaxant or something stronger, Scherzer responded: "All of the above." He would be in line to start a potential Game 7 on Saturday on four days of rest.
"He was pretty locked up when he walked in today. He's on the table getting looked at, trying to get loose some. But he's not feeling well," Bochy said. "So, again, we have to make a call on him whether we're going to wait a day or two or if we feel like we're a little short, need a pitcher. That will be decided within the next hour or so."
Acquired from the New York Mets on July 30, Scherzer strained a muscle in his right shoulder on Sept. 12 and returned to make two starts in the AL Championship Series against Houston, going 0-1 with a 9.45 ERA. Scherzer allowed five runs over four innings and took the loss in Game 3, and then gave up two runs in 2 2/3 innings in a no-decision in Game 7.
He was pitching Monday with a cut on his right thumb covered with cotton and Super Glue, what he termed Sunday as "a little arts and crafts in the training room."
Scherzer is 1-0 with a 3.72 ERA in four World Series starts, getting a no-decision for Detroit against San Francisco in 2012's Game 4, winning the 2019 opener for Washington at Houston and getting a no-decision in the Game 7 win after getting scratched from a Game 5 start because of an irritated nerve near his neck.
___
AP MLB: https://apnews.com/hub/mlb
"
Article Copyright © 2023 The Associated Press, All Rights Reserved.