Rob Dillingham scores 17 points as No. 16 Kentucky beats New Mexico State 86-46
Tue, Nov 7, 2023
NCAAB News (AP)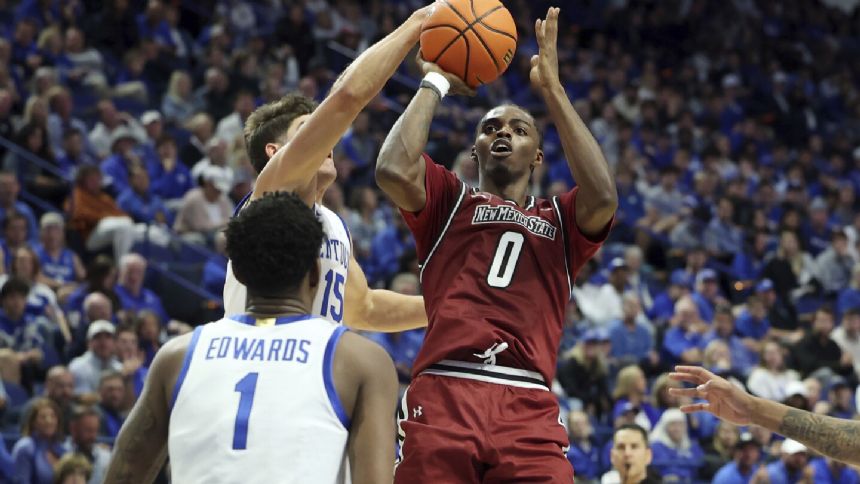 LEXINGTON, Ky. (AP) - Rob Dillingham scored 17 points, D.J. Wagner had 13 and No. 16 Kentucky shot 59% in the second half to rout New Mexico State 86-46 on Monday night in the season opener for both teams.
Picking up where they left off from winning the GLOBL Jam this summer in Toronto, the Wildcats' touted freshmen took charge after four minutes and helped the team pull away. Wagner and Justin Edwards (12 points) set the tone, and Kentucky native Reed Sheppard finished with 12 points. Dillingham heated up late and went 6 of 11 from the field, including 2 of 6 from long range.
"Robert has two or three, like, 'What in the world?' (plays)," Kentucky coach John Calipari said of Dillingham. "As long as it's not five or six. ... I told him I'm fine with one or two because he can't help himself, but I tell you that he creates space for himself and his teammates as good as anybody that I've coached."
Fifth-year senior Antonio Reeves, one of Kentucky's few holdovers, and West Virginia transfer Tre Mitchell also were part of the balanced mix. Reeves had 11 points, and Mitchell finished with nine points, nine rebounds and five assists.
The Wildcats closed with a 17-0 run over the final six minutes and 21-2 over the last 6:56.
Jaylin Jackson-Posey and Christian Cook each had 10 points for New Mexico State, which began with first-year coach Jason Hooten and a revamped roster after a tumultuous spring.
NMSU resumed competition for the first time since the university canceled the remainder of last season on Feb. 12 after the filing of a police report alleging gruesome locker-room hazing. Coach Greg Heiar was fired soon after. A former player, Mike Peake, was suspended in connection with a fatal shooting of a student in Albuquerque last Nov. 19 in an unrelated incident but was not charged.
Earlier Monday, two former NMSU players and a student manager filed a lawsuit in district court in Las Cruces, New Mexico, saying teammates frequently brought guns into the locker room where they sexually assaulted players as a way of ensuring everyone on the team remained "humble."
BIG PICTURE
New Mexico State: As might be expected of a reconstructed roster, the Aggies struggled to establish a flow in their first official game together. Stringing together baskets was harder, as they had two stretches with seven consecutive misses in shooting 32% from the field.
"Offensively, we were inept and I'm not up here to make a lot of excuses," Hooten said. "We've had eight people to practice, so we suited up two managers. We've not had my starting five together and we just haven't had a chance to practice together. We're a long ways away offensively."
Kentucky: The Wildcats not only played fast (25 fast-break points), they committed just six turnovers. They forced NMSU into 18 turnovers and converted them into 24 points.
UP NEXT
New Mexico State will host NCAA Division II Sul Ross State on Wednesday night.
Kentucky hosts Texas A&M-Commerce on Friday night.
___ Get poll alerts and updates on AP Top 25 basketball throughout the season. Sign up here ___ AP college basketball: https://apnews.com/hub/ap-top-25-college-basketball-poll and https://apnews.com/hub/college-basketball
"
Article Copyright © 2023 The Associated Press, All Rights Reserved.