Saints gratified by first true offensive outburst of the Derek Carr era
Mon, Oct 30, 2023
NFL News (AP)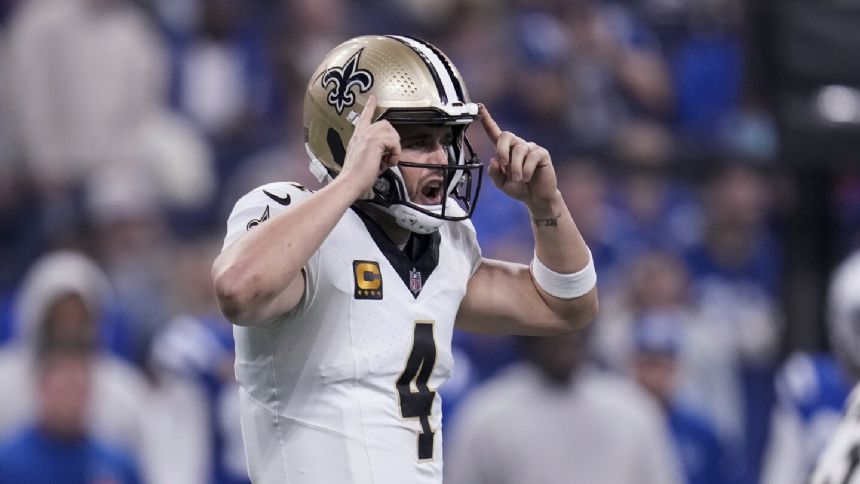 NEW ORLEANS (AP) - Maybe Derek Carr and the New Orleans Saints' offense have turned a corner - or merely looked good against another struggling team.
Whatever the case, the Saints returned home from a 38-27 victory at Indianapolis feeling a lot better about themselves and what's ahead in their final nine games.
"Any time you win in this league it breeds some confidence in your group," Saints coach Dennis Allen said Monday. "That was good to see. And all that being said, that one's over and now we've got to go on to the next one."
New Orleans (4-4) will head into that next game tied atop the anemic NFC South, even with Atlanta (4-4) and a half game ahead of Tampa Bay (3-4).
Other news
Kyler Murray's return imminent as Cardinals bench Joshua Dobbs and mull options at QB
For once, the Chargers didn't get zoned out on defense. Can it continue?
Seahawks defense continues trend of locking down opponents in the second half
And offensive leaders sounded more than a little validated after their unit produced five touchdowns for the first time all season after a series of high-profile red zone failures in previous weeks.
"Even though the whole world was falling down, I was like, 'Inside our building, we are getting better,'" Carr said. "We're communicating. We're talking about things. And I thought that that showed."
The improvement also occurred with an offensive line that was missing one starter, and had another out of his usual position with Andrus Peat playing tackle instead of guard. The Saints completed six of 12 third downs and scored three times on the ground.
"One of the things we talked about in this game was being able to win the line of scrimmage offensively," Allen said. "Our offensive line overall did a nice job both in the run game and in the passing game."
Allen added that it wasn't any particular change or revelation that led to better execution on offense.
"Really, we just kept grinding, kept working," Allen said. "Guys are paying attention to the details."
WHAT'S WORKING
The Saints pass defense remains among the NFL's best. New Orleans is ranked eighth in yards passing allowed prior to Monday night's game. On Sunday, they held Colts QB Gardner Minshew to 213 yards passing, intercepting him once and sacking him twice.
"I think we're getting better, you know?" Carr said. "You never know how long it takes and all that good stuff. Now the work is just being consistent with what we're doing."
WHAT NEEDS HELP
Penalties have been a problem. New Orleans has now been penalized 54 times for 513 yards, resulting in 21 opponent first downs. Just two teams - San Francisco and Buffalo - have been penalized 55 times and no team has been penalized for as many yards as New Orleans.
New Orleans was penalized eight times for 73 yards at Indianapolis.
"Penalties hurt us," said Allen. "Each one of their scoring drives really were aided by defensive or special teams penalties."
STOCK UP
Carr had his best game by far in his first season with the Saints and did so after taking heat for erratic execution in a pair of recent losses. While his 310 yards passing were his second highest this season, his two TD passes without an interception helped him attain by far his highest single-game rating of the current season at 133.3.
"Overall it was his most productive game," Allen said. "He operated the offense at a high level."
STOCK DOWN
First-round draft choice Bryan Bresee has had a mostly solid start to his rookie season, but the defensive tackle drew the ire of Allen when he was flagged for lining up incorrectly on a fourth-and-1 play on which the Colts were lining up for a field-goal attempt.
The penalty gave Indianapolis a first down and led to a Colts touchdown pass.
"It's a dumb penalty," Allen said. "It cost us four points."
INJURIES
Offensive lineman James Hurst continued to work through an ankle injury that has kept him out of the previous two games. Jimmy Graham sat out Sunday with an illness.
KEY NUMBER
3 - The number of times this season the Saints have surpassed 400 yards. All have come in the past three games, with the 511 yards against the Colts representing a season high.
"For the past couple of weeks we've been moving the ball well, but we finished (against the Colts)," Carr said.
NEXT STEPS
The Saints have a chance to get back above .500 when they host the struggling Chicago Bears on Sunday.
___
AP NFL: https://apnews.com/hub/nfl
"
Article Copyright © 2023 The Associated Press, All Rights Reserved.