Seahawks with little time to get healthy, correct issues after loss to Rams
Mon, Nov 20, 2023
NFL News (AP)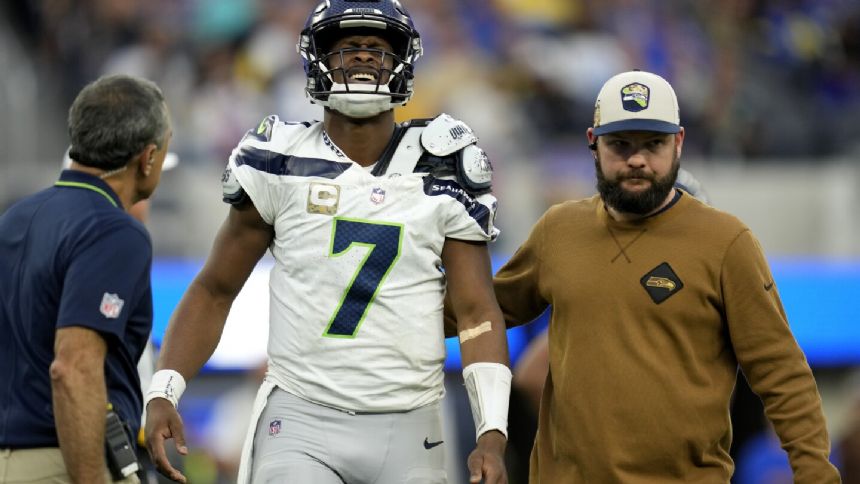 RENTON, Wash. (AP) - The starting quarterback got crunched.
The starting running back didn't make it through a quarter.
The defense couldn't get a stop in the fourth quarter and a dozen penalties only added to an overall miserable day for the Seattle Seahawks.
As if the 17-16 loss to the Los Angeles Rams on Sunday wasn't painful enough for the Seahawks, they have only three days to get healthy and make corrections before facing another divisional matchup on Thanksgiving night.
Other news
NFL suspends Broncos' Kareem Jackson 4 games for another illegal hit in return from first suspension
Browns coach Stefanski's steadiness one of main reasons team has overcome obstacles, in playoff hunt
Brandon Staley doesn't have much time to answer why Chargers should remain 'All In' on his vision
And this one is without question more important, hosting San Francisco with first place in the NFC West at stake.
"It's just really a difficult team to deal with. But teams have figured it out. They have found them out and they were able to get them," Seattle coach Pete Carroll said.
"So we understand that. They've got three losses. We got four losses. This is a huge opportunity for us."
The Seahawks (6-4) believe quarterback Geno Smith will be able to play against the 49ers despite a contusion to the triceps on his throwing arm that knocked him out for part of Sunday's game.
They don't know if leading rusher Kenneth Walker III will be available because of an oblique injury. They're hopeful safety Jamal Adams will return after being a spectator against the Rams with a knee issue.
With it being a short week, getting healthy will be the primary concern for Seattle. But they must also figure out an offense that jumped to a 13-0 lead and stagnated in the second half well before Smith was hurt.
Seattle has scored just nine second-half touchdowns in 10 games and has been held out of the end zone in the final 30 minutes in five of the past seven games, including Sunday's loss. The Seahawks were 1 of 8 on third downs in the second half against the Rams.
"When we're converting, it changes everything," Carroll said.
WHAT'S WORKING
The early script Seattle used offensively on Sunday was nearly perfect. Smith was 7 of 8 on the opening possession and the Seahawks finished off the 14-play drive with an 8-yard touchdown pass to DK Metcalf. It's the kind of drive that was needed at other times in the game.
"I thought we've had a number of nice opening drives during the season. That was one of the good ones," Carroll said. "But I'm just disappointed that we're not able to sustain it because you can see what we're capable of."
WHAT NEEDS HELP
Where did the pass rush go after the first Rams drive? Seattle had one sack and three quarterback hits against Matthew Stafford, but two of those hits and the sack came on the opening drive for Los Angeles.
After that, the Rams managed to keep Stafford mostly clean and allowed him time to push the ball downfield.
The lack of pressure also saw Boye Mafe's streak of seven straight games with a sack come to an end. Seattle's only sack came on a blitz from rookie Devon Witherspoon.
STOCK UP
Zach Charbonnet seems set to be the primary ball carrier for Seattle at least for this week with Walker's status in doubt. Charbonnet rushed for 47 yards and had 15 carries against the Rams, his season high in carries. Charbonnet is averaging 4.9 yards per rush.
STOCK DOWN
Drew Lock was thrown into a challenging situation being asked to suddenly come off the bench in the final seconds of the third quarter. It's the life of being a backup quarterback. But his performance in the fourth quarter won't have fans clamoring for Lock to take over the starting role. Lock was 2 of 6 for 3 yards and an interception. Seattle went three-and-out on his first drive and the second ended when he was picked off.
INJURIES
While the status of Smith will get most of the attention, the loss of Kenneth Walker III to an oblique injury in the first quarter can't be overlooked. Walker had four carries for 18 yards prior to his injury. Walker's injury put more on Charbonnet on a day the Seahawks had only three running backs active. Look for rookie Kenny McIntosh to be active on Thursday assuming Walker is unable to go.
Rookie Jerrick Reed III, a contributor on special teams, also suffered a knee injury and will miss some time, Carroll said.
KEY NUMBER
130 - Seattle's 130 penalty yards on Sunday were the eighth most in franchise history. It was the fifth time in Carroll's tenure that the Seahawks had at least 130 yards in penalties in a game and were the most since 2018 when Seattle had a franchise-record 148 penalty yards in a loss to San Francisco.
NEXT STEPS
The short week does not help Seattle in this instance with the concerns about Smith's arm and Walker's oblique injury. The Seahawks lost all three matchups with the 49ers last season, including in the wild-card round of the playoffs. Prior to last season, Seattle had won five of six.
___
AP NFL: https://apnews.com/hub/nfl
"
Article Copyright © 2023 The Associated Press, All Rights Reserved.