Shaedon Sharpe's big second half leads Trail Blazers to comeback win over Pistons
Wed, Nov 1, 2023
NBA News (AP)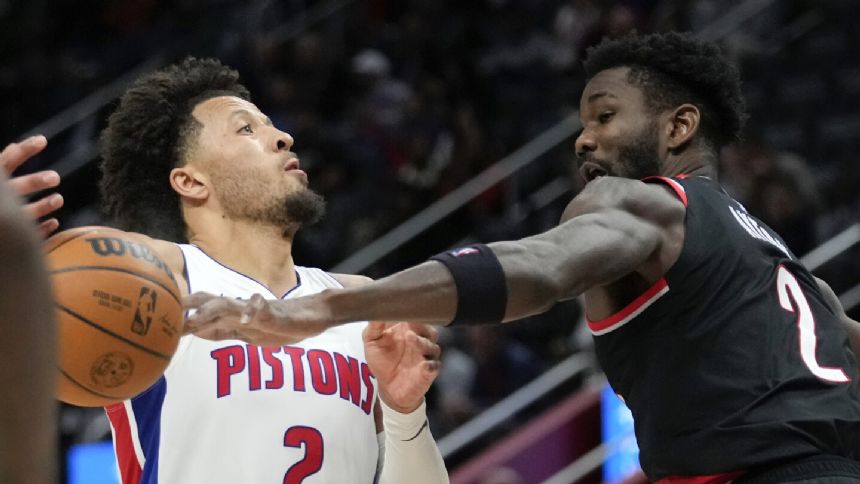 DETROIT (AP) - Shaedon Sharpe scored 26 of his 29 points in the second half and the Portland Trail Blazers overcame an 18-point deficit to beat the Detroit Pistons 110-101 on Wednesday night.
Former Piston Jeremi Grant added 24 points for the Trail Blazers, and Deandre Ayton had 16 points, 11 rebounds five steals and a block in his first game against Pistons coach Monty Williams since they both left the Phoenix Suns.
Cade Cunningham had 30 points for Detroit, but missed 16 of 27 shots and turned the ball over six times. The Pistons shot 37.8% in a 42-point second half.
Portland trailed by 12 at halftime, but outscored the Pistons 36-25 to pull to 84-83 at the end of the third. Sharpe had 15 points in the quarter as the Trail Blazers shot 68.2%.
Other news
With James Harden watching, Clippers take control in 3rd quarter to beat Magic 118-102
Johnson's late basket lifts Spurs to stunning 115-114 win over Suns
Keldon Johnson's late basket gives Spurs only lead of game, 115-114 win over Suns
Cunningham had five points in the first two minutes of the fourth. but the Trail Blazers took a 94-93 lead on Jeremi Grant's 3-pointer with 6:51 to play. Portland moved the margin to four on Sharpe's free throws with 2:43 left,
Cunningham missed a layup that would have cut it to 104-103 with 1:23 to play, and Toumari Camara grabbed an offensive rebound, drew a foul and made both free throws. After Joe Harris' miss, Malcolm Brogdon put it away with a short jumper.
Detroit led by 18 in the second quarter before setting for a 59-47 halftime lead.
UP NEXT
Trail Blazers: Host Memphis on Friday and Sunday nights.
Pistons: At New Orleans Pelicans on Thursday night.
___
AP NBA: https://apnews.com/hub/nba
"
Article Copyright © 2023 The Associated Press, All Rights Reserved.