Sizzling Dak Prescott, Cowboys look to continue to build momentum against spiraling Panthers
Thu, Nov 16, 2023
NFL News (AP)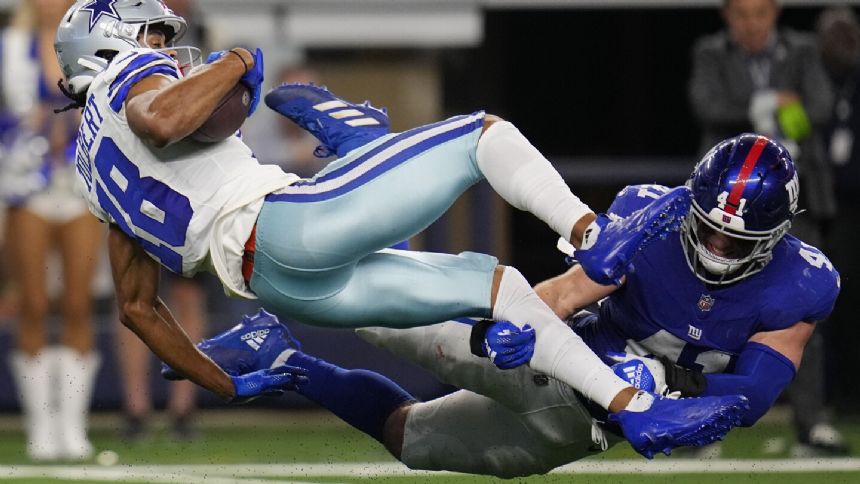 CHARLOTTE, N.C. (AP) - Dak Prescott is sizzling, and the Dallas Cowboys are winning the games they should win while eyeing a playoff run.
The Carolina Panthers are heading toward a sixth straight losing season.
The NFC foes are heading in opposite directions and will clash on Sunday in what is expected to feel like a home game for the Cowboys (6-3), even though it will be played at Charlotte's Bank of America Stadium.
Since Week 8, Prescott leads the NFL with 1,082 passing yards and 11 touchdown passes and ranks second with a 129.4 rating. He has recorded at least 300 yards passing and three touchdown passes in each of Dallas' last three games, one shy of matching a record shared by Peyton Manning, Steve Young and Patrick Mahomes.
Other news
With Rodgers out and Allen struggling, Jets and Bills don't carry as much buzz into rematch
Stefon Diggs reiterates his commitment to the Bills in response to brother's social media posts
The Seahawks are eager to show their embarrassing Week 1 loss to the rebuilding Rams was a fluke
Prescott is coming off a 404-yard, four-TD performance against the Giants.
"They are hot on offense," Panthers coach Frank Reich said. "Dak is extremely effective in the pocket and out of the pocket. Obviously CeeDee Lamb is a big-time playmaker and they are having success running and throwing it."
Still, there will always be some doubt about the Cowboys until they're able to beat the league's top teams, including NFC East rival Philadelphia, which currently leads the division.
The Cowboys know that, and they're focused on taking care of winnable games against Carolina, Washington and Seattle before their Dec. 10 rematch with the Eagles at home.
"I feel like we've had games where we've blown teams out that we should blown out," said Cowboys safety Jayron Kearse. "When it comes down us doing what we say we want to do, you know it's going to come down to those big games, those San Fran games, those Philly games, Miami, the Bills and those type of games. To where we put together a complete game, and that shows who you are as a team."
According to Next Gen Stats, Prescott's 136.1 passer rating against man-to-man coverage is the league's best, ahead of Mahomes (121.0).
"He's all football. This guy, he loves everything about it. The training," Cowboys coach Mike McCarthy said. "When you look at this game, Sundays are really for free. What he does Monday through Saturday is so impressive."
OUT LIKE A TIGER
Lamb leads the NFL with 617 yards receiving over the last four games.
He has recorded at least 10 receptions and 150 receiving yards in each of his last three games, becoming the first player in NFL history to reach those marks. Lamb can become the first player ever to record at least 150 receiving yards in four consecutive games.
He can also become the second player with at least 10 catches in four consecutive games, joining Hall of Famer Calvin Johnson.
ON THE CALL
In hopes of giving his team a spark, Reich is taking back the offensive play-calling duties.
Reich delegated play-calling on Oct. 16 before Carolina's bye week. The Panthers (1-8) went 1-2 with offensive coordinator Thomas Brown calling plays, but the team scored only two offensive touchdowns during that span.
Reich called plays for the first six games of the season, all Carolina losses.
However, the Panthers went from averaging 294.7 yards, 20.7 first downs and 16.3 points per game in six games with Reich calling plays to 237.3 yards, 16.3 first downs and 11.3 points per game in three games with Brown calling the shots.
BLANKING PARSONS
The Giants held pass rushing star Micah Parsons without a tackle for the first time in his three-year career. He's slipping on the sacks list, dropping to a tie for 10th with 7 1/2, although Parsons has a sack in each of the past two games.
"Any competitor can get frustrated with that," defensive coordinator Dan Quinn said. "There will be games like that, and there has been games like that, and there will be more like that."
Quinn also said those games have been hard on Parsons.
"It's hard on anybody who would be in that space because what you're capable of is exceptional," Quinn said. "When somebody is really saying, 'You are not going to ruin the game,' we'll live with that. There's I would imagine times it's easier to deal with it and times it's not. (The Giants game) was one of those."
AROUND THE HORN
The Panthers could have their entire starting secondary back this week if cornerback Jaycee Horn is able to play. The unit has been hit hard by injuries, beginning with Horn, who injured his hamstring in Week 1 and hasn't played since.
If Horn returns alongside cornerback Donte Jackson and safeties Vonn Bell and Xavier Woods, Carolina's defense could have a fighting chance against the Cowboys' passing game.
AN ERA OF LOSING
If the Panthers lose, they'll match a franchise record with their sixth straight non-winning season. The Panthers also failed to post a winning season from 1997-2002. Carolina hasn't made the playoffs since 2017 and hasn't won a playoff game since reaching the Super Bowl in 2015.
___
AP Sports Writer Schuyler Dixon contributed to this report.
___
AP NFL: https://apnews.com/hub/nfl
"
Article Copyright © 2023 The Associated Press, All Rights Reserved.