STAT WATCH: Colorado State's penalty problems are not exclusive to their loss to Buffaloes
Mon, Sep 18, 2023
NCAAF News (AP)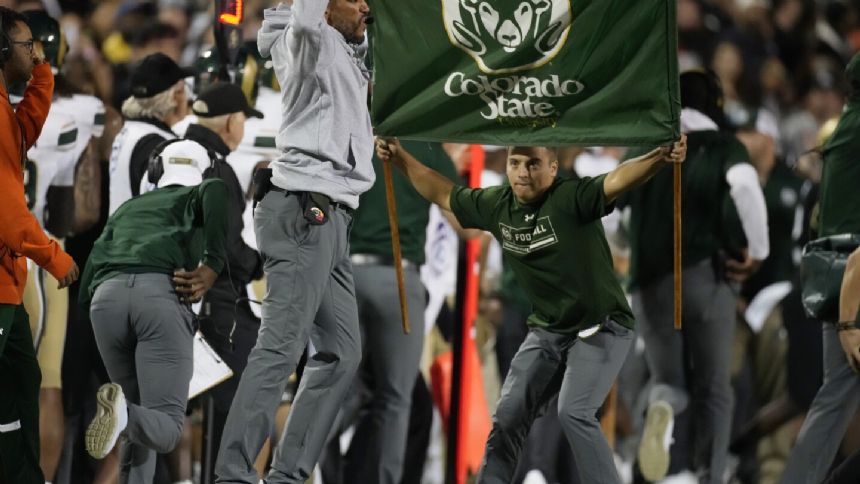 From Colorado State's perspective, its school-record number of penalties was largely to blame for its devastating loss at Colorado.
"I can't even speak about it, it's so ridiculous," coach Jay Norvell said after the 43-35 loss in two overtimes. "And it's a real shame because a lot of those penalties took away a lot of great effort from our kids."
Saturday night wasn't a one-off for CSU. The Rams have gone 3-11 under Norvell, and undisciplined play has been a persistent problem.
Of the 17 penalties the Rams committed against Colorado, 11 were 15-yarders - two on the same play when Henry Blackburn was flagged for pass interference and Ayden Hector was called for unsportsmanlike conduct after a late hit sent two-way star Travis Hunter to the hospital.
Other news
AP Top 25 Reality Check: Florida, Florida State, Miami ranked together for 1st time since 2017
Clemson starting receiver Cole Turner lost for season with injury
Bowling Green's Demetrius Hardamon in stable condition after hit against No. 2 Michigan
There also were four blocks below the waist, two other unsportsmanlike conducts, a chop block, facemask and targeting.
CSU's top three single-game penalty totals have occurred over the past 10 games - 13 against San Jose State and 14 against Nevada, both last season, and the 17 against CU.
In Norvell's 14 games, the Rams have had at least 100 penalty yards in three and have been called for at least 10 penalties in five.
Their 182 penalty yards against Colorado were 46 more than their previous school record of 136, against Norvell's former team (Nevada) last year, and the most by a Bowl Subdivision team since Miami amassed 194 against Duke in 2015.
ETIENNE BREAKS LOOSE
Florida's Trevor Etienne turned in one of the memorable rushing performances in the history of the Gators' rivalry with Tennessee.
Etienne had career highs of 23 carries and 172 yards in his team's 29-16 win, the third-most by a Florida player against a Top 25 opponent in the last 25 years and second most by a Florida player in the series with the Volunteers, according to ESPN Stats & Info.
DESERT DOLDRUMS
Arizona State committed eight turnovers against Fresno State and was shut out at home for the first time since 1988.
The Bulldogs' 29-0 victory was their first shutout of a Power Five opponent since 1986. Fresno's defense intercepted five passes and recovered three fumbles. Carlton Johnson had three of the pickoffs.
RECORD KICK
Harrison Mevis set the Southeastern Conference record for longest field goal with his 61-yarder that gave Missouri a 30-27 walk-off victory over Kansas State.
It was the longest since Stanford's Joshua Karty kicked one the same distance against California last November and the sixth of at least 60 yards since 2015. The most recent 60-yarders in the SEC had been in 1984 by Florida's Chris Perkins and Georgia's Kevin Butler.
Mevin also made field goals of 30 and 25 yards against K-State and missed from 53 before kicking the game-winner. His previous long was 56 yards.
SCORING SWOON
Alabama's combined 41 points over its last two games are its fewest in consecutive regular-season games since it totaled 31 against Mississippi (23-17 loss) and Arkansas (14-13 win) in October 2014.
CHINTZY MICHIGAN
Michigan is the eighth FBS team in 11 seasons to surrender only one touchdown through three games. UNLV was the only team to get into the end zone, doing it against the Wolverines' reserves late in the game on Sept. 9. The Wolverines' defensive average of 5.3 points per game leads the nation.
The 2012 Florida State defense was the last to surrender no touchdowns through three games, according to Sportradar.
___
AP college football: https://apnews.com/hub/college-football and https://apnews.com/hub/ap-top-25-college-football-poll
"
Article Copyright © 2023 The Associated Press, All Rights Reserved.