Steelers left wondering about flags that are thrown and not thrown and fines that come either way
Tue, Oct 31, 2023
NFL News (AP)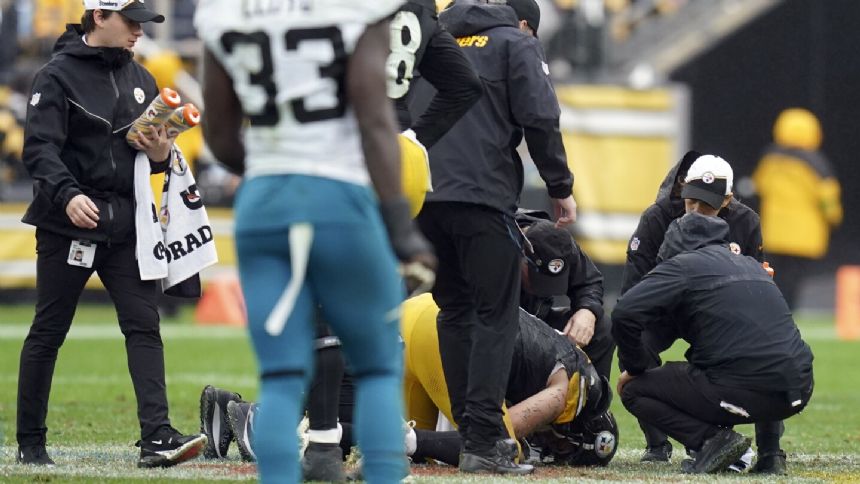 On a weekend where Kirk Cousins, Matthew Stafford, Tyrod Taylor and Kenny Pickett joined the growing list of injured quarterbacks, Steelers wide receiver Diontae Johnson went off on referee Alan Eck's crew for not flagging Jacksonville's Adam Gotsis for the hit that sent Pickett from the game with bruised ribs.
"Y'all are supposed to be protecting us," Johnson fumed following the Steelers' 20-10 loss to the Jaguars that was peppered with unusual calls and curious non-calls alike. "That's our quarterback. He got slammed."
Johnson accused the officials of tilting the game in Jacksonville's favor and suggested they "should get fined for making terrible calls." He even hinted that the crew "must've got paid good today or something. They wanted them to win. Everything was in their favor."
Johnson considered Gotsis' slam of Pickett much worse than the hit Pittsburgh's Keanu Neal put on Trevor Lawrence that drew a roughing the passer penalty earlier in the game, and the Steelers also took issue with a rare offsides call on a guard in field-goal protection that wiped three points from the board.
Other news
Chiefs and Patriots compete for fans and influence in Germany ahead of games in Frankfurt
Garoppolo accepts blame for poor performance in Las Vegas loss to Detroit
Lions lean on Jahmyr Gibbs' legs, Jared Goff's arm in 26-14 win over offensively challenged Raiders
"I hadn't seen that called in 17 years of standing on the sidelines," Steelers coach Mike Tomlin said of the flag on veteran right guard Isaac Seumalo that negated Chris Bowswell's 55-yard field goal.
Boswell missed from 61 yards after the penalty was marked off, leaving the Steelers trailing 9-3 at halftime.
"I thought I lined up in the same spot I've been lining up for the past eight years," a stumped Seumalo said.
"His head was over the back edge of the ball, so by rule that's an offensive offside foul," Eck explained.
This all came 24 hours after the NFL announced it had again fined Steelers second-year undrafted running back Jaylen Warren for lowering his head when contacting an opponent.
Both fines were for a whopping $48,556 - which is $223 more than Warren's weekly salary before taxes - and both fines were for infractions that the officials on the field didn't even deem worthy of a penalty flag.
Warren was fined this time for lowering his helmet in Week 6 while picking up the blitz on Rams pass rusher Michael Hoecht, who, at 6-foot-4 and 310 pounds, is eight inches taller and 94 pounds heavier than Warren.
Warren ran afoul of the league's rules by initiating contact with the crown of his helmet, but it wasn't particularly egregious and Hoecht wasn't hurt on the play.
"We will appeal as usual," said Warren's agent, David Canter, who called the latest fine "utterly ridiculous and overzealous," arguing that Warren "is just playing the game the way it's coached."
Warren was fined a month earlier for another hit that wasn't flagged when he lowered his helmet just as Cleveland Browns safety Juan Thornhill was about to force him out of bounds after a long catch-and-run in Week 2.
That infraction wasn't as blatant as others that have drawn much smaller fines from the NFL this season.
After that fine, Warren joked about playing for the love of the game because the league was basically taking away his pay check for that game.
Of the 205 fines issued by the league so far for safety-related and unsportsmanlike rules violations, only two fines have been heftier than Warren's: Texans linebacker Denzel Perryman was dinged $66,666 and Falcons fullback Keith Smith got hit for $87,418, both for unnecessary roughness infractions.
Warren has been fined nearly $97,000 for a pair of plays that looked to many observers - most notably the officials on the field - like ordinary football plays.
So, the Steelers were left wondering about the flags that were thrown, the flags that weren't thrown and the fines the league might levy either way.
UPON FURTHER REVIEW
It's not often you hear backtracking by one of the networks' rules analysts, who are invariably former NFL officials. But that's exactly what CBS' Gene Steratore did last week after saying Green Bay receiver Romeo Doubs' touchdown should have been ruled an interception by Patrick Surtain II in Denver's 19-17 win over the Packers in Week 7.
"No matter what you do, owning up and taking accountability is how you get better. My interpretation of the play in #GBvsDEN was incorrect. I overthought it and just missed it," Steratore wrote on X, formerly known as Twitter.
Both Doubs and Surtain had their hands on the football as they tumbled the ground in the third quarter that afternoon. The officials ruled a touchdown and on the broadcast, Steratore said he believed it should have been ruled an interception instead because Surtain had two feet down before Doubs did.
The NFL vehemently disagreed with Steratore's contention and a day later Steratore owned up to his goof-up.
"As a ref (whether grade school or pro), you learn the most from the 5% of calls that you miss," he wrote on X.
___
With contributions from AP Sports Writer Will Graves.
--
AP NFL: https://apnews.com/hub/nfl
ARNIE MELENDREZ STAPLETON Arnie is an NFL writer based in Denver
twitter
mailto
"
Article Copyright © 2023 The Associated Press, All Rights Reserved.