Steph Curry scores 34 points, Warriors dominate offensive glass in 120-109 victory over Pistons
Mon, Nov 6, 2023
NBA News (AP)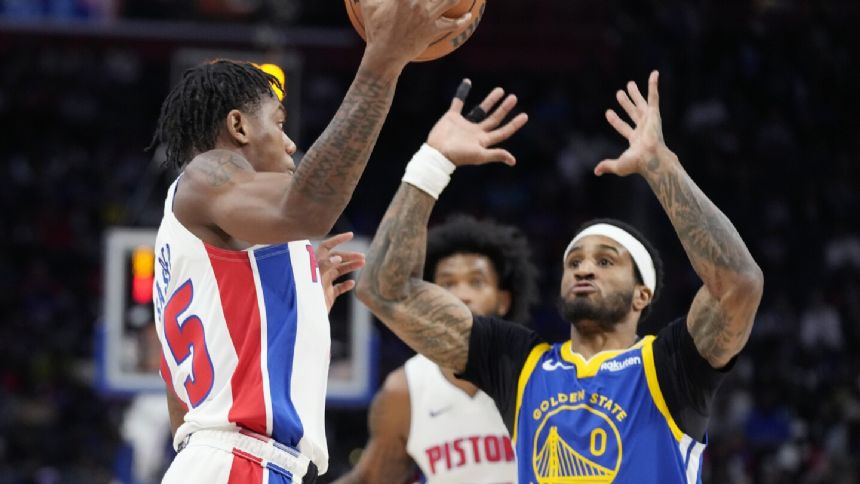 DETROIT (AP) - Steph Curry scored 34 points and the Golden State Warriors dominated on the offensive glass in a 120-109 victory over the Detroit Pistons on Monday night.
Golden State had 17 offensive rebounds to Detroit's seven and finished with a 26-10 advantage in second-chance points.
Klay Thompson and Chris Paul each added 17 points for the Warriors.
Cade Cunningham and Killian Hayes each had 21 points for Detroit. Two-way player Stanley Umude added a career-high 15 points for the Pistons, who were missing six players due to illness and injury.
Other news
Doncic returns after bumping head, scores 29 as Mavs rally again, beat Magic 117-102
Adebayo has triple-double, Butler scores 28, Heat hold off LeBron and the Lakers 108-107
Randle, Barrett lead Knicks to 111-97 victory in Harden's Clippers debut
Detroit trailed by eight at halftime, but took an 80-74 lead on back-to-back 3-pointers by Umude late in the third quarter. Golden State went back ahead 83-82 on Dario Saric's three-point play at the end of the period. The Warriors went 2 for 12 on 3-point attempts in the quarter.
Umude, who had scored two NBA points in six career games, added another 3-pointer and a three-point play to give the Pistons a 93-88 lead with 9:24 left.
Detroit was two back at 105-103 with 4:44 left, but Curry scored the next four points to make it a six-point game. Paul added a key baseline jumper with 1:26 left.
Curry scored 16 points in the first 7 1/2 minutes and finished the half with 20 as the Warriors built a 56-48 lead. Golden State had an 8-1 advantage in offensive rebounds, leading to a 15-2 edge in second-chance points.
UP NEXT
Warriors: At Denver on Wednesday night.
Pistons: At Milwaukee on Wednesday night.
___
AP NBA: https://apnews.com/hub/nba
"
Article Copyright © 2023 The Associated Press, All Rights Reserved.