Struggling Buccaneers feel sense of urgency to pull out of tailspin and salvage season
Mon, Nov 20, 2023
NFL News (AP)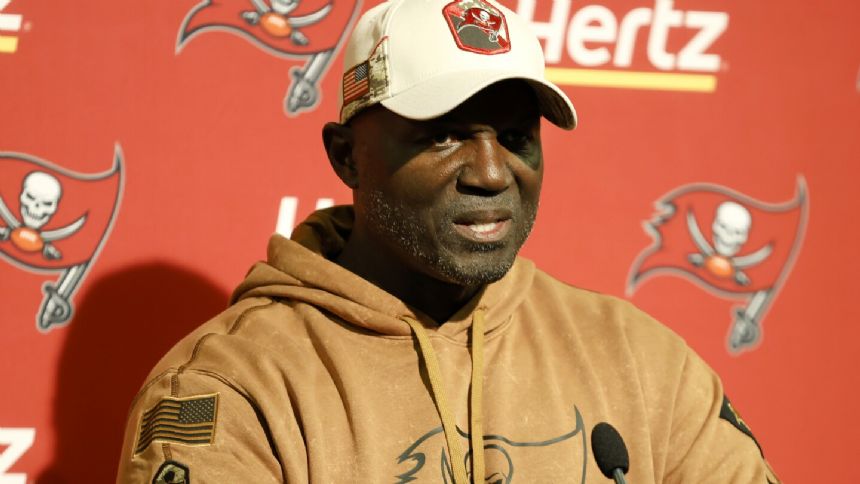 TAMPA, Fla. (AP) - There's a growing sense of urgency for the Tampa Bay Buccaneers to pull out of a six-week tailspin and salvage their season.
While a 27-14 loss to the San Francisco 49ers only dropped the Bucs (4-6) a game behind the NFC South-leading New Orleans Saints with seven weeks remaining, a sputtering offense and leaky defense have done little lately to instill confidence the team will be able to get back on track.
Sunday's loss was Tampa Bay's fifth in six games following a 3-1 start.
The Bucs will play four of their remaining seven games within the NFL's weakest division. Still, if they've proven anything through nine games it's that it would be a mistake to assume they can fix what ails them in time to claim a third straight NFC South title.
Other news
Lions have little time to celebrate comeback win over the Bears with Packers up next on Thanksgiving
Gannon-Murray partnership looks promising early, even as losses pile up for Cardinals
Vikings see their 5-game winning streak stop with a relapse of their early season turnover rash
"I still believe in this group," quarterback Baker Mayfield said.
"We're going to fight and scrap and cut out some mistakes and be a better team because of it," coach Todd Bowles said after the Bucs trailed 27-7 before battling back to give themselves a chance to pull within one score in the fourth quarter.
The comeback bid fell short after Mayfield led a pair drives that stalled deep in 49ers territory.
It was Tampa Bay's third double-digit loss of the season. The Bucs also lost by a pair of touchdowns to Philadelphia and Detroit, although Bowles doesn't feel lopsided scores are necessarily an indication Tampa Bay can't compete with the 49ers, Eagles and Lions.
"We feel like we're in every game and we have a chance to win every game when we come on the field. So, that's not an issue," the coach said.
"We're on the road again next week," Mayfield noted, referencing Sunday's matchup against the Indianapolis Colts.
"We need to find a way to win and have a one game at a time mentality from here on out," the quarterback added. "Heads down, block out everything else and just see where we can take this thing."
WHAT'S WORKING
It hasn't taken Mayfield long to learn who he can count on to catch the ball in the end zone when the low-scoring Bucs wind up there. WR Mike Evans (48 receptions, 780 yards) is closing in on his 10th consecutive season with 1,000-plus yards receiving and has caught seven of Mayfield's 15 touchdown passes.
WHAT NEEDS HELPS
A usually reliable defense continues to struggle. The Bucs had no answers for the 49ers' offense, once again digging a deep hole that the Mayfield-led offense was unable to escape. The defense has been especially ineffective against the pass. Bowles said there's no single reason why, noting the pass rush has been inadequate at times and a leaky secondary is partially to blame, too.
STOCK UP
Rookie LB YaYa Diaby, a third-round draft pick, is making the most of increased playing time. He had two sacks against San Francisco, doubling his season total to four - tied for second on the team with LB Shaquil Barrett behind DT Vita Vea, who has 5 1/2.
STOCK DOWN
The starting secondary has one interception in nine games. San Francisco's Brock Purdy posted a perfect passer rating of 158.3 on Sunday, going 21 of 25 for 333 yards, three touchdowns and no interceptions.
INJURIES
Three defensive starters - CB Jamel Dean (ankle/foot), CB Carlton Davis III (hip) and LB Lavonte David (groin) - were injured during the second half and did not finish Sunday's game.
"They're pretty sore right now," Bowles said. "They're still getting test runs, so we'll have an answer as soon as the tests come back."
KEY NUMBER
4 - The rest of the schedule affords plenty of opportunities to take control of the NFC South. In addition to facing last-place Carolina twice (home and away), the Bucs face Atlanta on the road and New Orleans in Tampa down the stretch.
NEXT STEPS
Travel to Indianapolis to face the Colts next Sunday, the second game in a stretch in which the Bucs will play four of five on the road. After winning their first two road games of the season at Minnesota and New Orleans, Tampa Bay has dropped three straight away from home to Buffalo, Houston and San Francisco.
___
AP NFL: https://apnews.com/hub/nfl
"
Article Copyright © 2023 The Associated Press, All Rights Reserved.