TCU has to beat Nicholls to avoid 0-2 start after that Buffalo stampede in opener
Thu, Sep 7, 2023
NCAAF News (AP)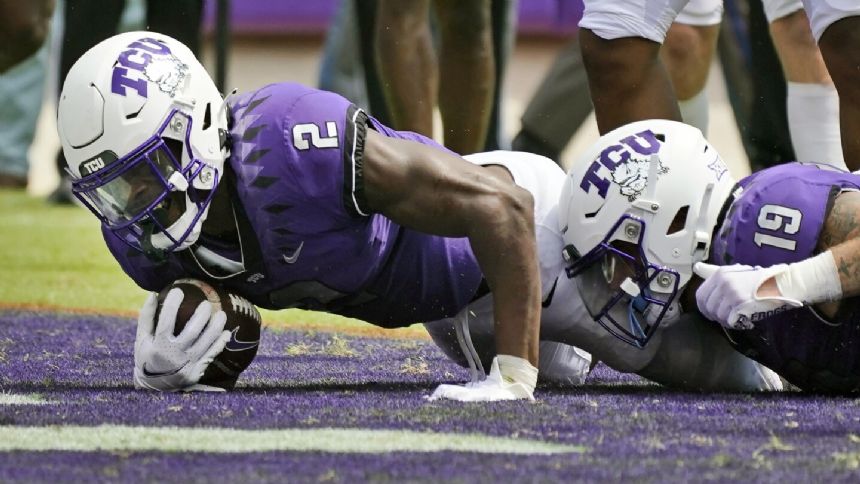 Nicholls (0-1) at TCU (0-1), Saturday, 8 p.m. ET (ESPN+)
Line: No line.
Series record: First meeting.
WHAT'S AT STAKE
TCU has to win to avoid its first 0-2 start since 1999. The Horned Frogs haven't lost to a non-FBS team since an overtime loss to Northwestern State in 2001, which was then-coach Gary Patterson's first home game. Nicholls is another FCS team from Louisiana, and is coming off a 38-24 home loss to Sacramento State last week. The Frogs have lost three of their last four games since an undefeated regular season last year in coach Sonny Dykes' debut. They lost the Big 12 title game, the national championship game and then last week's opener, 45-42, as Colorado had 565 total yards in its first game under Deion Sanders.
KEY MATCHUP
After so many missed tackles and opportunities for TCU's defense in the opener, the Frogs just need to tackle and make stops. They have to deal with Nicholls running back Collin Guggenheim, who had five consecutive 100-yard rushing games when filling in at the end of 2021, ran for 543 yards as the No. 2 back last year and had 74 yards in the opener.
PLAYERS TO WATCH
Nicholls: Junior WR Quincy Brown is a transfer who played in all 12 games for TCU as a freshman in 2021, starting the last nine, and had two touchdown catches in the Frogs' home opener last year before a season-ending ankle injury. He later transferred to Nicholls, only about 40 miles from his hometown.
TCU: Running backs Emani Bailey and Trey Sanders. After leading the Big 12 with 8.1 yards per carry last season, Bailey began his junior season with 164 yards rushing on 14 carries (11.7 yards per carry) against Colorado, including a 74-yarder. Sanders had three TD runs in his TCU debut, matching his total in his 27 games at Alabama the past three seasons.
FACTS & FIGURES
After being in the preseason AP poll for the first time since 2018, the Frogs dropped out from No. 17 after losing to Colorado as a three-TD favorite. ... TCU's 42 points in the opener were its most in a loss since a 52-46 setback to Oklahoma in 2016. ... The Colonels' last win against an FBS team was 26-23 in overtime at Big 12 team Kansas to open the 2018 season.
___
AP college football: https://apnews.com/hub/college-football and https://apnews.com/hub/ap-top-25-college-football-poll
"
Article Copyright © 2023 The Associated Press, All Rights Reserved.