Tyreek Hill and A.J. Brown are setting sights on NFL receiving record
Wed, Nov 1, 2023
NFL News (AP)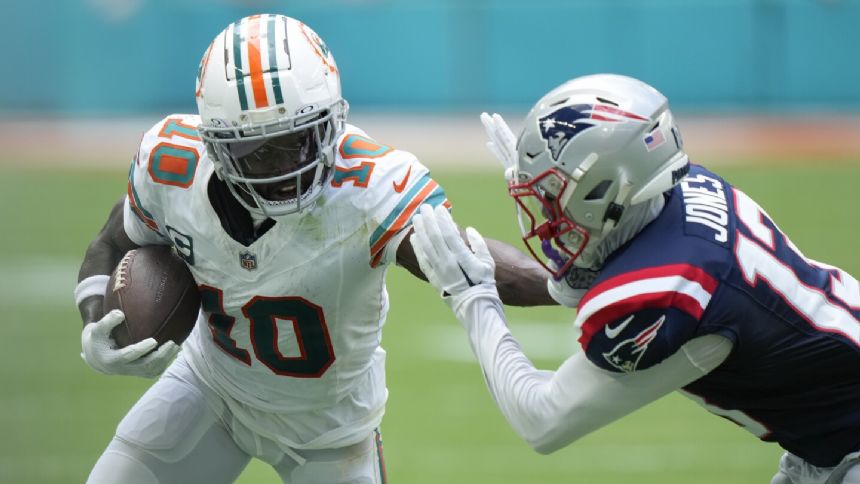 Inside the Numbers dives into NFL statistics, streaks and trends each week. For more Inside the Numbers, head here.
___
The way Tyreek Hill and A.J. Brown are playing, the NFL's single-season receiving record could be in serious jeopardy.
With both receivers off to historic starts and the addition of the 17th game to the schedule, Calvin Johnson's record of 1,964 yards receiving set in 2012 is in danger of being broken.
Other news
Raiders fire coach Josh McDaniels and GM Dave Ziegler
Davante Adams and Maxx Crosby watching best years slip away as Raiders again struggle
49ers land Chase Young, Bears get Montez Sweat as Commanders unload top pass rushers
Hill has 1,104 yards receiving, becoming the first player in 52 years to reach the 1,000-yard mark in the first eight games of the season. The only other players to reach 1,000 yards receiving in the first eight games are Charley Hennigan (1,122 in 1961), Elroy Hirsch (1,058 in 1951) and Don Hutson (1,032 in 1942).
Hill would be be on pace to break Johnson's record even without the 17th game as he is averaging 126.8 yards per game. He needs to average 106 yards the rest of the way to break Johnson's mark.
Brown is slightly behind that pace with 939 yards but is closing fast. He had eight catches for 130 yards and two TDs last week to set an NFL record with his sixth straight game with at least 125 yards receiving.
Brown has 831 yards in his last six games and is currently on pace for 1,995 - slightly ahead of Johnson's record.
ROOKIE QBS
Will Levis had a memorable debut as the latest rookie QB to get a start this season.
Levis threw four TD passes in Tennessee's 28-23 win over Atlanta, tying former Titans QB Marcus Mariota (2015) and Hall of Famer Fran Tarkenton (1961) as the only players to throw at least four TD passes in their NFL debuts.
Levis was the seventh rookie quarterback to start a game this season, following Bryce Young, C.J. Stroud, Anthony Richardson, Aidan O'Connell, Dorian Thompson-Robinson and Tyson Bagent. That's the most rookie starters in the first eight weeks of the season since the merger, excluding the replacement player season in 1987.
There could be even more this week with Jaren Hall set to start in Minnesota after Kirk Cousins got hurt and Clayton Tune a possibility to start for Arizona. If both get the nod this week, that would tie the 2019 record for most rookie starting QBs in a non-replacement player season with nine.
Young and Stroud faced off on Sunday with Young earning his first win for the Panthers in a 15-13 victory. It was the fifth time in the common draft era that QBs taken with the top two picks met as rookies, with Young joining Peyton Manning (1998 vs. Ryan Leaf) as the only top picks to win.
Zach Wilson beat Trevor Lawrence in 2021, Mariota beat Jameis Winston in 2015 and Rick Mirer beat Drew Bledsoe in 1993.
STREAK BUSTER
Kansas City's 24-9 loss at Denver ended several long streaks.
The Chiefs had won 16 in a row against the Broncos, which was tied for the third longest streak ever in the regular season, trailing only a 20-gamer for Miami against Buffalo in the 1970s and a 17-gamer for San Francisco against the Rams in the 1990s.
Patrick Mahomes had been 12-0 as a starter against the Broncos, which was tied with Otto Graham for the best record against one team since 1950.
Mahomes had won 13 straight games in the division, one shy of the longest streak since the merger held by Peyton Manning and Andrew Luck.
Mahomes also had his streak of 35 straight games in the regular season or playoffs with at least one TD pass. That was tied for the seventh longest streak but well shy of Drew Brees' record of 60 in a row.
The game was also a rare one for the Chiefs that wasn't close. Kansas City had gone a record 40 games in a row in the regular season and playoffs without losing by at least four points.
COMEBACK KIDS
The win by Carolina ended a long of streak of comeback futility.
The Panthers had lost 56 straight games when they trailed at any point in the fourth quarter for the longest streak since at least 1991. Their last win before Sunday came on Oct. 21, 2018, against Philadelphia.
The victory for Carolina gave every team in the league at least one win and one loss this season - the first time that has happened in the first eight weeks since 1999.
While the Panthers ended their streak, San Francisco extended one by losing for the 38th straight time when trailing by at least eight points in the fourth quarter in the regular season or playoffs. That includes 37 straight losses under coach Kyle Shanahan.
OFFENSE GROUNDED
The New York Giants passing game went backward on Sunday in a loss to the Jets.
The Giants finished with minus-9 net yards passing with Tyrod Taylor going 4 for 7 for 8 yards and rookie Tommy DeVito going 2 for 7 for minus-1 yard. The Giants also took four sacks for 16 yards against the Jets for the total of minus-9 yards passing.
That was the fewest yards passing in a game since Cleveland had minus-9 against Jacksonville on Dec. 3, 2000. The last team with fewer yards was the Chargers with minus-19 against Kansas City in Ryan Leaf's third career start in 1998.
The teams combined for 24 punts in the game that the Jets won 13-10 in overtime, the third most in a game since at least 1960, trailing only the 27 for a Raiders-Chargers game in 1998 and 25 in an Eagles-Giants game in 1987.
___
AP NFL: https://apnews.com/hub/nfl
JOSH DUBOW Josh is an NFL writer who covers Raiders and 49ers
twitter
mailto
"
Article Copyright © 2023 The Associated Press, All Rights Reserved.