Vegas' Paul Cotter ejected for an illegal check to the head of Washington's Evgeny Kuznetsov
Tue, Nov 14, 2023
NHL News (AP)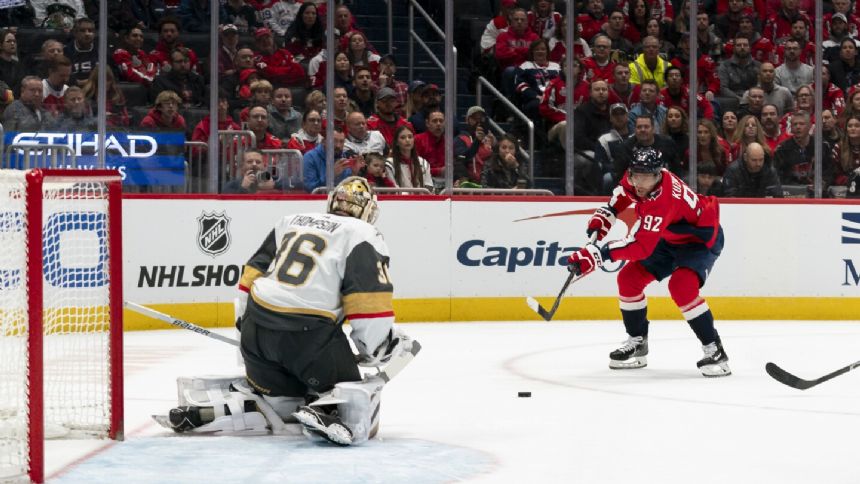 WASHINGTON (AP) - Vegas Golden Knights forward Paul Cotter was ejected for an illegal check to the head of Washington Capitals center Evgeny Kuznetsov during the teams' game Tuesday night and could face a suspension.
Cotter hit Kuznetsov in the head with his left shoulder early in the second period. Kuznetsov lay on the ice for more than a minute and immediately left the ice to get checked out, in accordance with NHL concussion protocol.
The on-ice officials reviewed the hit and gave Cotter a match penalty that carried with it a five-minute Capitals power play. Kuznetsov returned later in the period.
Cotter, who has no prior disciplinary history, could have a hearing with the league's department of player safety as soon as Wednesday. Vegas next plays Thursday night at Montreal, the second stop on the defending Stanley Cup champion's five-game road trip.
___
AP NHL: https://apnews.com/hub/NHL
STEPHEN WHYNO DC-based hockey writer covering NHL, Capitals and Commanders
twitter
mailto
"
Article Copyright © 2023 The Associated Press, All Rights Reserved.