Vikings and Broncos square off in matchup of teams on heaters after slow starts
Thu, Nov 16, 2023
NFL News (AP)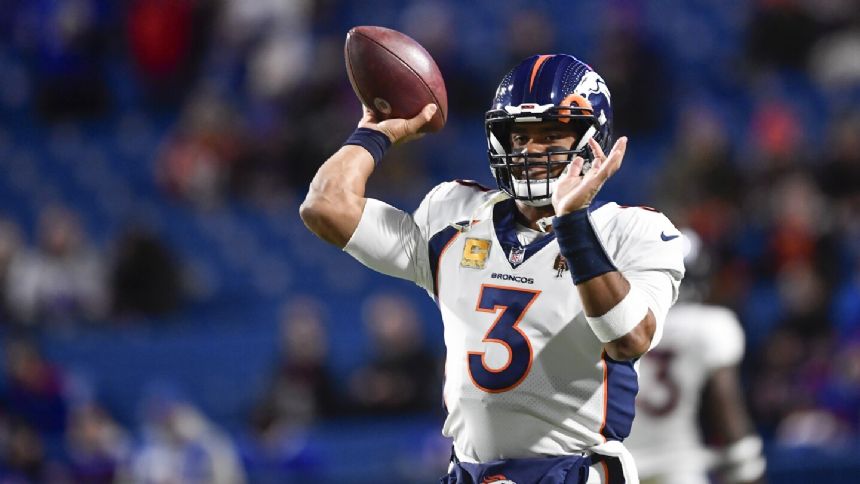 DENVER (AP) - Denver Broncos wide receiver Courtland Sutton already has a career-high seven touchdown catches just halfway through the season, highlighted by his toe-tapping masterpiece at Buffalo, but he'd rather Russell Wilson get his flowers for the bounce-back year he's having.
Sutton posted a " Russell Wilson Apology Form " on social media, inviting everyone who bashed the Broncos QB for his atrocious 2022 season to say they're sorry.
Not so fast, retorted Mark Schlereth, the television and radio commentator who spent 12 years in the NFL. He said on his morning show on Denver's KKFN-FM that "Russell Wilson was garbage last year, and anyone who tells you otherwise is baloney."
Wilson threw for 16 touchdowns with 11 interceptions while going 4-11 last year following the blockbuster trade with Seattle that cost Denver a bevy of players and premium draft picks.
Other news
It's a Super Bowl rematch with superstar power as the Eagles visit the Chiefs on Monday night
Ravens TE Mark Andrews exits with ankle injury on first possession against Bengals
Baltimore CB Marlon Humphrey is inactive for the matchup with Cincinnati because of a calf injury
He has 18 TD throws and just four interceptions this season, and the Broncos (4-5) under coach Sean Payton have won an AFC-high three straight games heading into their Sunday night showdown against Joshua Dobbs and the Minnesota Vikings (6-4), who are on a heater of their own.
The Vikings have won five in a row despite Kirk Cousins tearing his right Achilles tendon against the Packers last month and Dobbs getting pressed into duty almost as soon as he arrived from Arizona via a deadline deal.
Wilson, who has six TD throws and no interceptions during Denver's winning streak, demurred when asked about Sutton's apology appeal, saying he's only concerned about winning more games and "playing great football."
"I know who I am, and I don't need anybody's approval," Wilson said. "It's my 12th year and ... if I can have 20 years and make 19 of them great then I wouldn't complain."
Maybe standing up for Wilson will earn Sutton a few more targets, and if that's the case, perhaps rookie Marvin Mims Jr. should try buttering him up, too.
Mims has been dynamite on special teams, earning the NFL Player of the Week honor for his 75 combined return yards in Denver's 24-22 win at Buffalo on Monday night. But he's been a ghost on offense ever since a three-game stretch in September when he tallied 233 yards on just seven receptions, a whopping 33.3 yards per catch.
Just a few weeks ago, this matchup had all the makings of a snoozer.
No more.
"They're playing good ball. They're not turning the ball over. That's kind of both of the stories of our season," Vikings center Garrett Bradbury said.
Not missing a beat during the quarterback transition "means that Josh is doing a good job and the coaches are doing a good job," Bradbury said. "Everyone's just trying to raise their level of play."
Dobbs credited his quick acclimation to all those around him willing to put in extra work "whether it's through the communication we have in passing in the locker room, in the film room or getting extra reps on the practice field."
RISNER HOMECOMING
Guard Dalton Risner joined the Vikings in late September after finding no takers in free agency following four solid seasons with Denver.
"It's been awesome to have Dalton," tight end T.J. Hockenson said. "He's a good personality to have in the locker room. He's always upbeat. He's always smiling. He's always in here joking with guys. You notice it when you're out there. He's the first guy picking you up always from the bottom of the pile. He's always around the ball. Those are big things. It's just leadership."
PLAYING THROUGH PAIN
Hockenson leads NFL tight ends with 681 receiving yards, giving Dobbs a vital underneath option with Justin Jefferson sidelined by a hamstring injury. Hockenson also has been hurt, playing through injured ribs the last two weeks.
"You just don't think about it, I guess," Hockenson said.
Jefferson is in the second week of a three-week window to return from injured reserve and was a limited participant in practice as the Vikings carefully ramp up the intensity of his work.
"I'm just trying to make sure that it doesn't come back," said Jefferson, who has missed every game of the Vikings' winning streak.
JACKSON BACK IN ACTION
Denver safety Kareem Jackson returned this week from his two-game suspension for violating the league's unnecessary roughness rules and will return to the starting lineup with P.J. Locke sidelined by a sprained ankle.
"I told him we're on a little bit of a roll. Don't mess anything up now," cracked Payton.
Jackson has been fined for four illegal hits this season totaling $89,670 and his two-game banishment cost him $279,000 in salary.
Jackson said he can't guarantee he won't run afoul of the rules again.
"The hits that I have I feel are normal football plays," he said while promising to lower his target zone from here on out.
He said he's gotten no clarity from the NFL's rules enforcers, "so I'm unsure how I play the game going forward. Because I'm going to be in those situations two to three times every week."
___
AP Sports Writer Dave Campbell contributed to this report.
___
AP NFL: https://apnews.com/hub/nfl
ARNIE MELENDREZ STAPLETON Arnie is an NFL writer based in Denver
twitter
mailto
"
Article Copyright © 2023 The Associated Press, All Rights Reserved.