Vin Scully dies: Kirk Gibson, Clayton Kershaw, others pay tribute to iconic Dodgers broadcaster
Wed, Aug 3, 2022
MLB News (AP)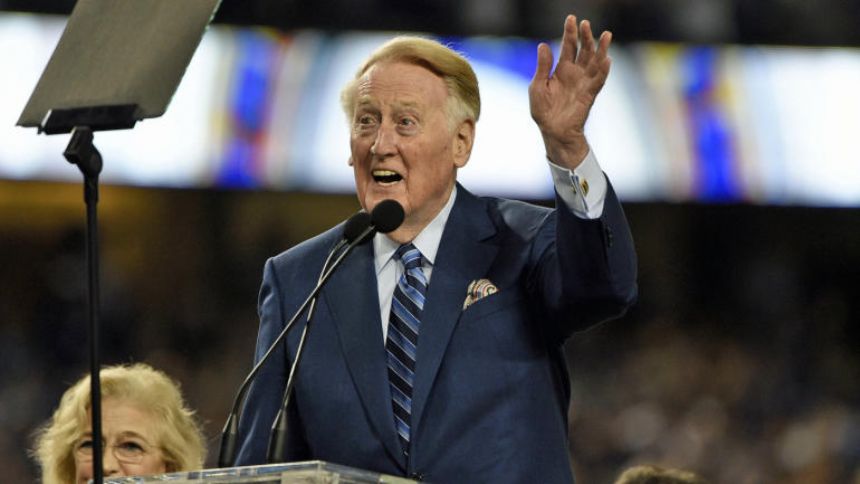 Legendary broadcaster Vin Scully . Scully served as the play-by-play voice of the Los Angeles Dodgers from 1950 until 2016, moving with the team from Brooklyn to Los Angeles.
"He was the voice of the Dodgers, and so much more," the Dodgers said in a statement. "He was their conscience, their poet laureate, capturing their beauty and chronicling their glory from Jackie Robinson to Sandy Koufax, Kirk Gibson to Clayton Kershaw.' Vin Scully was the heartbeat of the Dodgers - and in so many ways, the heartbeat of all of Los Angeles."
Scully called Dodger games even when the team made their home in Brooklyn. Once the Dodgers relocated to Los Angeles in 1958, Scully did as well and continued to serve as the iconic voice of the franchise.
In addition to his duties with the Dodgers, Scully 'broadcasted nationally-televised football and golf events for AP Sports from 1975 until 1982. He also worked on national broadcasts for the likes of Major League Baseball, the NFL and the PGA Tour.
One of Scully's most memorable calls took place in the 1988 World Series when an injured Kirk Gibson slugged a walk-off, pinch-hit home run in Game 1.
As the news of Scully's passing made its rounds, Gibson, Clayton Kershaw, and many other baseball stars -- from the Dodgers and beyond -- paid their respects to the broadcasting icon.
My 2nd favorited vin quote "in case you're wondering....Will Clarke is due up.....................................7th ......this inning"
Rip Vin....the best??????

- Kirk Gibson (@23KGibby) August 3, 2022
"He was the best there ever was. Just when you think about the Dodgers, there's a lot of history here and a lot of people who have come through, it's just a storied franchise all the way around. But it almost starts with Vin, honestly." @ClaytonKersh22 on Vin Scully's legacy. pic.twitter.com/tbZxACr3lO

- SportsNet LA (@SportsNetLA) August 3, 2022
"Every great city has sounds to it. Los Angeles has had one clear sound and that's been the voice of Vin Scully." - Steve Garvey pic.twitter.com/AX2aJBnmng

- MLB Network (@MLBNetwork) August 3, 2022
"He was a friend and he inspired me to be better. There's not a better storyteller." Dave Roberts on Vin Scully. pic.twitter.com/euoOe64fUa

- SportsNet LA (@SportsNetLA) August 3, 2022
Rest in Power. A City of Angels icon. Another great one who made sports so damn special. #LoveLA?? https://t.co/zHPD78KEsE

- LeBron James (@KingJames) August 3, 2022
I grew up on the voice and the poetic sounds of Vin Scully. He made listening to Baseball fun and educational. Simply the best !!

- Ozzie Smith (@STLWizard) August 3, 2022
Rest In Peace Vin Scully. My thoughts and prayers go out to the the Scully family and the @LosDodgers organization. The baseball world lost an Icon, but his voice and enthusiasm will always be remembered. pic.twitter.com/BiG6GQtoW6

- Fergie Jenkins (@fergieajenkins) August 3, 2022
RIP Vin Scully ???? An incredible ambassador of this game. Thank you for everything.

- CC Sabathia (@CC_Sabathia) August 3, 2022
Vin Scully was more than a broadcaster, he is a baseball legend. My heart goes out to the Scully family, the Dodgers organization, and all the fans who loved him. https://t.co/Nz4S1ReXkw

- Hunter Pence (@hunterpence) August 3, 2022
Article Copyright © 2022 The Associated Press, All Rights Reserved.