Will Taylor Swift be at the Chiefs' game in Germany? Travis Kelce wouldn't say
Fri, Nov 3, 2023
NFL News (AP)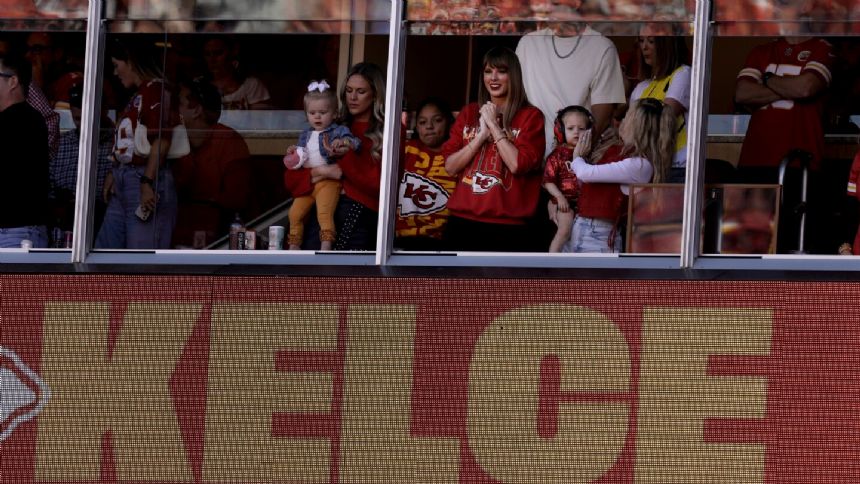 FRANKFURT, Germany (AP) - Travis Kelce declined to discuss Taylor Swift's status for Sunday's game in Germany - and their status as a couple.
The Chiefs tight end spoke Friday at a press conference but wouldn't say whether the pop star plans to attend the game against the Miami Dolphins at Deutsche Bank Park.
"When I mention or everybody knows that she's at the game, the Vegas, the over under on my catches kind of goes up and down, the spread goes up and down," Kelce joked. "I don't want to mess with any of that stuff, so I'm just going to keep it to myself."
The Chiefs arrived Friday morning and practiced at the campus of the German national soccer team in Frankfurt.
Taylor Swift
New Jersey governor spent $12K on stadium events, including a Taylor Swift concert
The NHL is trying to follow Taylor Swift's lead by selling out MetLife Stadium multiple times
Taylor Swift's 'The Eras Tour' dances to No. 1 at the box office, eyeing 'Joker' film record
Kelce was asked for his relationship status and if he's "in love" - which drew oohs and chuckles.
"The latest status is I got to see her last week," he good-naturedly replied.
The reporter repeated the second part.
"I'm going to keep my personal relationship personal," Kelce said.
Swift is scheduled to resume her Eras Tour on Thursday in Buenos Aires, Argentina. She has three shows at Estadio River Plate followed by six dates in two cities in Brazil later this month.
She was not at the Chiefs game at Denver last week. The Broncos won 24-9.
Kelce has averaged 108 yards receiving in the four games Swift has attended - and less than half that in the three games she did not.
The tight end had a 12-catch performance for 179 yards and a touchdown in a 31-17 win over the Los Angeles Chargers two weeks ago, when Swift danced with Brittany Mahomes, wife of Chiefs quarterback Patrick Mahomes, in an Arrowhead Stadium suite.
"I think it's pretty much a coincidence," Kelce said Friday. "I've had some pretty big games in my career."
Swift has never performed at Deutsche Bank Park. Her tour includes seven shows scheduled in three German cities - all next July.
___
AP NFL: https://apnews.com/hub/nfl
"
Article Copyright © 2023 The Associated Press, All Rights Reserved.