Wisconsin GOP proposes ticket fee, smaller state contribution to Brewers stadium repair plan
Tue, Nov 7, 2023
MLB News (AP)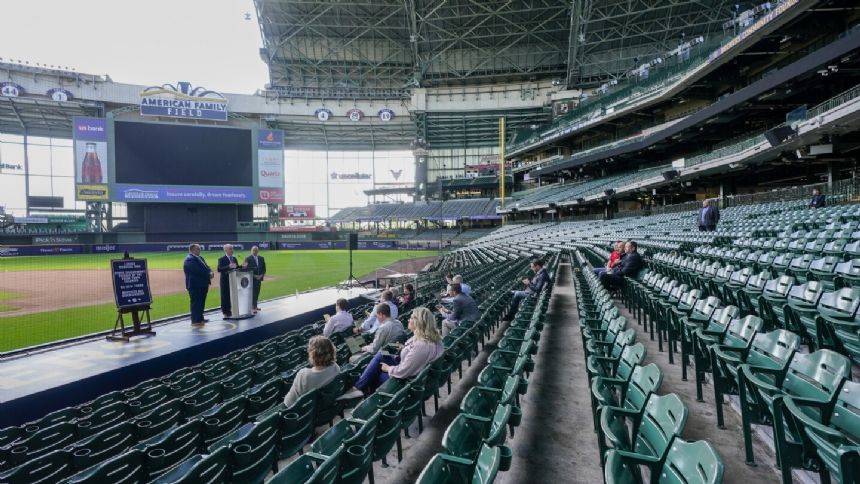 MADISON, Wis. (AP) - Republicans in the Wisconsin state Senate proposed tweaks Tuesday to their plan to help fund repairs to the Milwaukee Brewers stadium that would scale back the state's contribution by about $36 million and impose a surcharge on tickets to non-baseball events.
The Legislature's finance committee was set to vote on the changes Wednesday. Approval could set up a floor vote in the Senate as early as next week.
The Brewers contend that their stadium, American Family Field, needs extensive repairs. The team argues that the stadium's glass outfield doors, seats and concourses should be replaced and that luxury suites and the video scoreboard need upgrades. The stadium's signature retractable roof, fire suppression systems, parking lots, elevators and escalators need work as well, according to the team.
Team officials have hinted the Brewers might leave Milwaukee if they don't get public money for the repairs.
Other news
Wisconsin Assembly to pass Republican bill banning race, diversity factors in financial aid for UW
Wisconsin Democrats introduce legislation package to address deteriorating conditions in prisons
Democrats fear that Biden's Israel-Hamas war stance could cost him reelection in Michigan
The state Assembly last month approved a plan that calls for the state to contribute $411 million and the city of Milwaukee and Milwaukee County to contribute a combined $135 million. The Brewers have said they would contribute $100 million to repairs and extend their lease at the stadium through 2050 in exchange for the public funds. The lease extension would keep Major League Baseball in its smallest market for another 27 years.
Sen. Dan Feyen released an amendment Tuesday to the Assembly plan that would reduce the state's payout by $20 million and impose a $2 ticket surcharge on non-baseball events such as concerts or monster truck shows. Suite users would face an $8 ticket surcharge for non-baseball events. The surcharge is projected to generate $14.1 million, which would be used to further defray the state contribution. The end result would be a $36.1 million reduction in the overall state contribution.
The team's rent payments would also increase by $10 million between 2024 and 2050.
The amendment further calls for a biennial financial audit of the stadium district that administers public funding for American Family Field through 2050.
Feyen declined to comment on the amendment as he left a Senate floor session Tuesday afternoon. Senate Majority Leader Devin LeMahieu said Senate Republicans planned to discuss the amendment in caucus Tuesday afternoon but declined further comment.
A spokesperson for the Brewers had no immediate comment.
___
This story has been updated to correct the total amount of the state contribution reduction to $36.1 million and correct the increase in Brewers' rent payments to $10 million.
TODD RICHMOND Richmond covers Wisconsin government and breaking news.
twitter
mailto
"
Article Copyright © 2023 The Associated Press, All Rights Reserved.