With Rodgers out and Allen struggling, Jets and Bills don't carry as much buzz into rematch
Thu, Nov 16, 2023
NFL News (AP)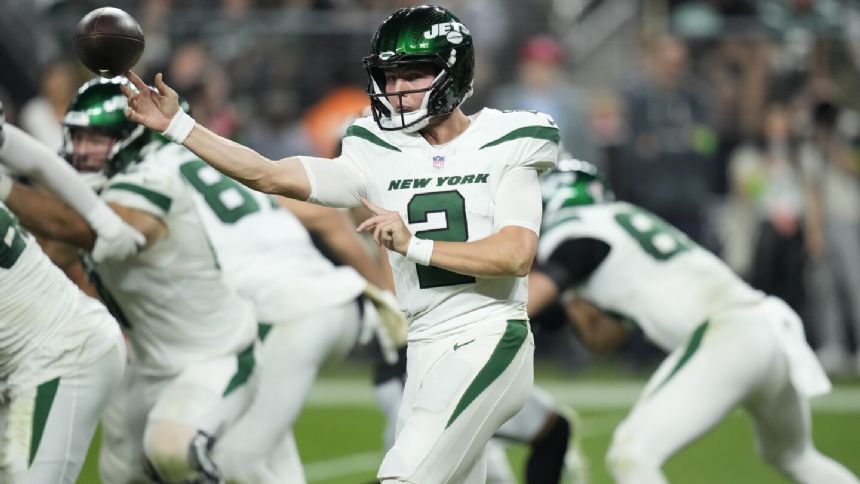 ORCHARD PARK, N.Y. (AP) - It wasn't long ago when excitement was building in New York City and across the state in Buffalo over the potential AFC East quarterback rivalry between Aaron Rodgers and Josh Allen.
The buzz lasted four offensive snaps for the Jets before Rodgers went down with a torn left Achilles tendon in their season opener against the Bills.
It's taken a little longer in Buffalo, where these days the "Shout!" song after each Bills scoring play has been replaced by a chorus of boos directed at Allen and a stagnant, turnover-prone offense. Coordinator Ken Dorsey was fired on Tuesday.
Some 11 weeks after the Jets pulled out a 22-16 overtime win over the Bills at the Meadowlands, the teams meet at Orchard Park, New York, on Sunday, voicing similar frustrations.
Other news
Baltimore CB Marlon Humphrey is inactive for the matchup with Cincinnati because of a calf injury
After QB change, Browns will lean on their top-ranked defense against Steelers in AFC North matchup
Stefon Diggs reiterates his commitment to the Bills in response to brother's social media posts
"We need to stop with the self-inflicted wounds," Jets quarterback Zach Wilson said. "Obviously, we've said that a million times. We just need to be better."
It's no different in Buffalo, where Allen on Wednesday said the same thing, before adding: "It's not like it's broken. We're not a broken offense. We're not a broken team."
And yet the cracks are showing.
The Bills (5-5) have dropped four of six during which Allen has thrown seven of his NFL-leading 11 interceptions and lost two fumbles. Buffalo hasn't scored 26 or more points in a game during that stretch, matching the team's longest such run since Allen's rookie season in 2018.
The Jets (4-5) are having trouble reaching the end zone. They've scored just eight touchdowns and have gone 36 possessions without a TD, a drought spanning 11 quarters and an overtime period.
Another thing the teams have in common: players-only meetings.
The Bills held one last week, though it did them little good before a 24-22 loss to Denver.
It was the Jets' turn on Tuesday, following a 16-12 loss to the Las Vegas Raiders.
"We definitely needed it," left tackle Mekhi Becton said. "It was everybody just looking in the mirror and taking accountability instead of finger-pointing. Now we've got to figure out what we need to do to keep this thing going."
The Bills are counting on the change at coordinator to jolt Allen out of his doldrums. Quarterbacks coach Joe Brady has assumed those duties.
"As much as you can sit here and feel sorry for yourself and sulk on what's going on, we've got a game to prepare for," Allen said.
In New York, the only hope might rest on Rodgers' ongoing hints of potentially returning to play this season.
"The pressure is to keep it afloat just to keep it afloat," coach Robert Saleh said. "It's not for any one individual. It's not for any possibility. It's because we're competitors and we want to win football games. And I think Aaron's just icing on the cake."
STILL DIGG-ING IT
Bills receiver Stefon Diggs says he's not his brother's keeper in reference to messages his younger brother and sidelined Cowboys cornerback Trevon Diggs posted on social media following the Bills' loss to Denver.
"Man 14 Gotta get up outta there," was one comment from Trevon, in reference to Stefon's No. 14. "Let's not forget, he didn't start going off till bro got there," he added in a post referring to Allen, whose production rose with Stefon's arrival by trade in 2020.
The Bills receiver responded by saying he can't speak for his brother. As for whether he wants out of Buffalo, Diggs said he's never hinted at that and questioned why it remains an issue after he said he addressed it during training camp.
GROUND AND POUNDED
New York's defense has been mostly outstanding, but one area where it has struggled is stopping the run.
The Jets enter the game ranked 31st in the NFL, allowing 138.4 yards rushing per game. Only Denver has been worse, giving up an average of 158.3 yards rushing. One of New York's best performances this season came in Week 1 against the Bills, whom they held to 97 yards rushing - including 46 by James Cook on 12 carries.
PLAYING SHORT-HANDED
The Bills' defense has dropped from ranking sixth in the NFL in yards allowed entering Week 5 to 17th this week. Buffalo has lost three starters to injury during that span.
But opponents are still having trouble scoring against the Bills, who have dropped from second in points allowed through four games (13.75) to fifth (18.4).
BRADY IN CHARGE
Two days after taking over as coordinator, Brady was short on specifics Thursday and said he hadn't considered whether he'll be calling plays from the booth or the sideline.
Without going into detail, Brady said he intends to design game plans that are opponent-specific. He was previously the Carolina Panthers' offensive coordinator from 2020-21. His starting quarterbacks during that time were Teddy Bridgewater, Sam Darnold and Cam Newton.
Brady is eager to have Allen running his offense.
"Give me Josh Allen all day, every day," he said. "When I look in his eyes before every game, there's not a worry in my mind."
___
AP Pro Football Writer Dennis Waszak Jr. contributed to this report.
___
AP NFL: https://apnews.com/hub/nfl
"
Article Copyright © 2023 The Associated Press, All Rights Reserved.