Without Jim Harbaugh, No. 2 Michigan grinds past No. 9 Penn State with 32 straight runs in 24-15 win
Sat, Nov 11, 2023
NCAAF News (AP)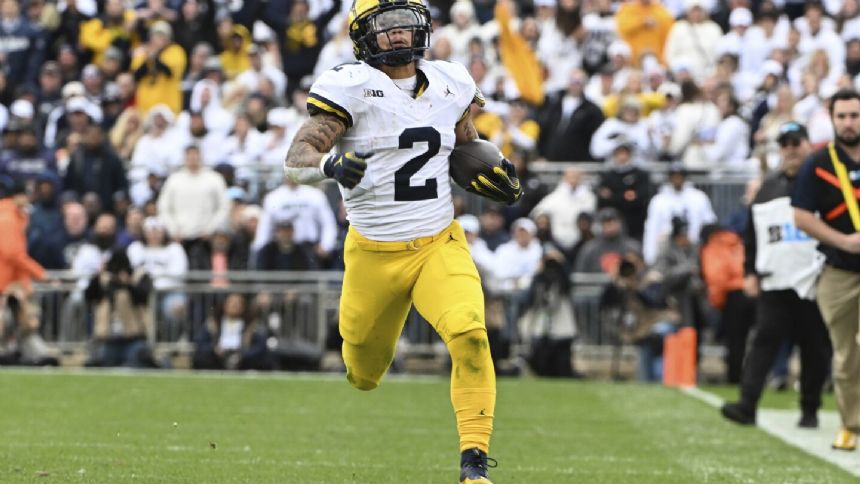 With Jim Harbaugh banned by the Big Ten Conference, J.J. McCarthy, Blake Corum and No. 2 Michigan played unfazed by a scandal that has hounded the program for weeks - and their toughest opponent yet - grinding past No. 9 Penn State 24-15 Saturday.
Corum ran for 145 yards and two touchdowns, McCarthy made few key plays with his arms and legs and the Wolverines (10-0, 7-0, No. 3 CFP) improved to 3-0 since it was revealed the program was under NCAA investigation for a sign-stealing scheme.
The struggles in big games continued for coach James Franklin and Penn State (8-2, 5-3, No. 10 CFP), which scored a combined 26 points in losses to Big Ten East rivals Ohio State and Michigan this season.
In a game Harbaugh no doubt loved from afar, on what turned into a chilly and gray day in Happy Valley, the Wolverines ran the ball on 32 straight plays that counted, starting with the final two of the first half and ending with a couple of kneeldowns.
Other news
Texas Tech upsets No. 19 Kansas 16-13 on a late game-winning field goal by Gino Garcia
Clemson's defense smothers Georgia Tech and Klubnik plays almost mistake free in 42-21 Tigers win
Rattler accounts for 3 TDs as South Carolina wins 15th straight over Vanderbilt 47-6
The 27th run was Corum's 30-yard touchdown to seal it with 4:15 left.
McCarthy's lone throw during the streak drew a Penn State pass interference flag. He finished 7 for 8 for 60 yards for the game - officially 0 for 0 in the second half.
It was a matter-of-fact victory for the best scoring defense in the country on a day that began anything but normal.
It was unclear exactly when Michigan knew for certain Harbaugh would not be coaching, but about 90 minutes before kickoff, the school confirmed that a judge had not made a ruling on its request for a temporary restraining order against the Big Ten and Commissioner Tony Petitti.
Petitti and the conference handed down what amounted to a three-game suspension of Harbaugh on Friday as punishment for Michigan for an in-person scouting and sign-stealing operation the Big Ten determined violated its sportsmanship policy.
Offensive coordinator Sherrone Moore served as acting head coach and led the Wolverines onto the field to start the game.
Fans who didn't know Michigan was playing without its head coach probably would not have noticed a difference in the Wolverines.
Penn State, Michigan's first ranked opponent this season, got on the board first and became the first team to produce a first-and-goal situation against Michigan. The Wolverines were ready for it, forcing the Nittany Lions to kick a 21-yard field goal with 2:17 left in the first quarter.
It was rare deficit for the Wolverines and it did not last long. Corum capped a 75-yard drive with a 3-yard touchdown run less than four minutes into the second quarter to make it 7-3 Michigan.
After Michigan forced another punt, with Penn State facing fourth-and-foot from its own 35, the Wolverines went on the march again. They beat the Penn State blitz on third-and-long with a run by Donovan Edwards that went for a 22-yard touchdown.
The Nittany Lions responded with their lone touchdown drive, converting twice on fourth down along the way before Allar went 11 yards on a draw for a TD. The 2-point play failed and it was 14-9 Michigan at the half, the closest game at the break of the season for the Wolverines.
Michigan turned Allar's lost fumble at midfield into a 45-yard drive - all runs - that only resulted in a field goal but took 8:04 off the clock in the third quarter and put the Wolverines up eight.
That was enough for a Michigan defense, which permitted a late touchdown for the first time this season, to allow more than one TD in a game.
THE TAKEAWAY
Michigan: The Wolverines improved to 4-0 in games without Harbaugh this season. He served a school-imposed suspension for the team's first three games as a penalty for an unrelated NCAA recruiting violations case.
Penn State: It's the same old story for Penn State. Under Franklin, the Nittany Lions are 3-17 vs. top-10 teams, including 1-14 vs. Ohio State and Michigan teams ranked in the top 10.
UP NEXT
Michigan: The Wolverines go to Maryland, with or without Harbaugh.
Penn State: The Nittany Lions play their final home game of the season against Rutgers.
___
Follow Ralph D. Russo at https://twitter.com/ralphDrussoAP and listen at http://www.appodcasts.com. Get alerts on the latest AP Top 25 poll throughout the season. Sign up here. AP college football: https://apnews.com/hub/college-football and https://apnews.com/hub/ap-top-25-college-football-poll
"
Article Copyright © 2023 The Associated Press, All Rights Reserved.