Aaron Estrada's 27-point game powers No. 24 Alabama to a 102-80 win over Indiana State
Sat, Nov 11, 2023
NCAAB News (AP)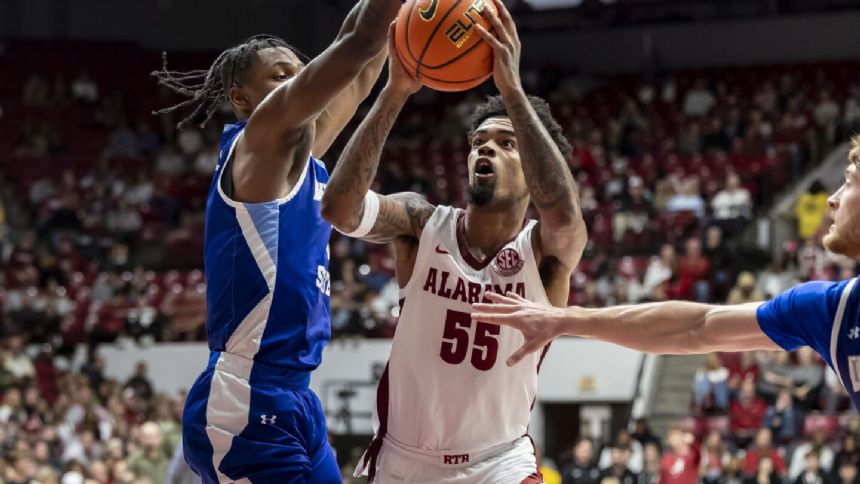 TUSCALOOSA, Ala. (AP) - Aaron Estrada scored 27 points to lead No. 24 Alabama to a 102-80 victory over Indiana State on Friday night.
Mark Sears had a hot hand in the second half, scoring 15 of his 22 points in the final 20 minutes and finishing with four rebounds and two assists. Grant Nelson added 20 points while also leading Alabama (2-0) with eight rebounds.
"I think it's scary for the other team, honestly," Estrada said. "I started out the game hot, then they started keying on me and that allowed Mark and Grant and the other guys to get off and make everything easier."
Isaiah Swope led Indiana State (1-1) with 17 points. Ryan Conwell added 16 points, 10 rebounds and three steals, while Julian Larry scored 15 points and Jayson Kent 12.
Indiana State scored the first nine points of the game, weathered Alabama's resurgence and regained the lead with seven minutes left in the first half. Alabama then scored 13 of the next 16 points and the Sycamores never led again.
"One of the keys was our rim decisions because with (Alabama), they're so long that when you get there, if you make a bad one, that triggers their transition and they're probably the best transition offense team in the country," Indiana State coach Josh Schertz said.
The Crimson Tide did not lead Indiana State by more than 15 points until there were fewer than six minutes remaining.
"We got to continue to get better on defense," Alabama coach Nate Oats said. "We're going to keep preaching defense, defense, defense."
Estrada did much of his work early, scoring nine of Alabama's first 12 points, 14 of its first 20 and 22 of the Crimson Tide's 48 first-half points. He also contributed five rebounds, five assists and two steals.
BIG PICTURE
Alabama's offense continues to be fueled by its newest additions from the transfer portal, namely Estrada (from Hofstra) and Nelson (from North Dakota State). The two have now combined for 87 of Alabama's 207 points in its first two games.
When including 13 points over those two games from Cal State Fullerton transfer Latrell Wrightsell Jr. and 10 points from West Virginia transfer Mohamed Wague, the newest transfer additions are responsible for 53.1% of Alabama's points in its first two games.
SYCAMORES SCORE
Indiana State had offensive success in the loss, shooting 51% from the field and keeping the 3-point shooting over 40% for nearly the entire game.
Schertz wasn't pleased with the entire offensive performance, there were elements that impressed him.
"I thought we did a good job of trying to attack some matchups," Schertz said. "They were switching some matchups where we thought some of our guys had advantages. I really didn't think we had a great rhythm offensively. Early, we did, but as the half wore on, our rhythm wasn't quite as good but we were able to exploit a few matchups where we had a speed advantage to get downhill and create some rotations."
UP NEXT
Alabama: Hosts South Alabama on Tuesday, the third of four consecutive home games to start its season.
Indiana State: Hosts IUPUI on Tuesday, its first home game against a Division I opponent this season.
___
Get poll alerts and updates on AP Top 25 basketball throughout the season. Sign up here. AP college basketball: https://apnews.com/hub/ap-top-25-college-basketball-poll and https://apnews.com/hub/college-basketball
"
Article Copyright © 2023 The Associated Press, All Rights Reserved.