After scoring for Spain, 16-year-old Lamine Yamal seeks 1st goal with Barcelona against Betis
Thu, Sep 14, 2023
Soccer News (AP)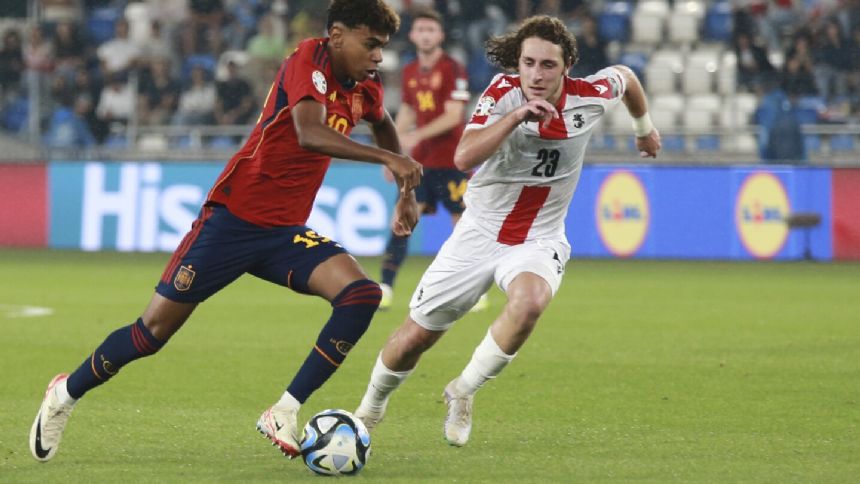 BARCELONA, Spain (AP) - Two years after Lionel Messi left Barcelona, the Spanish club hopes it has found its next star after the emergence of 16-year-old Lamine Yamal.
Yamal returns to Barcelona after an impressive debut for Spain over the past week, when the sleek forward became the youngest player to score in a European Championship qualifier. He also became the youngest player to score for Spain's national team.
"Lamine has this spark, that brilliance that very few players have," Spain coach Luis de la Fuente said about the teenager. "We must be prudent, and give him time and be patient. He can achieve many important things in soccer as long as he is humble and keeps his feet on the ground, which is very important at his age."
Yamal had already set another milestone when he became the youngest starter for Barcelona in a win over Cadiz. He has yet to score for his club, but came very close in a 4-3 win at Villarreal. In that game two weeks ago, he assisted on a goal by Gavi, hit the woodwork, and helped produce a winner for Robert Lewandowski, who finished off the rebound after a shot by Yamal.
Other news
Man United manager Ten Hag has been hit by a slew of problems in a troubled start to the season
Inter-Milan derby could give winner an early edge in Serie A title race
World Cup referee Yoshimi Yamashita among first women match officials at Asian Cup
Not bad for a player who had yet to turn 3 years old when Barcelona coach Xavi Hernandez helped Spain win the 2010 World Cup.
Yamal, who was born near Barcelona to a mother from Equatorial Guinea and a father from Morocco, caught the eye of Xavi when he was playing for Barcelona's youth sides last season. His senior team debut in April made Yamal the youngest player to appear for Barcelona at 15 years, 9 months, 16 days.
His breakout this season has coincided with Barcelona loaning out Ansu Fati, who was considered the club's brightest young star before he sustained a serious leg injury. Yamal now looks set to be a regular starter in a young Barcelona lineup that also includes 19-year-olds Gavi and Alejandro Balde and 20-year-old Pedri Gonzalez.
Barcelona hosts Real Betis in the Spanish league on Saturday trailing leader Real Madrid by two points. The surprising Girona is level on points with Barcelona before it visits Granada on Monday.
Jude Bellingham will be aiming to keep up his superb start since joining Madrid when it hosts Real Sociedad on Sunday.
The 20-year-old midfielder has scored five goals in four games - and has yet to go scoreless - to keep Madrid perfect through four rounds. He added another goal for England this week in a 3-1 win over Scotland in a friendly.
___
AP soccer: https://apnews.com/hub/soccer
"
Article Copyright © 2023 The Associated Press, All Rights Reserved.