Analysis: Bill Belichick should get another opportunity if he wants to keep coaching after Patriots
Fri, Nov 10, 2023
NFL News (AP)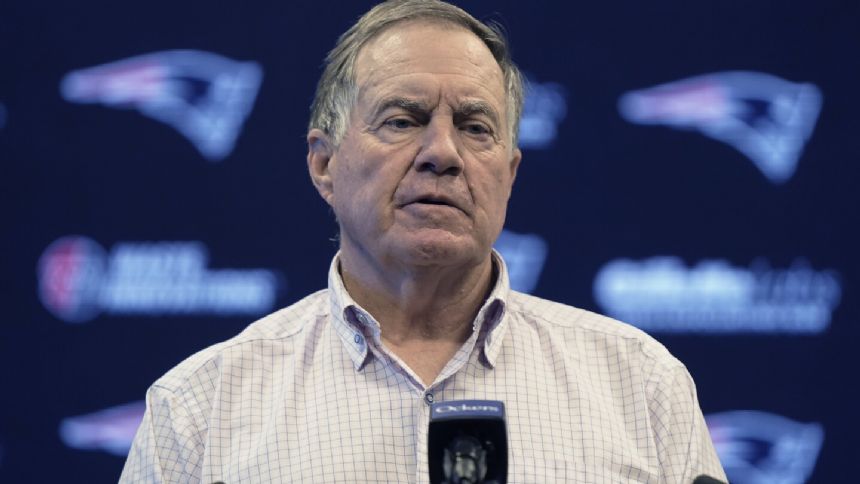 On Football analyzes the biggest topics in the NFL from week to week. For more On Football analysis, head here.
___
Bill Belichick has won six Super Bowls as a head coach and more games than everyone except Don Shula.
That won't save his job in New England if the Patriots keep losing.
Other news
Receiver CeeDee Lamb goes off for Cowboys after sounding off about getting the ball
Bryce Young takes blame as Carolina's offense sputters again in 16-13 loss to Chicago
Foreman runs for TD, Bears beat Panthers 16-13 to boost their shot at the top pick in the draft
Belichick's future is a hot topic as the Patriots (2-7) prepare to play the Indianapolis Colts (4-5) in Frankfurt, Germany, on Sunday. There even was speculation this week that Belichick could be fired if New England loses to Indianapolis.
Belichick presided over an unprecedented, two-decade run of excellence, but the Patriots have steadily declined since Tom Brady departed after the 2019 season. New England's dismal start this year is the franchise's worst since Belichick's first season with the team in 2000.
Since Brady left, the Patriots are 27-33, including a playoff loss. In 24 seasons as a head coach with New England and five previously with Cleveland, Belichick is 82-97 in games Brady hasn't started.
Belichick will one day be inducted into the Pro Football Hall of Fame, but it has become obvious that Brady was the reason for New England's success.
Patriots owner Robert Kraft avoided talking to reporters at the NFL meetings last month and hasn't commented on Belichick's status this season. However, he made it clear during the league's spring meetings that he expected more from the team in 2023.
"I think Bill is exceptional at what he does," Belichick said in March. "I've given him the freedom to make the choices and do the things that need to be done. His football intellect and knowledge is unparalleled from what I've seen. But in the end, this is a business. You either execute and win or you don't. That's where we're at. We're in a transition phase. I think we've made some moves this year that personally I'm comfortable with. And I still believe in Bill."
Kraft also stressed the importance of making the playoffs.
"We're about winning and doing whatever we can to win," he said. "That's what our focus is. It's very important to me that we make the playoffs."
Even if the Patriots somehow win their final eight games, that still might not be good enough to make the playoffs.
Belichick is 71 and has spent almost 50 years coaching in the NFL so he could sail off on a yacht and not look back when his time is up in New England. But if he wants to keep going and continue chasing Shula's record - Belichick is 17 wins away from first place - it's likely he'll get an opportunity.
Here are five teams that could hire Belichick next:
LOS ANGELES CHARGERS
The Chargers (4-4) have underachieved in Brandon Staley's 2 1/2 seasons. They reached the playoffs last season only to waste a 27-0 lead in a loss to Jacksonville. Unless Staley wins a playoff game this season, a change could happen. Belichick would get a franchise quarterback in Justin Herbert and he'd sell tickets in a stadium that's usually filled with fans from opposing teams.
TAMPA BAY BUCCANEERS
Todd Bowles won a division title last season but is 11-15 since replacing Bruce Arians so he could be out if the Buccaneers (3-5) don't find a way to win the mediocre NFC South. Bringing Brady to the Sunshine State worked out well for the Buccaneers, who won a Super Bowl in No. 12's first season in 2020. Bucs general manager Jason Licht had two stints in the front office under Belichick so they have a relationship. Tampa's ownership had success with a big-name hire previously when the team traded for Jon Gruden, who led the Buccaneers to the franchise's first Super Bowl title in 2002.
WASHINGTON COMMANDERS
The Commanders are 4-5 and Ron Rivera hasn't had a winning record in Washington though he won a division title at 7-9 in 2020. It seems inevitable the new ownership group will want to hire their own guy. Hiring Belichick would win over a fan base that suffered through Daniel Snyder's tenure. The Commanders have talented players on defense and young quarterback Sam Howell has potential so they could be an attractive destination for Belichick.
CHICAGO BEARS
Matt Eberflus is 6-21 and the Bears (3-7) could be onto their sixth coach since 2012. They might end with two picks in the top five and have a decision to make on quarterback Justin Fields. Belichick's recent track record in the draft doesn't help his case but he would bring instant credibility to an organization that's enjoyed one winning season since 2013.
DALLAS COWBOYS
Mike McCarthy might have to reach the Super Bowl to stay in Dallas. The Cowboys (5-3) have plenty of talent but haven't had playoff success. Jerry Jones might run out of patience if the Cowboys fail to reach the NFC title game for the 28th straight year. Jones' ego may not handle giving Belichick control but he once hired Bill Parcells so it's not unrealistic.
___
AP NFL: https://apnews.com/hub/nfl
"
Article Copyright © 2023 The Associated Press, All Rights Reserved.