Analysis: Sunday's stacked lineup of games could have playoff ramifications for several teams
Fri, Nov 3, 2023
NFL News (AP)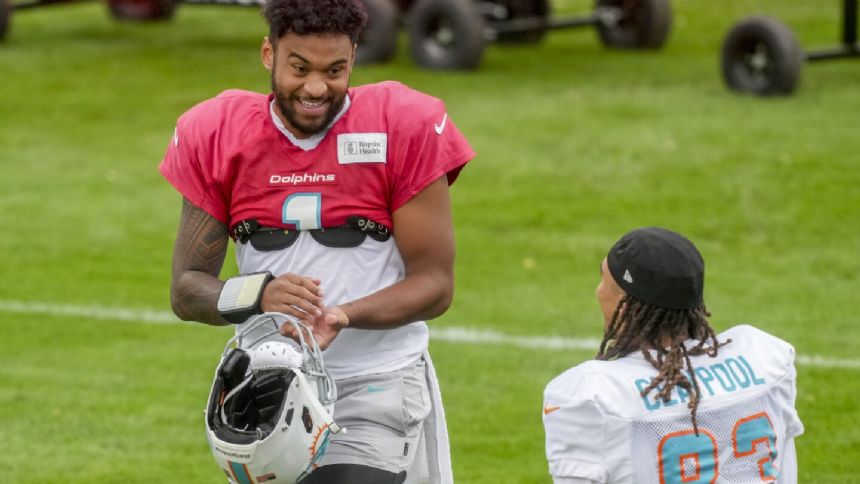 On Football analyzes the biggest topics in the NFL from week to week. For more On Football analysis, head here.
___
A stacked lineup of games Sunday could determine plenty come January.
The action kicks off at 9:30 a.m. ET with a marquee matchup between the defending Super Bowl champion Chiefs (6-2) and Dolphins (6-2) in the NFL's first game in Frankfurt, Germany.
Other news
Cowboys' Prescott takes test of resolve from loss to Niners into another big game at Eagles
Titans rookie Levis reflects after first NFL loss vs. Steelers
Pickett hits Johnson for late touchdown as the Steelers slip past Levis, Titans 20-16
It's a potential preview of the AFC championship game.
"It's noise. It's like the Super Bowl that way. It's constant noise, not for one team or the other team, and it's normally loud, it's not just a buzz," Chiefs coach Andy Reid said about the atmosphere playing overseas. "You listen to the soccer matches that they have, and it's loud. It's very similar to that. You've got to make sure you're aware of that before you get there. We've done everything, we've had people visit over there to check the fields and the hotels and all those things."
The conference is wide open as the Chiefs, Dolphins, Ravens and Jaguars each have the same record at the season's midpoint. The Bills (5-3) and Bengals (4-3) are also in the mix. They meet Sunday night in Cincinnati so the stakes are high in that playoff rematch.
The road to the Super Bowl has gone through Kansas City the last five years. The Chiefs have hosted the AFC title game, going 3-2, in each season Patrick Mahomes has been their starting quarterback.
A victory over Tua Tagovailoa, Tyreek Hill and Miami's powerful offense would strengthen the Chiefs' chances of securing the No. 1 seed again, though it's still early. Kansas City has to face the Eagles, Bills and Bengals over the final eight weeks.
Meanwhile, the Dolphins need a statement victory. They are 0-2 against winning teams and 6-0 against teams with a combined record of 13-33. If they're going to be legitimate contenders in the AFC, the Dolphins have to beat a top opponent. They'll have more opportunities down the stretch with their final three games against Dallas, Baltimore and Buffalo.
"Any opportunity for us to play a team that has been to the Super Bowl within the last couple years or the last year and has won it, I think that's always a great challenge," Tagovailoa said. "For our team to have this opportunity to go against a Pat Mahomes team, it'll be fun and it'll give us a chance to see where we're at going to this bye week as a team."
The top matchup at 1 p.m. features the AFC North-leading Ravens hosting the NFC West-leading Seattle Seahawks (5-2). Lamar Jackson is 17-1 against NFC teams as a starter and Baltimore's defense has cranked it up this season. Geno Smith and the Seahawks have surged past the 49ers, who've lost three in a row. They've got a tough challenge against Roquan Smith and the league's No. 2 ranked defense.
"This is as difficult and challenging as it gets," Seahawks coach Pete Carroll said. "The speed behind the good play they get from up front and the guys on the back end; they have an excellent secondary. They do their part to add to it all."
At 4:25 p.m., the Cowboys (5-2) take on the Eagles (7-1) in an NFC East battle. If Dak Prescott, Micah Parsons and Co. are going to have a shot at dethroning the reigning NFC champs, they need to come to Philadelphia, silence the crowd and play their best football.
The Eagles begin a stretch of six straight games against teams with a winning record so Dallas has a chance to make its move. A boisterous Philly crowd will do whatever it takes to make them uncomfortable.
"It's Dallas week so we're going to need that," Eagles coach Nick Sirianni said about the hometown fans. "Dallas has to feel that. Dallas has to feel that when they come in here that it means a little bit extra to the people in those seats and it's going to be loud and it's going to be a hostile environment."
Sunday's schedule wraps up with a Bills-Bengals matchup in prime time. It'll be emotional for Damar Hamlin and the Bills returning to the field where he collapsed last season and needed to be resuscitated.
Joe Burrow is healthy after being slowed by a calf injury and the Bengals are playing like championship contenders again. But they don't have margin for error after starting 0-2 and losing three of their first four.
Josh Allen and the Bills have been inconsistent since routing Miami in Week 4. They've lost two games, should've lost to the Giants and barely escaped with a win last week against Tampa Bay when a Hail Mary fell incomplete and an obvious pass interference in the end zone wasn't called.
Whether it's Dolphins-Chiefs, Cowboys-Eagles or Bills-Bengals, there's a possibility one or more of these games will be a playoff preview. Getting the win Sunday and gaining an edge for home-field advantage is paramount for all the teams.
___
AP NFL: https://apnews.com/hub/nfl
"
Article Copyright © 2023 The Associated Press, All Rights Reserved.