AP Top 25 Takeaways: Alabama is a national title contender again; Michigan may have its next man
Sat, Nov 11, 2023
NCAAF News (AP)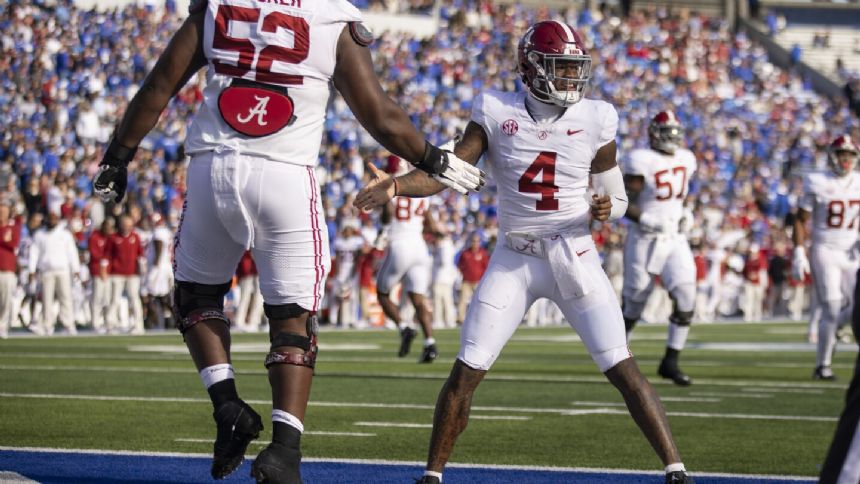 Remember when Alabama benched quarterback Jalen Milroe against South Florida in September and it looked as if Nick Saban's dynasty was maybe not dead, but definitely trending in the wrong direction?
Ha! Fooled ya.
The Crimson Tide have won eight straight since losing to Texas at home in Week 2, including that wonky win at USF, and Milroe is now playing well enough to seriously ask the question: Is this guy a Heisman Trophy candidate?
After sharing the marquee with LSU's Jayden Daniels last week, Milroe was the star of the show as No. 8 Alabama routed Kentucky on Saturday. Milroe accounted for six touchdowns, three through the air and three on the ground. That had never been done by an Alabama player.
Other news
Bowers returns, No. 1 Georgia routs No. 10 Ole Miss 52-17 to punctuate another SEC East title
Damien Martinez runs for 146 yards, 4 touchdowns, and Oregon State routs Stanford 62-17
Cal's defense comes up big as Bears hold off Washington State 42-39
The Tide have clinched the SEC West with two regular-season games left, and Alabama is most definitely a threat to win a seventh national championship under Saban.
"This team has come a long way," said Saban, who locked up his 10th trip to the Southeastern Conference title game with Alabama. "A lot of guys have made significant improvement and have listened to the coaches."
None more than Milroe, who seemed like a potential liability early in the season; talented as a deep passer and explosive and powerful as a runner, but lacking a mid-range game and mistake-prone.
The offense has jelled around Milroe's strengths. He came into the day eighth in the country in passer efficiency rating. After scorching the Wildcats, Milroe has 16 touchdown passes and 12 TD runs.
No, he's not quite top-of-the-ballot Heisman material. The numbers and overall consistency doesn't stack up to other star quarterbacks such as Washington's Michael Penix Jr., Florida State's Jordan Travis, Oregon's Bo Nix or LSU's Daniels.
Though an argument can be made that if Michigan's J.J. McCarthy is in the Heisman conversation - Michigan fans certainly want him to be - then why not Milroe?
The bottom line: If you wrote off Alabama in September, shame on you.
MICHIGAN'S NEXT MAN?
As angry as Michigan is about the Big Ten and Commissioner Tony Petitti sidelining coach Jim Harbaugh as punishment for a sign-stealing and scouting scheme the NCAA is still investigating, it might be more about principle than practicality.
The Wolverines' improved to 4-0 without Harbaugh this season, grinding No. 9 Penn State with 227 yards rushing and suffocating defense.
Offensive coordinator Sherrone Moore filled in for Harbaugh as gameday head coach.
"Love that man with all my heart," said Moore, who took a turn earlier this season as acting head coach when Harbaugh was serving his first suspension of the season.
A judge in Michigan will likely decide whether Harbaugh will coach either of the Wolverines' final two regular-season games, next week at Maryland and the Thanksgiving weekend finale against No. 3 Ohio State.
One of the arguments Michigan made in asking a court for a temporary restraining order that would have allowed Harbaugh to coach Saturday was, essentially, it unfairly hurts the team to have to play without him.
Not to diminish what Harbaugh has done in turning Michigan into an elite program again, but his impact might be least felt on game day thanks to Moore and a top-flight staff that includes defensive coordinator Jesse Minter and running backs coach Mike Hart.
"It was very cohesive. The whole staff did such a great job," the 37-year-old Moore said.
Moore is not a Michigan man at the roots. He is from Kansas, played at Oklahoma and broke into coaching at Louisville. At Michigan, he has become a rising star. He is considered one of the best offensive line coaches in the country and is now the team's primary play caller.
Harbaugh has flirted with the NFL after the past two Michigan seasons ended in the College Football Playoff semifinals.
Still, Michigan isn't looking to breakup a good thing. Even with all the drama, the school would like to keep Harbaugh.
In fact, the current feud with the Big Ten seems to have made Michigan embrace Harbaugh more than ever.
"You may have removed him from our sidelines today, but Jim Harbaugh is our head football coach," Michigan athletic director Warde Manuel said in a scalding statement Saturday.
If an NFL team finally does make Harbaugh an offer he can't refuse, there is a chance Michigan already has his replacement in Moore.
AROUND THE COUNTRY: No. 5 Washington (10-0) has been the most entertaining team in the country for the last month and half. The Huskies beat No. 13 Utah on Saturday for their sixth straight victory by 10 points or fewer. ... Auburn (6-4) became bowl eligible by routing Arkansas on the road. With New Mexico State next week and then Alabama, it's already a rousingly successful Year 1 for coach Hugh Freeze ... Bowl eligibility is now a long shot for Coach Sanders and Colorado. The Buffs (4-6) have lost four straight and six of seven. Other than getting crushed by Oregon, CU has been generally competitive in the skid, but Saturday's last-second home loss against No. 23 Arizona means the Buffaloes need to sweep road games at Washington State and Utah to reach six victories ... No. 15 Oklahoma State might have set a new standard for letdown games. A week after beating Oklahoma in the final Big 12 version of Bedlam, the Cowboys were trounced by conference newcomer UCF. Oklahoma State's victories against OU and Kansas State still puts the Cowboys in solid shape to reach the Big 12 title game if they win out. ... Northwestern moved to 5-5 by beating Wisconsin. David Braun, the Wildcats' first-year defensive coordinator who was thrust into the interim head coach role after Pat Fitzgerald was fired during the summer, now has to be considered a serious candidate to keep that job. ... Missouri RB Cody Schrader, who has gone from Division II star to SEC walk-on to SEC star, became the first player in the history of the conference with 200 yards rushing and 100 yards receiving in a game. The 16th-ranked Tigers buried No. 14 Tennessee.
___
Follow Ralph D. Russo at https://twitter.com/ralphDrussoAP and listen at http://www.appodcasts.com. Get alerts on the latest AP Top 25 poll throughout the season. Sign up here. AP college football: https://apnews.com/hub/college-football and https://apnews.com/hub/ap-top-25-college-football-poll
"
Article Copyright © 2023 The Associated Press, All Rights Reserved.