Arizona State regaining momentum behind relentless defense
Fri, Jan 13, 2023
NCAAB News (AP)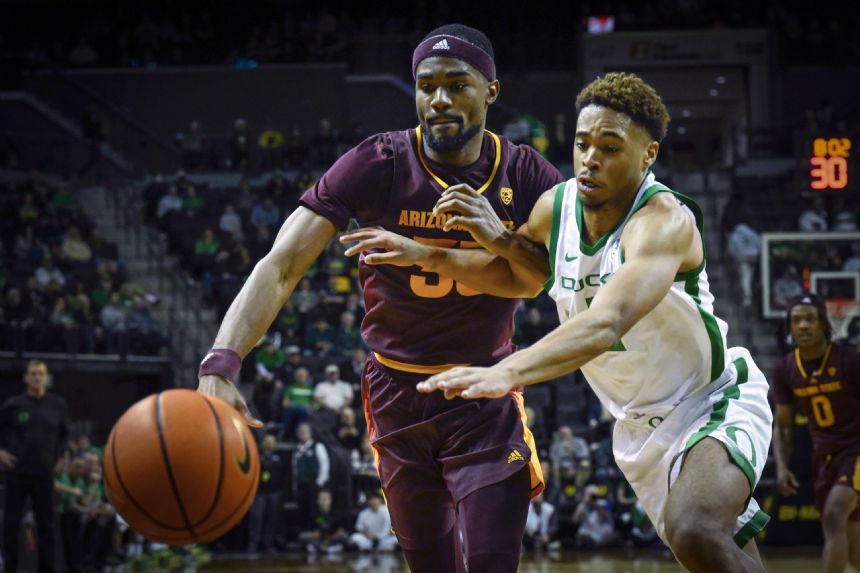 TEMPE, Ariz. (AP) - Arizona State had mojo on its side, a roster full of sharpshooting, freewheeling players veering toward a third straight NCAA Tournament for the first time in five decades.
The pandemic stopped the Sun Devils, like everything else, in their tracks.
"I think that was like the first time I've probably shed some tears in a long time just because of how much it meant to me and our team," said former Arizona State guard Mickey Mitchell, now an assistant under Bobby Hurley. "I remember just sitting in there for a while after coach had broke the news to us and we were all just speechless."
The cancellation of the 2020 NCAA Tournament took a toll on every team, some more than others.
Arizona State was among the programs that had a hard time finding its footing again, laboring through two mediocre seasons that left Hurley teetering on the hot seat.
With an overhauled roster and defensive tenacity, the Sun Devils appear to be swiveling back toward the fast lane.
Coming off a 90-73 road dismantling of Oregon, Arizona State (14-3) is 5-1 in Pac-12 play for the first time since 1980-81. The Sun Devils have won their first two conference road games for the first time since 1992 and have three resume-building wins in their quest to return to the NCAA Tournament.
"This was a big game," Hurley said after the Sun Devils led by as much as 29 at Oregon on Thursday night. "We're playing Oregon and we're having a great season so this takes it up a notch when you're able to come in here and play the way we did, I think it sends a message about what we're capable of."
Hurley had been trying to solve this puzzle since the 2020 tournament and the rest of the sports world went dark.
Arizona State had a disjointed season when college basketball returned, never able to gain momentum through the stops and starts of COVID-19. The Sun Devils finished 11-14 in 2020-21 and remained stuck in neutral last season, going 14-17 as calls for Hurley's job started to grow louder.
The fiery coach pushed back by retooling his roster to add depth and defense.
The additions of brothers Desmond and Devan Cambridge, point guard Frankie Collins and big man Warren Washington through the transfer portal gave Arizona State added length and athleticism.
Combined with returners like DJ Horne, Alonzo Gaffney and Luther Muhammad, along with freshman guard Austin Nunez, the Sun Devils have the depth to play 40 minutes of relentless defense without a drop-off.
"We've had some games offensively that we've struggled making shots and that hasn't impacted how hard the guys play at the other end of the floor," Hurley said. "We've been consistently keeping ourselves in games because of how well we defend."
Arizona State's defense starts in the paint.
The 7-foot Washington has given Hurley an active, athletic rim protector who gives the other four players an opportunity to play aggressively away from the basket. The roster is filled with rangy players who have good anticipation and the ability to close quickly to swam a ballhandler or help a teammate who got beat off the dribble.
Arizona State has the nation's sixth-best defense against 2-point shots, holding teams to 41.8%, and averages 5.1 blocked shots per game. The Sun Devils are 10th nationally in effective field goal percentage and 28th in defensive efficiency, according to KenPom.com.
The defensive tenacity often leads to baskets in transition and big runs, like the 18-2 stretch they had to bury the Ducks.
"They know that defense leads to offense," Mitchell said. "The way they play, they fly around and to sit on the bench and see it is just awesome. Watching them play makes me want to play again, just watching them fly around out there."
The pandemic hangover seemingly behind them, the Sun Devils are starting to again look like the teams Mitchell was a part of, poised to make another NCAA Tournament push.
___
More AP college basketball: https://apnews.com/hub/college-basketball and https://apnews.com/hub/ap-top-25-college-basketball-poll and https://twitter.com/AP_Top25
Article Copyright © 2023 The Associated Press, All Rights Reserved.