Atlanta's Ronald Acuna Jr. unanimous NL Most Valuable Player after 41-homer, 73-steal season
Thu, Nov 16, 2023
MLB News (AP)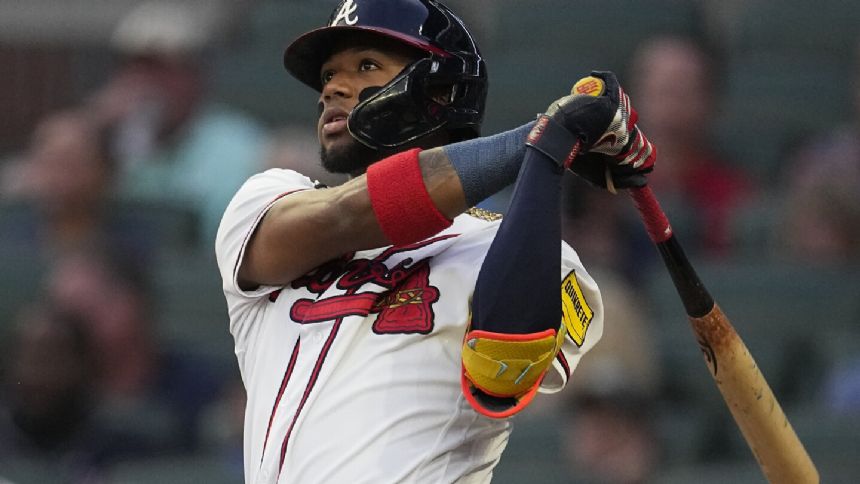 NEW YORK (AP) - Ronald Acuna Jr. was a unanimous winner of his first National League Most Valuable Player award on Thursday after becoming the first big leaguer with 40 homers and 70 stolen bases in a season.
Los Angeles Angels two-way star Shohei Otani won the American League honor, becoming the first two-time unanimous MVP. There have been 21 unanimous winners, and this year marked the first time two occurred in the same year.
Acuna, a right fielder for the Atlanta Braves, received all 30 first-place votes and 420 points in voting by the Baseball Writers' Association of America.
Mookie Betts received all 30 second-place votes and 270 points, followed by Los Angeles Dodgers teammate Freddie Freeman with 227 points. Betts earned the 2018 AL MVP award with Boston and Freeman was the 2020 NL MVP with the Dodgers.
Other news
Shohei Ohtani, baseball's 2-way star, becomes first 2-time unanimous MVP
MLB cancels 2025 Paris games after failing to find promoter, AP sources say
Eric Kutsenda takes over as Padres' temporary control person following owner's death
Acuna was second in the NL with a .336 batting average and led the major leagues with 149 runs, 217 hits, 386 total bases and 73 stolen bases while hitting 41 home runs with 106 RBIs. A four-time All-Star who turns 26 next month, Acuna helped Atlanta to a major league-best 104 wins before the Braves lost to Philadelphia in an NL Division Series.
He set his career best for RBIs and matched his 2019 high for home runs.
Acuna learned of the award while in the clubhouse of La Guaria, his team in Venezuela's winter league.
Betts batted .307 with 39 homers and 107 RBIs, and Freeman hit .331 with 29 homers and 102 RBIs.
____
AP MLB: https://apnews.com/hub/MLB
"
Article Copyright © 2023 The Associated Press, All Rights Reserved.