Bacot and Ingram help No. 20 North Carolina beat UC Riverside 77-52 for a 3-0 start
Sat, Nov 18, 2023
NCAAB News (AP)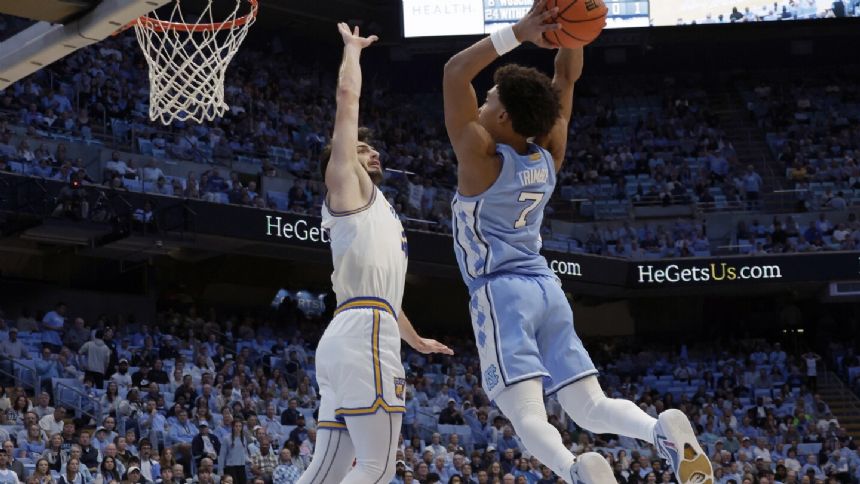 CHAPEL HILL, N.C. (AP) - North Carolina ran off a big first-half burst that thrilled coach Hubert Davis, only to let up coming down the stretch before halftime. The 20th-ranked Tar Heels opened the second half better - and Davis hopes it offers a lesson on sustaining their strongest stretches.
Preseason Associated Press All-American Armando Bacot had 21 points and UNC ran off 19 straight points out of halftime to beat UC Riverside 77-52 on Friday night.
The Tar Heels (3-0) ran off 17 unanswered points - including a two-hand stuff by Seth Trimble over Vladimer Salaridze - to build a 30-9 lead with play that Davis praised at both ends. But they went just 2 for 14 through the final 8 1/2 minutes as the Highlanders clawed back to within 37-26 by halftime.
"The only disappointing part is we didn't continue that for the first half," Davis said. "That stretch, it would've been great if we built on that. Now we did it in the second half, but I just talked to them for our development as a team, you can't take your foot off the gas pedal."
Other news
Love scores 20 points as No. 3 Arizona overpowers Belmont 100-68
LJ Cryer helps Houston withstand surge by Utah, win 76-66 in Charleston
Burton and Bamba lead No. 21 Villanova to 57-40 rout of Maryland
As UNC kept stretching its second-half lead, UC Riverside (1-3) went cold. The Highlanders missed their first 13 shots and committed five turnovers before Barrington Hargress found Salaridze for a layup at the 10:33 mark to end the drought.
Ben Griscti scored 14 points for UC Riverside.
"They started to figure out some of our actions and started to switch everything," Highlanders coach Mike Magpayo said. "They were able to switch everything and I think that's where they're good. Bacot can switch out on you ... and if you can't get around their big guy, that makes for a really good defense."
BIG PICTURE
UC Riverside: The Big West program got a quality finish to the first half - ending with layups by Jhaylon Martinez and Hargress - with a 9-2 run to stay within range. But it was otherwise a rough offensive night, with UC Riverside shooting 30.6% and making 9 of 30 3-pointers.
UNC: The Tar Heels had 10 players score in what Davis is hoping is a sign of reliable depth going forward for a team that lacked it last season. UNC's biggest trouble was hitting from outside (6 of 21 on 3s), though two came from reserve big man Jalen Washington (11 points).
HOME BLUES
This marked only the fourth time in recent memory that the Tar Heels wore blue uniforms on their home court after UC Riverside requested to wear white.
The first came against Connecticut in December 1990, followed by a New Year's Eve game during the 2013-14 season and then the February 2020 rivalry game with Duke in which both teams wore retro-inspired jerseys featuring their shade of blue.
The team recently switched its apparel contract from adidas to Nike, and Magpayo said the white uniforms are the only ones they have so far.
"I'm really thankful to North Carolina because I was like, 'There's no way they're saying yes,'" he said.
UP NEXT
UC Riverside: The Highlanders face Green Bay on Tuesday in Bozeman, Montana.
UNC: The Tar Heels face Northern Iowa on Wednesday in the first round of the Battle 4 Atlantis in the Bahamas.
___
Get poll alerts and updates on AP Top 25 basketball throughout the season. Sign up here. AP college basketball: https://apnews.com/hub/ap-top-25-college-basketball-poll and https://apnews.com/hub/college-basketball
"
Article Copyright © 2023 The Associated Press, All Rights Reserved.