Bridges' crucial 3s help No. 21 Baylor past Oklahoma
Sat, Jan 21, 2023
Other News (AP)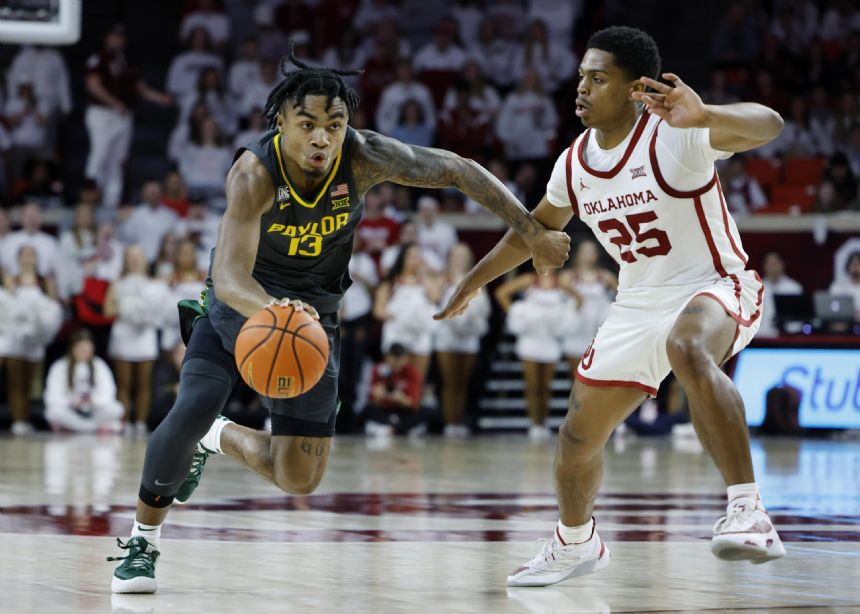 NORMAN, Okla. (AP) - Jalen Bridges scored 11 points and hit a trio of game-turning 3-pointers in the final five minutes as No. 21 Baylor rallied to hold off Oklahoma 62-60 on Saturday.
Adam Flagler had 16 points and five assists, and Keyonte George added 11 points as Baylor (14-5, 4-3 Big 12) won its fourth straight game after opening conference play with three straight losses and briefly dropping out of The Associated Press Top 25.
The Bears had made only three of their first 16 3-point attempts before Bridges hit one with 4:46 left to put Baylor ahead 53-52, after the Bears had trailed for much of the second half. With 3:39 left, he made another, giving Baylor a 56-54 lead.
Oklahoma (12-7, 2-5) went up 58-56 on a basket by C.J. Noland with 1:38 left, but Bridges hit another 3-pointer 17 seconds later and Baylor never trailed again. Grant Sherfield missed on a driving attempt at a tying basket for the Sooners and at the other end, Flagler ran the shot clock down, stepped back and drained a long 3-point shot to seal the win for Baylor with 20.2 seconds left.
Baylor's defense kept Oklahoma - in a two-possession game - from attempting a shot until Jalen Hill's uncontested layup with 1.3 seconds left and the Sooners never regained possession. Hill had 17 points and nine rebounds, while Tanner Groves added 16 points, nine rebounds and three blocked shots for the Sooners.
Baylor went 6.5 minutes without a field goal late in the first half and Oklahoma took advantage, taking a 30-26 lead. The Sooners only trailed once in the second half before Bridges' late heroics.
Baylor won despite shooting 36.2% (21 of 58) from the field compared to 45.6% (26 of 57) for the Sooners. Baylor outrebounded Oklahoma 39-30, grabbing 17 offensive rebounds.
BIG PICTURE
Baylor: After losing its first three Big 12 games, the Bears appear to have righted the ship - for now, with their four-game winning streak. Three of those wins came on the dangerous Big 12 road. But showdowns against No. 2 Kansas and No. 7 Texas loom before the end of the month.
Oklahoma: The Sooners still lack a true marquee win, dropping to 0-5 this season against ranked opponents. Oklahoma has the toughest remaining schedule in Division I based on future opponent winning percentage (175-53, or 76.7%, entering Saturday) so the Sooners should have plenty of opportunities to burnish their resume as NCAA tournament selection time approaches.
POLL IMPLICATIONS
Baylor moved back into the rankings this week, and two wins in the past seven days could push the Bears higher in the next poll.
UP NEXT
Baylor: Hosts No. 2 Kansas on Monday.
Oklahoma: Visits No. 14 Texas Christian on Tuesday.
___
AP college basketball: https://apnews.com/hub/college-basketball and https://apnews.com/hub/ap-top-25-college-basketball-poll and https://twitter.com/AP_Top25
Article Copyright © 2023 The Associated Press, All Rights Reserved.