Browns coach Stefanski's steadiness one of main reasons team has overcome obstacles, in playoff hunt
Mon, Nov 20, 2023
NFL News (AP)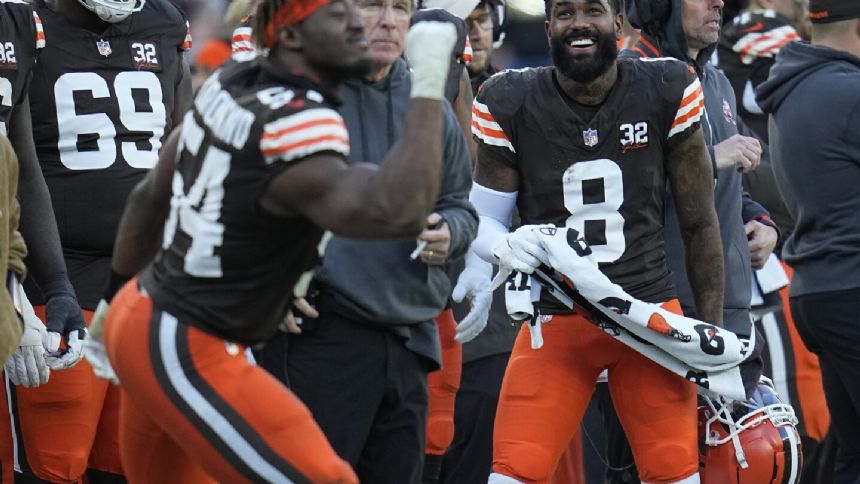 CLEVELAND (AP) - Kevin Stefanski has juggled quarterbacks, managed drama, altered his offense's identity because of injuries and even implemented a two-tackle rotation.
It's been a season's worth of issues in 10 games. Maybe two seasons' worth.
So, when Cleveland's coach addressed his players in the locker room following Sunday's 13-10 victory over the rival Pittsburgh Steelers, Stefanski summed up his efforts and the fight in the resilient Browns with one phrase.
"Whatever it takes," Stefanski said, dropping in an expletive for emphasis.
Other news
Brandon Staley doesn't have much time to answer why Chargers should remain 'All In' on his vision
Struggling Buccaneers feel sense of urgency to pull out of tailspin and salvage season
Lions have little time to celebrate comeback win over the Bears with Packers up next on Thanksgiving
The Browns (7-3) have equaled their best record since 1999, and much of the credit goes to Stefanski, whose steady, stoic demeanor has kept the team focused amid an array of distractions.
Cleveland's win over the Steelers (6-4) concluded another bizarre week for the Browns, this time punctuated by the news that quarterback Deshaun Watson would miss the remainder of the season with a fractured right shoulder.
Stefanski, who started two other quarterbacks in October when Watson was dealing with a shoulder strain, took it in stride. He actually seemed relieved after weeks of uncertainty surrounding his franchise QB.
Just like he preaches to his players about being ready, Stefanski simply adjusted, got Dorian Thompson-Robinson prepared in practice to face the Steelers and then designed a game plan that suited the rookie's skills.
It wasn't perfect, and Stefanski has made a couple of missteps in what was viewed as a make-or-break fifth season for him.
But Stefanski and the Browns have found a way to win despite losing former All-Pro right tackle Jack Conklin in Week 1 and star running back Nick Chubb in Week 2, not to mention Watson's up-and-down injury situation.
It should also be noted that Stefanski's decision to make changes with his defensive and special teams coordinators last offseason, hiring Jim Schwartz and Bubba Ventrone to lead those units, has helped turn the Browns around.
Back-to-back victories over Baltimore and Pittsburgh - both in the final seconds - have the Browns in the thick of the playoff race.
Usually by late November, Cleveland fans are looking forward to the finale and toward the draft.
This year, the Browns have their sights on winning the AFC North, something they've never done.
Stefanski has put them in position.
WHAT'S WORKING
At the moment, Cleveland's defense has no equal.
Triggered by Myles Garrett's sack of Kenny Pickett on Pittsburgh's first play, the Browns had another dominant performance, holding the Steelers to 249 yards - 74 coming on one play. Granted, Pickett is shaky and the Steelers' offense is predictable and plodding, but the Browns have been doing this all season.
The defense is legit, possibly Super Bowl-level legit, and Garrett is putting together a Defensive Player of the Year resume.
WHAT NEEDS HELP
The quarterback situation has hindered the development of a quality passing attack, something the Browns must fix in coming weeks.
Thompson-Robinson couldn't make the Steelers respect him as a downfield threat, and the Browns were maybe a little too fixated on getting the ball to tight end David Njoku, who was targeted 15 times.
STOCK UP
Thompson-Robinson wasn't great but definitely was better than in his first start, a three-interception debut on Oct. 1.
Other than maybe being too amped up in the huddle - "The first drive, I was like, 'You're a little loud right now," said guard Joel Bitonio - Thompson-Robinson shook off some rough moments and came through when it mattered most.
He'll hang on to his job for at least another week. The Browns have a better backup plan in place after signing former Super Bowl MVP Joe Flacco on Monday.
STOCK DOWN
It's tough to single out Njoku, who showed so much heart while playing despite being severely burned earlier this season in a fire pit accident.
But he dropped at least three passes against the Steelers, and even he characterized his performance as "unacceptable."
Njoku caught seven passes for 56 yards and had an 11-yard reception on Cleveland's drive to set up Hopkins' field goal. He vowed to get in extra work on his JUGS machine at home, and Stefanski said the tight end FaceTimed him to show he kept his word.
INJURIES
Safety Rodney McLeod suffered a season-ending biceps injury. McLeod has made a huge impact in his first year with Cleveland, particularly as a conduit for Schwartz, as the two were together for several seasons in Philadelphia. McLeod's injury further complicates the Browns' situation at safety, where starter Juan Thornhill (calf) has missed the past two games. ... LB and captain Anthony Walker Jr. could miss multiple games with a hamstring injury sustained Sunday in punt coverage.
KEY NUMBER
25.4 - Conversion rate percentage on third downs allowed by the Browns, the lowest in the league since New England (24.1%) in 2019.
WHAT'S NEXT
The Browns begin a two-game road trip in Denver, where they historically have struggled (3-14), and against a Broncos (5-5) team showing signs of improvement. Cleveland will stay in Los Angeles for the week leading into its game against the Rams on Dec. 3.
___
AP NFL: https://apnews.com/hub/nfl
"
Article Copyright © 2023 The Associated Press, All Rights Reserved.