Chargers rookie Quentin Johnston hopes first NFL TD carries momentum for rest of season
Wed, Nov 15, 2023
NFL News (AP)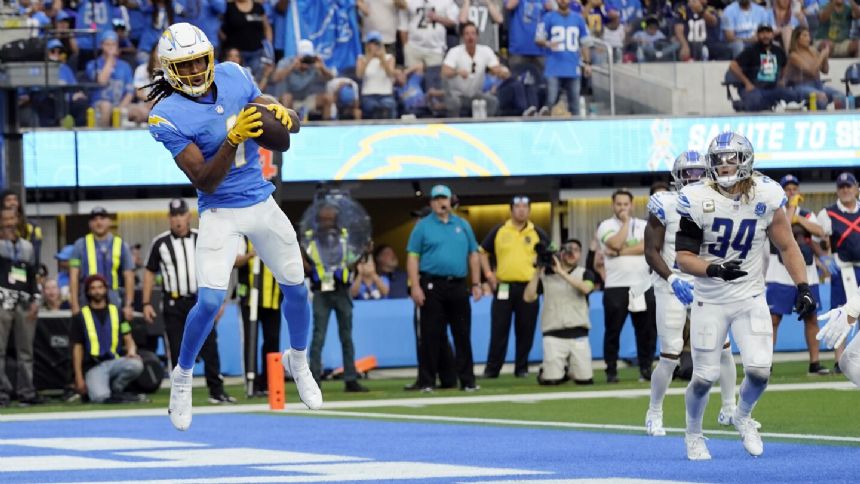 COSTA MESA, Calif. (AP) - Now that Quentin Johnston has his first NFL touchdown out of the way, he can begin planning on how to celebrate future scores.
Johnston was getting ready to run back to the Chargers' sideline after catching a 1-yard TD pass in the back of the end zone on a slant route during the fourth quarter of last Sunday's game against Detroit when Keenan Allen told Johnston it was time to celebrate.
For coming up with something on the fly, Johnston did a pretty good job as he broke out a couple Michael Jackson moves, including the "Moonwalk."
"Keenan was like 'No, you better do something.' That was the thing that popped into my head," said Johnston, who shied away from doing any celebrations at TCU for fear of drawing a penalty.
Other news
Interim coach Antonio Pierce bringing a go-for-it attitude to the Raiders
Tommy DeVito is looking to build off 2-touchdown game when the Giants face Washington
Another notable mark on the career resume of Seattle's Bobby Wagner is sitting on the horizon
The touchdown was also a relief for Johnston, who has gone through the typical struggles of an NFL rookie, yet has had to deal with heightened expectations as a first-round pick.
Johnston, though, is starting to gain more confidence from quarterback Justin Herbert with the season at the midway point. Going into Sunday's game at Green Bay, 11 of Johnston's 18 receptions have come in the last three games.
Some thought Johnston's development would have been further along, especially after Mike Williams suffered a season-ending knee injury in the Week 3 game at Minnesota. The low point came during a Week 6 Monday night game against Dallas, when Johnston had no receptions and had the ball thrown his way only twice, including late in the fourth quarter when Cowboys cornerback Stephon Gilmore made the game-clinching interception.
However, Herbert has had to develop more confidence in Johnston with Joshua Palmer on injured reserve for at least two more games.
"I think that he has stepped up big time in the past couple of weeks," Herbert said about Johnston. "We know how special and how talented he is, it was only a matter of time to get him the ball and something special will happen."
With two games of at least four catches the past three weeks - including four receptions for 34 yards against the Lions - Johnston is looking to continue to get more opportunities.
The Chargers (4-5) face a Packers pass defense that is ranked seventh-best in the league.
"I feel like I still have got a long way to go. Obviously going back and looking at the film, there's stuff to clean up despite the touchdowns and a few catches," Johnston said. "I feel like last week was just kind of the first building block for me and I'm gonna keep elevating."
NOTES: Allen, who did not play part of the second half because of a shoulder injury, did not practice on Wednesday, but coach Brandon Staley said he is hopeful Allen will play on Sunday. ... TE Gerald Everett also did not practice, but his status for this week is questionable as he continues to deal with a back issue. ... LB Chris Rumph II was placed on injured reserve after breaking his foot in pregame drills last Sunday. LB Justin Hollins was signed from the Giants practice squad.
___
AP NFL: https://apnews.com/hub/nfl
JOE REEDY Sports writer based in Los Angeles.
twitter
mailto
"
Article Copyright © 2023 The Associated Press, All Rights Reserved.