Coach hired, team still required: Soccer's status in the Marshall Islands is a work in progress
Mon, Oct 30, 2023
Soccer News (AP)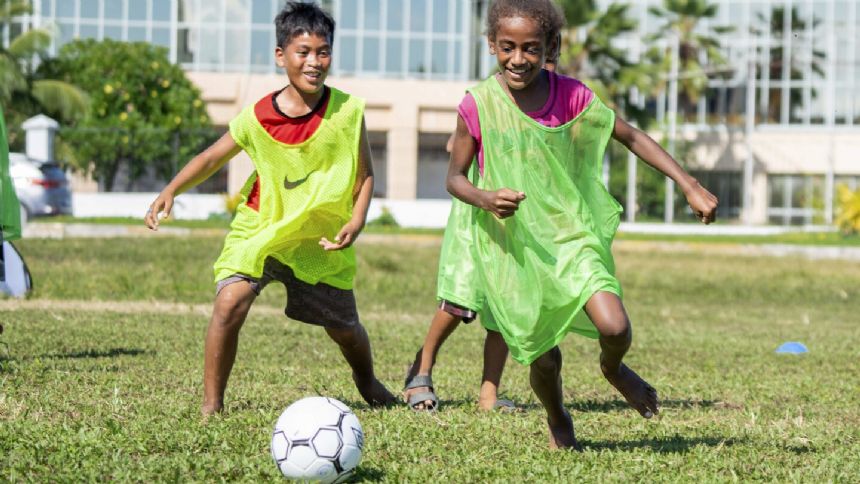 BRISBANE, Australia (AP) - Lloyd Owers recalls with fondness his initial visit from his home in England to the Marshall Islands, a small nation of five islands, 29 atolls and about 60,000 people situated in the western Pacific Ocean between Hawaii and Australia.
"I felt at home," the 33-year-old soccer coach said of his first impressions. "The community welcomed me with open arms."
Owers wasn't there as a widely-traveled Brit checking it out as a tourist. He was appointed technical director of the Marshall Islands Soccer Federation in December of last year, and was making his first official visit in August in that capacity.
Oh, by the way, the Marshall Islands has no national soccer team. It's been touted as the "last country on Earth" without international representation in the sport.
Other news
Fishel, Shaw score first U.S. goals and the American women defeat Colombia 3-0
MATCHDAY: Atalanta visits struggling Empoli in Serie A. Villarreal at Granada in Spanish league
Man City's dominance over Man United continues with 3-0 win as pressure mounts on Ten Hag
"Yes," Owers reiterates in emailed correspondence with The Associated Press. "We are the only U.N.-recognized nation that have never had a national representative team."
Enter Owers, a well-credentialled coach based in Oxfordshire in southeast England and who has provided his expertise to teams in Canada, the U.S. and Sweden, among others.
The Marshall Islands are not a member of FIFA, soccer's international governing body. The country's first attempt to join an official regional soccer organization could come with the Oceania Football Confederation or the Asian Football Confederation.
"We are still exploring all available options to us," Owers says. "OFC and AFC are both viable options. We hope to progress into more talks during 2024 but at this stage we are still in the planning phase to ensure that we are fully prepared."
The preparation has begun, with soccer officials in the country and Owers planning a grassroots-level entree into the sport via the country's schools.
"The soccer federation has already agreed with the ministry of education to add soccer to the school sports curriculum alongside volleyball and basketball," Shem Livai, president of the Marshall Islands Soccer Federation, told the AP. "To enable school teachers to deliver high-quality coaching sessions we will be training teachers to be qualified soccer coaches through a combination of online and in-person courses."
Livai says there are about 6,000 children who live on Majuro Atoll - the largest and capital island - and about 12,000 children are spread across all of the islands.
"Eventually we want them all to have the opportunity to play football or futsal," Livai says.
Owers, who is very active on social media, is doing his part, posting a request for his followers to donate balls, bibs, cones and goals to help out the fledgling program in the Marshall Islands.
Otherwise, Owers' posts on X, formerly known as Twitter, might leave all but seasoned soccer followers, players and/or the sport's tacticians baffled. Here is a recent one.
The Marshall Islands, about 4,300 kilometers (2,600 miles) northeast of the 2032 Olympic host city Brisbane, Australia, have a long history with the United States, and Owers thinks that might be a plus in soccer becoming popular there.
After gaining military control of the Marshall Islands from Japan in 1944, the U.S. assumed administrative control of the islands following the end of World War II. The economy of the Marshall Islands is still closely linked to the U.S. and its gross domestic product is derived mainly from U.S. payments - the U.S. Army garrison on Kwajalein Atoll is the No. 2 employer in the islands behind the Marshall Islands government.
Between 1946 and 1958, the U.S. used the Marshall Islands as an atomic bomb testing ground. During that time, 67 atomic bombs were dropped there.
The Marshall Islands signed a Compact of Free Association with the United States in 1983 and gained independence in 1986, when the Compact agreement came into force. The Republic of the Marshall Islands is now a sovereign nation.
"There's obviously nothing to hide from that because it's part of their culture, it's part of the history," Owers told the BBC of the American connection. "There's a fully functioning U.S. military base in Kwajalein. It's part of their identity and, because it's very heavily U.S. cultured, there is a lot of interest in sports such as baseball and basketball.
"But now with football, or soccer, because that has grown in the States, it has also grown on the Marshall Islands. The federation wants to eventually become a FIFA member. They don't just want to be playing against local countries, they want to be part of a bigger program."
Owers, who played semi-professionally, plans to travel again from England to the Marshall Islands early in 2024. It's Step 2 and a work in progress until he has a team to coach.
"I can't wait to get back," he says.
___
AP soccer: https://apnews.com/hub/soccer
"
Article Copyright © 2023 The Associated Press, All Rights Reserved.