College basketball rankings: Auburn No. 1 for first time in school history in updated AP Top 25 poll
Mon, Jan 24, 2022
NCAAB News (AP)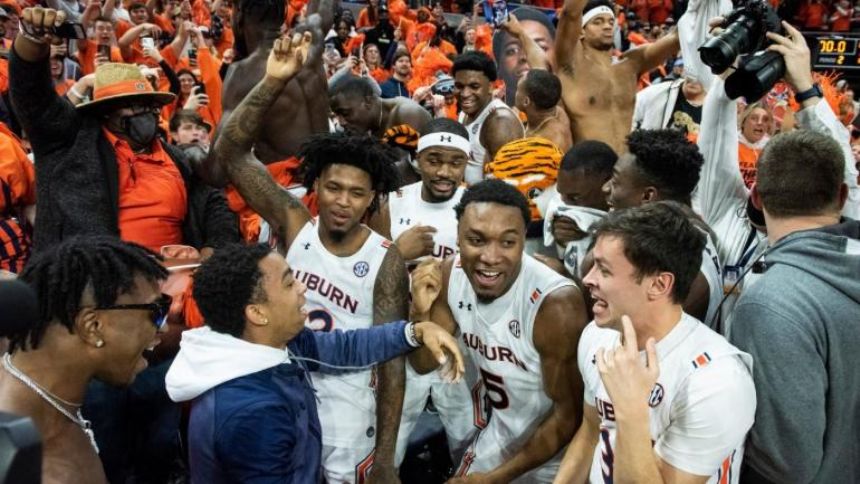 At long last, Auburn's men's basketball team reached No. 1 in the AP Top 25 on Monday for the first time in program history following an 80-71 win over Kentucky on Saturday. That victory was apparently enough to give the Tigers (18-1, 7-0 SEC) an edge on Gonzaga, which fell from No. 1 to No. 2 this week despite a 78-62 victory against a strong San Francisco team. The Bulldogs (15-2, 4-0 WCC) enjoyed a narrow 1,486-1,482 points edge in the poll last week, even though Auburn actually received more first-place votes (36) than Gonzaga (25). But this time, the Auburn had a 29-point edge and an even larger share of the first-place votes with 45 to Gonzaga's 15 and Arizona's 1.
Auburn is this season's fifth No. 1 team, joining Gonzaga, Duke, Purdue and Baylor among the group of teams to hold the distinction. The Tigers had been No. 2 on multiple occasions, including this past week. But with a deep roster headlined by potential No. 1 overall pick Jabari Smith and North Carolina transfer center Walker Kessler, the Tigers have one of the nation's best front courts in the nation and the best defensive squad of Pearl's eight-year tenure.
Behind that strong roster, Auburn is on a 15-game winning streak as it prepares to play at Missouri on Tuesday before hosting Oklahoma on Saturday as part of the Big 12/SEC Challenge.
Itching for more college hoops analysis? Listen below andsubscribe to the Eye on College Basketball podcastwhere we take you beyond the hardwood with insider information and instant reactions.
AP Top 25
1. Auburn (45)
2. Gonzaga (15)
3. Arizona (1)
4. Baylor
5. Kansas
6. Purdue
7. Houston
7. UCLA
9. Duke
10. Michigan St.
11. Wisconsin
12. Kentucky
13. Texas Tech
14. Villanova
15. Southern Cal
16. Ohio St.
17. Providence
18. Tennessee
19. LSU
20. UConn
21. Xavier
22. Marquette
23. Iowa St.
24. Illinois
25. Davidson
Others receiving votes: BYU 120, Alabama 77, Texas 61, Colorado St. 57, Florida St. 50, Loyola Chicago 21, Oregon 19, Wake Forest 12, Indiana 10, Murray St. 10, Iowa 8, TCU 6, Miami 4, Florida 3, Boise St. 3, Saint Mary's (Cal) 3, Wyoming 2, Iona 1, Seton Hall 1.
Article Copyright © 2022 The Associated Press, All Rights Reserved.