College basketball scores, winners and losers: Chaos rules as No. 1 Baylor, Michigan State upset at home
Sat, Jan 15, 2022
NCAAB News (AP)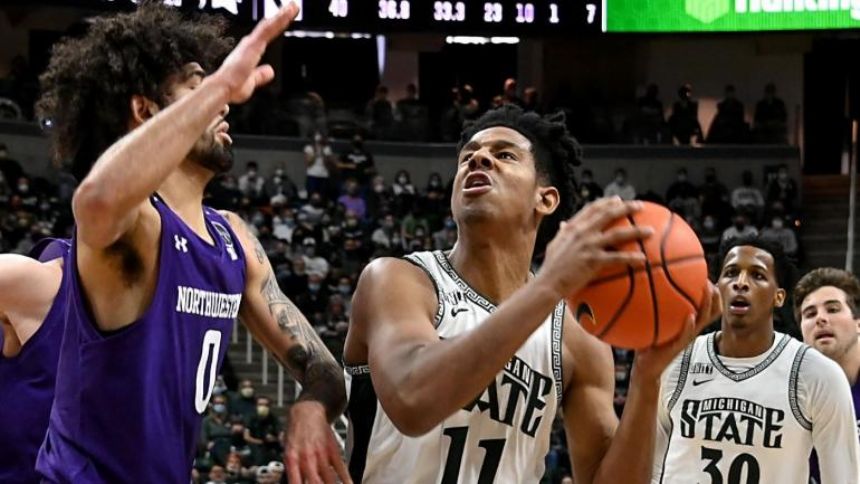 Chaos ruled in college basketball on Saturday, with No. 1 Baylor, No. 10 Michigan State and No. 12 LSUfalling at home to unranked opponents toheadline a lengthy list of ranked teams that suffered losses. The upset-filled day reinforced just how different this season is than last, when Gonzaga and Baylor stayed atop the polls for virtually the entire season before meeting in the national championship game. Depending on how things shake out, Monday's new polls could bring us our fifth No. 1 team of the season.
Both the Bears and Bulldogs are great again, but the two already have more combined losses (four) than they did all of last season (three), and there are still two and a half months to go until a national champion is crowned. Baylor's assailant Saturday was an unranked Oklahoma State squad that notched its first-ever road win against the No. 1 ranked team with the 61-54 victory.
The outcome underscored just how brutal the Big 12 is, but it wasn't the only conference that saw highly ranked teams lose at home against unranked opponents. Michigan State's loss to Northwestern and LSU's loss to Arkansas also fit that category. Let's assess the carnage with a look at the day's winners and losers in college basketball.
Loser: Down goes Baylor (again)
The loss to Oklahoma State means the Bears (15-2, 3-2 Big 12) are no longer the projected No. 1 overall seed in the NCAA Tournament, according to AP Sports Bracketology Expert Jerry Palm. They will remain one of the projected four No. 1 seeds for the time being because of an 8-2 record in Quad 1 and Quad 2 games, but the fact is that the Bears have some kinks to iron out offensively. The physicality and athleticism of Texas Tech and Oklahoma State clearly bothered Baylor's guards this week as the Bears became the first No. 1 ranked team ever to lose two home games in the same week.
Baylor shot just 25.8% from the floor in the first half as the Cowboys (9-7, 2-3) opened up a 34-22 lead entering the break. The Bears should be fine in the long run, but they'll need to find their mojo quickly as they head out for road games at West Virginia and Oklahoma next week.
Talk about an exclamation point ??#NewEra | #GoPokes pic.twitter.com/u88oZ3oLUa

- OSU Cowboy Basketball (@OSUMBB) January 16, 2022
Winner: Kentuckyhonors Joe B. Hall, rolls over Tennessee
No. 18 Kentucky played an inspired game just hours after , as the Wildcats thrashed No. 22 Tennessee 107-79. It was their highest scoring game against a top-25 opponent since 1994 and UK's largest margin of victory against Tennessee since 2010. The team's 67.9% shooting percentage was the best of John Calipari's 13 seasons as coach. Freshman guard TyTy Washington led the way with a career-high 28 points.
Hall coached the Wildcats from 1972-85, leading the team to the 1978 national championship and a 297-100 mark over his 13 seasons. Before his promotion to head coach, he spent seven years as an assistant under the program's all-time wins leader Adolph Rupp. In honor of Hall, Calipari wielded a rolled up game program on the sideline Saturday, much like Hall did during his time as coach. Calipari said he plans to do that for the rest of the season. The Wildcats also began the game in a 1-3-1 as a nod to the defense that Hall often deployed during his tenure.
In honor of Joe B. Hall ?? pic.twitter.com/D7yisGGsaa

- Kentucky Men's Basketball (@KentuckyMBB) January 15, 2022
Loser: Texas Tech runs out of gas
Before Baylor ever went down, Kansas State offered Texas Tech -- and the country -- a reminder of how brutal life is in the Big 12 on Saturday as the Wildcats knocked off the No. 19 Texas Tech 62-51. K-State (9-7, 1-4) entered winless in league play but outscored the Red Raiders (13-4, 3-2) 36-23 in the second half. It was Texas Tech's fourth game in eight days, and the Red Raiders must have been gassed after the expending the energy required to knock off Baylor, Kansas and Oklahoma State.
If Kansas State is capable of beating Texas Tech by double digits and Baylor is losing at home to Oklahoma State, it just confirms that any game between Big 12 games -- regardless of where it's played -- can swing in the underdog's favor.
Amongst the trees ??#KStateMBB x @NijelPack24 pic.twitter.com/D6qncQ5RDf

- K-State Men's Basketball (@KStateMBB) January 15, 2022
Winner: Arkansas gets it done with Keith Smart coaching
Arkansas has been impossible to predict this season. It started 9-0, then lost five of six, which included an embarrassing loss to Hofstra. Then, it struck back with a 44-point drubbing of Missouri on Wednesday. So which version of the Razorbacks would show up Saturday at No. 12 LSU with coach Eric Musselman back at home due to shoulder surgery? Winning on the road against a one-loss Tigers' squad seemed like a tall order, but they got it done by closing the game on a 17-2 run for a 65-58 win.
It was a much-needed victory for the Razorbacks, who had slipped to No. 85 in the NET rankings entering Saturday's action. First-year assistant Keith Smart, a native of Baton Rouge, Louisiana, filled in for Musselman, and the former longtime NBA assistant and head coach picked up his first college win in style.
Someone was in the recliner all day, until this... @EricPMusselman @RazorbackMBB #WPS pic.twitter.com/bSeVCPo4rG

- Danyelle Musselman (@DanyelleSargent) January 15, 2022
Winner: Texas A&M's gaudy record improves
Missouri's misery continued Saturday as the Tigers fell to 7-9 (1-3 SEC) after squandering an 11-point second half lead. While Mizzou's turn for the terrible following an NCAA Tournament appearance last season is an attention-grabber, the real story here may be Texas A&M. The Aggies (15-2, 4-0) have now won eight straight entering a Wednesday home showdown with No. 18 Kentucky. It's been a relatively easy schedule for the Aggies so far this season, and that gaudy record will be put to the test against the Wildcats. But they should be entering with plenty of confidence considering it's been over a month since they've lost.
Loser: West Virginia gets exposed
West Virginia entered Saturday's game at No. 8 Kansas with an identical record as the Jayhawks. Both were 13-2 (2-1 Big 12), but it was pretty clear who the better team was Saturday. On a day when the underdogs had a lot of success elsewhere in the Big 12 and around the country, the Mountaineers' defense was exposed in the Jayhawks' 85-59 victory. After going nine straight games without allowing an opponent to reach 75 points, KU scored 85 on West Virginia.
The game was billed as a battle of the Big 12's top scorers in KU's Ochai Agbaji, who is the Big 12's leading scorer, and WVU's Taz Sherman, who is No. 2. But Sherman scored a season-low 5 points, while Agbaji went for 20. Perhaps most impressive for Kansas, though, was its interior play. Read more on that here.
???? @Ballin25Braun with the NO LOOK DIME@KUHoops is firing on all cylinders in the second half pic.twitter.com/oHwNMv4Coq

- FOX College Hoops (@CBBonFOX) January 15, 2022
Winner: Duke's frontcourt dominates
The front court tandem of Paolo Banchero and Mark Williams and Mark Williams led the way for No. 8 Duke with a combined 40 points on 17 of 23 shooting in the Blue Devils' 88-73 win over NC State. Reserve center Theo John also added 10 points on 4 of 4 shooting for the Blue Devils, who dominated on the interior as after missing Wednesday's win over Wake Forest with an illness.
Loser: Michigan State misfires
No. 10 Michigan State's nine-game winning streak came to an end Saturday, when Northwestern upset the Spartans 64-62 on the road. The Wildcats (9-6, 2-4 Big Ten) were without leading scorer Pete Nance due to an ankle injury but got 18 points from Ryan Young, who entered the staring lineup in Nance's absence.
Michigan State's Malik Hall missed a potential game-winning 3-pointer, and the Spartans' Marcus Bingham Jr. drew a foul in the ensuing scrum that gave the Spartans a chance to force overtime. But Bingham missed the front end of a 1-and-1 to doom MSU's chances. Julius Marble led the Spartans (14-3, 5-1) with 18 points on 7 of 7 shooting. But his teammates combined to shoot just 34.1%, and the Spartans totaled 17 turnovers versus just 10 for Northwestern.
"This is no surprise," Michigan State coach Tom Izzo said. "We've been living on borrowed time. There is no surprise to this. We were playing very well until we started to think we're an offensive team."
Perhaps the loss was no surprise to Izzo, but it was to oddsmakers who had Northwestern pegged as a 9.5 point underdog.
That ?????? ?????? ???????????????? feeling.

CC: @NUMensBball pic.twitter.com/3EDmzKkjwR

- Big Ten Network (@BigTenNetwork) January 15, 2022
Loser: Louisville fading fast
After starting ACC play 4-0, Louisville appears to be headed nowhere fast. The Cardinals lost their third straight on Saturday with a 65-53 loss at Pittsburgh. Louisville (10-7, 4-3 ACC) shot 33% from the floor as it dropped its second double-digit game to an ACC bottom feeder in a four-day span. Pittsburgh (7-10, 2-4) entered the day ranked No. 191 in the NET. The Cardinals lost 79-63 at home against NC State on Wednesday. Given the lack of quality teams in the ACC, Louisville's ability to build an at-large NCAA Tournament resume may be shot already.
Winner: Marquette soars through controversy
Marquette began the season 5-0 with eye-catching wins over Illinois, Ole Miss and West Virginia before losing six of its next nine games to fade from relevance. But since starting Big East play 0-3 in Big East play, the Golden Eagles have been the hottest team in the conference and one of the hottest in the country.
Their winning streak reached four games Saturday with a dramatic 73-72 victory over No. 20 Seton Hall that featured a controversial ending. Marquette guard Greg Elliott drew a foul with 1.8 seconds left while attempting a shot at the top of the key while guarded by Seton Hall's Bryce Aiken. It appeared that Aiken caught an elbow to the face from Elliott on the play, but it was Aiken who was called for the foul. Elliott hit one of the ensuing free throws as Seton Hall coach Kevin Willard reacted with rage toward the officiating crew.
Controversial as the ending may have been, it goes down as another victory for first-year Marquette coach Shaka Smart The Golden Eagles are now 12-6 (4-3 Big East). Saturday's win marked the first of six straight games against Big East foes in this week's AP Top 25 for the Golden Eagles. Seton Hall (11-5, 2-4) can expect to fall from the polls on Monday.
Uh oh... ????
@GE3__ draws a foul with 1.2 seconds left for @MarquetteMBB. Did the referee's get it right? pic.twitter.com/TDcA6fSeqX

- FOX College Hoops (@CBBonFOX) January 15, 2022
Loser: Memphis collapses
Memphis led East Carolina 70-60 with just over two minutes remaining and appeared destined for a bounce-back victory after losing at UCF on Wednesday. Then, the Tigers collapsed in truly catastrophic fashion as ECU finished the game on a 12-1 run capped by a game-winner at the buzzer from Brandon Suggs. The Tigers (9-7, 3-3 AAC) began the season ranked No. 12 and briefly rose to No. 9 following a 5-0 start. Since then, it's been one reality check after the other for coach Penny Hardaway and a program that has nothing to show for landing the nation's No. 1 recruiting classes in both 2019 and 2021.
Building an at-large NCAA Tournament resume won't be easy for Memphis at this point since the AAC offers few chances to pick up quality wins. Reaching 20 wins for a fifth straight season seems like a more reasonable goal for Memphis than reaching the NCAA Tournament for the first time since 2014.
PIRATES WIN!!!!!!! pic.twitter.com/5zxWgtYHdK

- ECU Men's Basketball (@ecubasketball) January 15, 2022
Article Copyright © 2022 The Associated Press, All Rights Reserved.