Dallin Hall rallies BYU to victory over No. 17 San Diego State
Sat, Nov 11, 2023
NCAAB News (AP)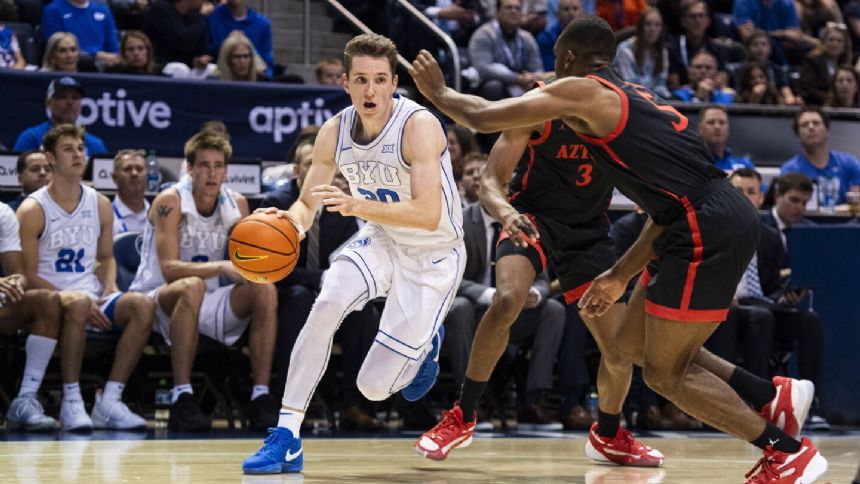 PROVO, Utah (AP) - Dallin Hall scored 16 of his 18 points in the second half to lead BYU to a 74-65 victory over No. 17 San Diego State on Friday night.
Jaxson Robinson, Richie Saunders and Fousseyni Traore each finished with 12 points for the Cougars and Traore grabbed a team-high eight rebounds as BYU earned just its fifth victory over an AP Top 25 opponent in coach Mark Pope's tenure.
"I feel like it gives us an idea of where we're at," Hall said. "I don't think it affects our confidence. A lot of people have been counting us out from the start of the year and that's never fazed us."
Hall and Trevin Knell combined for three 3-pointers to fuel a 9-0 run that gave BYU a 57-50 lead with 5:30 left.
Micah Parrish cut the deficit to two on back-to-back baskets, but the Aztecs were unable to draw closer. Hall made a pair of free throws and followed with a pair of baskets to help boost BYU's lead to 66-57 with 2:34 remaining.
Hall, who is working his way back from a knee injury, played for 25 minutes.
"We're supremely confident in him," Pope said. "This is who he is. He's a really special player. He was a special player last year as a freshman, which is really hard to do."
Jaedon LeDee led San Diego State with 21 points and seven rebounds and Reese Waters chipped in 15 points.
Keeping BYU off the glass proved to be a chore for the Aztecs. The Cougars outrebounded San Diego State 42-32.
"We got to be almost perfect to win on the road," Aztecs guard Lamont Butler said. "Rebounding is definitely going to be a focus in film when we watch again and we're going to try to not let that happen (again)."
The Cougars missed 13 of their first 17 shots as they struggled to create a consistent rhythm against a stifling Aztec defense.
Once Robinson got going, however, San Diego State struggled to cool off the Cougars.
BYU took its first lead midway through the half, going up 17-15 on Robinson's 3-pointer that capped a 7-0 run. Robinson then made back-to-back baskets to fuel a 10-0 run that put the Cougars up 29-20.
The Aztecs went 5 1/2 minutes without making a basket late in the first half. They missed seven straight shots and committed four turnovers in that stretch.
"It was hard-fought. It was close. They made some timely plays," San Diego State coach Brian Dutcher said.
BYU outscored San Diego 42-9 in bench points. Hall, Robinson, and Saunders - three of the Cougars' top four scorers - did not start. Hall and Robinson combined for six of BYU's 10 3-pointers.
"Everyone had a moment where they really stepped up," Hall said.
The Aztecs were thin on bench depth because of injuries to rotation players Miles Byrd and Demarshay Johnson, Jr.
BIG PICTURE
San Diego State: Prolonged scoring droughts and a lack of depth put the Aztecs in a tough position. San Diego State has some work to do to reach a similar level it enjoyed a season ago when it reached the national championship game.
BYU: The Cougars combated stretches of poor shooting by crashing the boards and forcing turnovers. It gave BYU a taste of what will be required to be successful in its first Big 12 season.
UP NEXT
San Diego State: Hosts Long Beach State on Tuesday.
BYU: Hosts Southeastern Louisiana on Wednesday.
___
AP college basketball: https://apnews.com/hub/ap-top-25-college-basketball-poll and https://apnews.com/hub/college-basketball
"
Article Copyright © 2023 The Associated Press, All Rights Reserved.