Dart runs for 2 TDs, throws for a third, as No. 17 Ole Miss pulls away to beat Georgia Tech 48-23
Sun, Sep 17, 2023
NCAAF News (AP)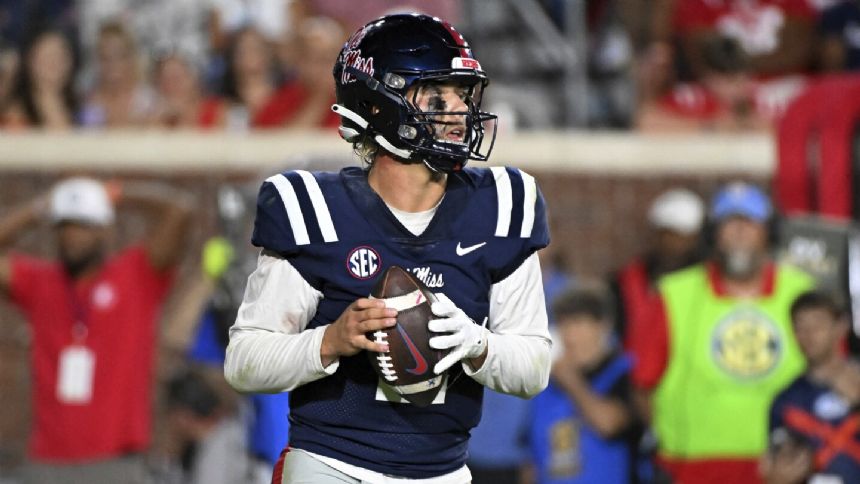 OXFORD, Miss. (AP) - Jaxson Dart ran for two touchdowns and threw for another as No. 17 Mississippi pulled away in the final 10 minutes to defeat Georgia Tech 48-23 on Saturday night.
Ole Miss (3-0) needed a 45-yard field goal from Caden Davis, a 68-yard touchdown reception by Jordan Watkins from Dart and a 1-yard run by Quinshon Judkins to seal the win after Georgia Tech pulled within 24-17 with 10:31 remaining.
Dart finished 10 of 18 passing for 251 yards and added 14 rushes for 136 yards. He scored on runs of 1 and 6 yards as the Rebels accounted for 550 total yards of offense, 341 in the second half.
Georgia Tech (1-2) was led by Haynes King, who was 28 of 41 passing for 310 yards and two touchdowns. Trailing 24-3, King had a 1-yard scoring run and a 15-yard scoring pass to Eric Singleton Jr. to pull within 24-17. He added a late touchdown pass of 14 yards to Avery Boyd.
Other news
Mississippi player sues coach Lane Kiffin, school for lack of support during mental health crisis
No. 17 Mississippi hosts Georgia Tech trying to avoid becoming latest SEC team to fall
No. 17 Ole Miss hosts King and Georgia Tech, eager to reverse SEC troubles against ACC teams
The Rebels played without leading receiver Tre Harris, who sustained a knee injury in last week's win over Tulane. Harris, a Louisiana Tech transfer, had five touchdown receptions in two starts, including a school record four scores in the opening win over Mercer.
Judkins, who was listed as doubtful, played despite being limited during practice all week with midsection discomfort. He finished with 13 carries for 37 yards rushing including the fourth-quarter scoring run.
Ulysses Bentley and Matt Jones scored on runs of 21 and 36 yards.
DECISIVE DOUBLE PLAY
Ole Miss got two big plays in the kicking game. In the first quarter, Zxavian Harris blocked a 43-yard field goal attempt and Ole Miss followed with a touchdown drive of 34 yards, capped by a 1-yard run from Dart for a 10-0 lead.
In the third period, Georgia Tech failed on a fourth down pass from punt formation, as Ole Miss took over at the Georgia Tech 28-yard line. Five plays later, Dart scored on a 6-yard run for a 24-3 lead.
THE TAKEAWAY
Georgia Tech: Defensive tackle D'Quan Douse had nine tackles, including one for loss. The rebuilding work of Brent Key provided a much better performance than last year's embarrassing 42-0 home loss. Despite a 1-2 start, improved Georgia Tech has the look of an ACC spoiler with realistic hopes of postseason play.
Ole Miss: The Rebels avoided getting caught looking ahead to Saturday's SEC opener at No. 10 Alabama. That is followed by consecutive home games with No. 14 LSU and Arkansas.
POLL IMPLICATIONS
The No. 17 Rebels remain the fifth highest ranked of six SEC teams in the Top 25 poll. Pending an upset of higher ranked SEC teams, Ole Miss is not expected to receive a strong upwards push. That would change with a road win at No. 10 Alabama next week.
UP NEXT
Georgia Tech: A two-game road trip concludes at Wake Forest on Saturday.
Ole Miss: The No. 17 Rebels visit No. 10 Alabama in an SEC West Division showdown on Saturday.
___
AP college football: https://apnews.com/hub/college-football and https://apnews.com/hub/ap-top-25-college-football-poll
"
Article Copyright © 2023 The Associated Press, All Rights Reserved.