Falcons bench Ridder, announce Heinicke as starter against Vikings
Wed, Nov 1, 2023
NFL News (AP)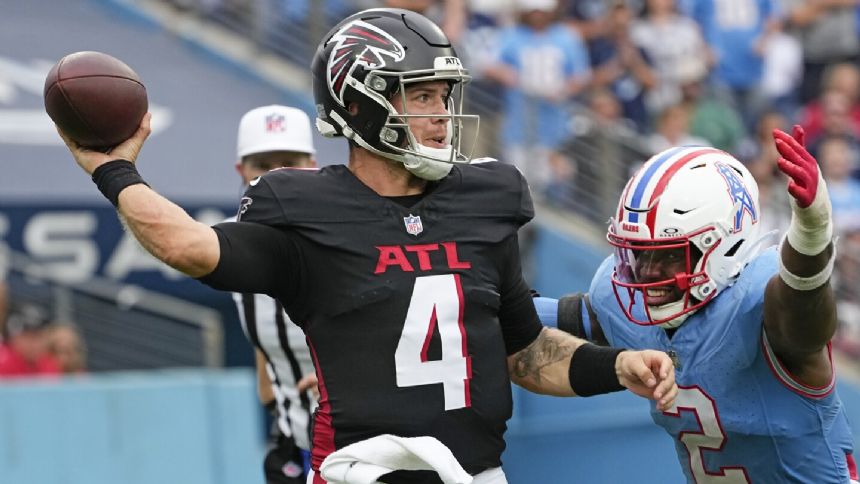 FLOWERY BRANCH, Ga. (AP) - Taylor Heinicke has moved past turnover-plagued Desmond Ridder as the Atlanta Falcons' starting quarterback for Sunday's game against the Minnesota Vikings.
Coach Arthur Smith said Wednesday the decision to start Heinicke was made "with all the variables considering everything." Smith would not commit to Heinicke keeping the job past Sunday.
"Really our focus is short term and what gives us the best chance for Sunday," he said.
Heinicke took over in the second half of last week's 28-23 loss at Tennessee. At the time, Smith insisted that benching Ridder was not a performance-based move. Ridder was evaluated for a concussion and the second-year quarterback remained on the sideline after being cleared.
Other news
Tyreek Hill voted the No. 1 wide receiver in AP's NFL Top 5 rankings
Cousins has surgery on his torn Achilles tendon. Vikings have yet to reveal a return timetable
Tyreek Hill and A.J. Brown are setting their sights on the NFL receiving record
Smith said Wednesday that Ridder is "clear and available" and will be Heinicke's top backup against the Vikings.
Ridder continued to be plagued by turnovers and the offense struggled in the first half against Tennessee. He was sacked five times and lost another fumble - his 10th turnover in the past five games - against the Titans. The Falcons managed only 89 total yards, 35 net passing yards and five first downs in the first half with Ridder.
Heinicke led the Falcons on four scoring drives - two touchdowns and two field goals - while completing 12 of 21 passes for 171 yards.
Ridder, a third-round draft pick from Cincinnati, has completed 65.4% of his passes, going 157 of 240 for 1,701 yards with six touchdowns and six interceptions.
Heinicke, 30, signed a $20 million, two-year deal with the Falcons on March 14. It was a homecoming for Heinicke, who was born in Lawrenceville and played at Collins Hills High School in the Atlanta suburbs. He started 24 games the last two seasons with Washington.
___
AP NFL: https://apnews.com/hub/NFL
CHARLES ODUM I cover Atlanta pro sports and college sports in Georgia.
twitter
mailto
"
Article Copyright © 2023 The Associated Press, All Rights Reserved.