Falcons' Smith reinstates Ridder as starting QB for key NFC South game against Saints
Mon, Nov 20, 2023
NFL News (AP)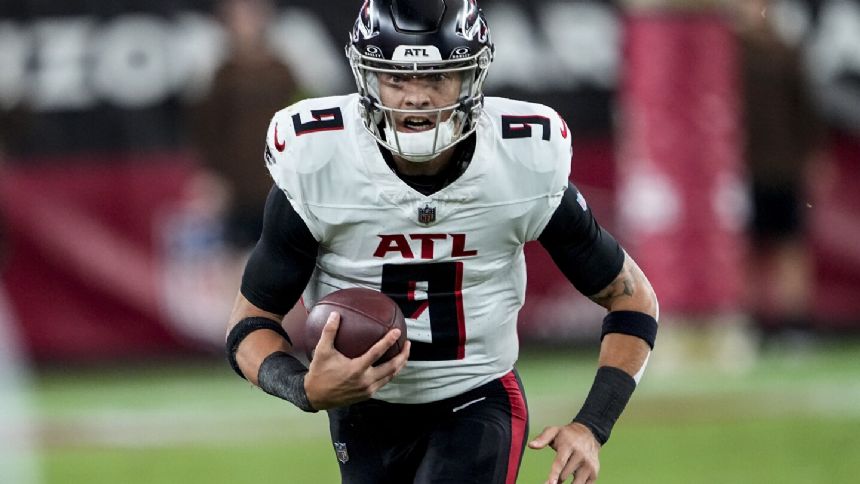 FLOWERY BRANCH, Ga. (AP) - The Atlanta Falcons returned from their bye facing a must-win game against NFC South rival New Orleans.
Coach Arthur Smith says Desmond Ridder gives the Falcons their best chance to win on Sunday and for the remainder of the season.
As expected, Smith reinstated Ridder as the starter on Monday as the Falcons (4-6) try to end a three-game losing streak. Atlanta is only one game behind New Orleans (5-5), but even in the weak NFC South, another loss would be difficult to overcome.
The Falcons were 4-4 with Ridder as the starter, but the second-year quarterback was benched because of his inability to avoid turnovers and sacks. Taylor Heinicke started the last two games but suffered a hamstring injury in Atlanta's 25-23 loss at Arizona on Nov. 12.
Other news
Another losing season may be testing the patience of Panthers owner David Tepper
Seahawks believe QB Geno Smith should make it back in time for Thursday's game vs. 49ers
49ers safety Talanoa Hufanga will miss the rest of the season with a knee injury
Heinicke was not available for Monday's practice, but Smith said the decision to name Ridder as the starter was "absolutely" intended to last the remainder of the season and was not based on Heinicke's health.
"We have a lot of confidence in Des and think the last couple of weeks he has handled it really well with a lot of things going on," Smith said. "I think the reset has been very beneficial for him."
Ridder impressed Smith with his play in a backup role against Arizona, including his 9-yard run for a touchdown late in the game. Ridder lost three fumbles, including one on a similar run near the goal line, in a 16-13 win at Tampa Bay on Oct. 22.
Smith said Ridder made good use of his time observing from the sideline in the past two games and in the bye week. The key was Ridder's performance against Arizona.
"We assessed everything coming off the bye," Smith said. "Des did a nice job coming back in the game and gave us a chance. We thought he gives us the best chance, and on top of that Taylor won't practice this week. We'll assess at the end of the week and see what (Heinicke's) role will be on Sunday."
Logan Woodside would be Ridder's backup against the Saints if Heinicke is not active.
The Falcons have lost four of five games. Turnovers were part of the problem, including Ridder's six interceptions and seven fumbles.
The turnovers appeared to affect Ridder's confidence. He has been sacked 25 times, including five in his last start, a 28-23 loss at Tennessee on Oct. 29.
Smith said he saw Ridder's confidence restored in his relief role against Arizona.
"He's done a lot of good things," Smith said. "I think clearly you could see, everybody who was there and watched Arizona, how prepared he was and played very confident and said he wanted the ball in his hands. We had a lot of confidence in Desmond before."
___
AP NFL: https://apnews.com/hub/NFL
CHARLES ODUM I cover Atlanta pro sports and college sports in Georgia.
twitter
mailto
"
Article Copyright © 2023 The Associated Press, All Rights Reserved.