Family ties have created a valuable recruiting pipeline for No. 18 Utah
Tue, Oct 31, 2023
NCAAF News (AP)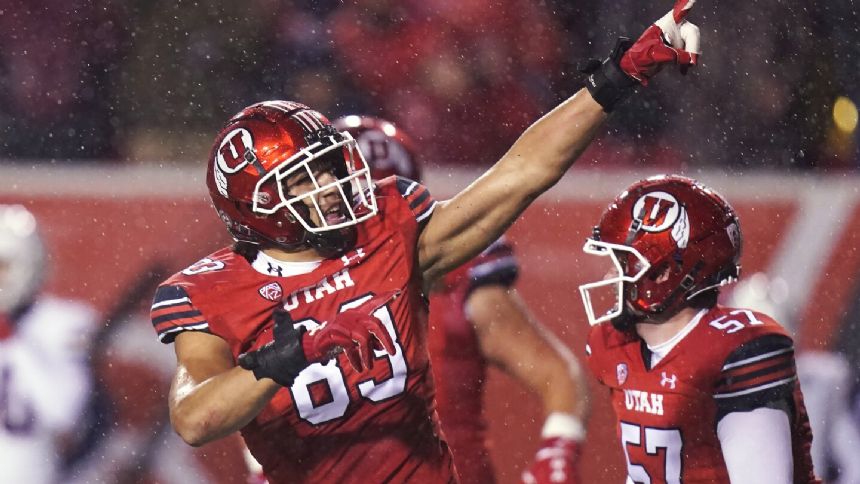 SALT LAKE CITY (AP) - Family ties run deep within the Utah football program.
Many key playmakers for the No. 18 Utes this season are following in the footsteps of relatives who were also standouts for Utah during their own college careers. These talented bloodlines have turned into valuable recruiting pipelines that have shaped the Utes into perennial Pac-12 title contenders.
"Now we're recruiting (kids) of players I coached," coach Kyle Whittingham said. "That really shows how old I'm getting. But I view that as a positive and I hope it continues."
One of those former stars Whittingham coached is helping him guide the next generation of Utes.
Other news
Nighttime becomes the right time for November football in the Big Ten, like it or not. Bundle up
Ohio State RB Miyan Williams lost for the season due to injury. WR Emeka Egbuka (ankle) practicing
Just once have the initial College Football Playoff rankings matched the actual playoff field
Luther Elliss earned consensus All-America honors as a senior at Utah in 1994 while helping lead his team to the first 10-win season in school history. He later spent 10 seasons in the NFL, becoming a two-time Pro Bowl selection with the Detroit Lions. Now Elliss is tutoring his son Jonah as his position coach on the defensive line.
Jonah Elliss has thrived under his father's tutelage. He leads the Pac-12 with 10 sacks and 83 sack yards. Elliss made a point of studying his father's old game films and using him as a role model for how he plays defense.
"Watching his games in the past, he dominated every single play," Elliss said. "That's something that's really stuck with me this year, and I try to apply to my game, is winning every single play. It's really out of my control where the ball goes but I give 100% every play."
Elliss said he has learned helpful nuances from his father, like how to avoid errant movements and missteps in his pursuit of opposing quarterbacks and running backs. He has also learned how to bolster his conditioning, leading to improved stamina this season.
"Being able to run around and not get tired - just flying around - really allows me to make plays," Elliss said. "That's probably the biggest thing I'm happy about for myself. Go without thinking and just play ball. I'm not overthinking it."
Lander Barton has taken a similar approach, incorporating what he learned from his older brothers while watching them play at Utah. Both siblings eventually played in the NFL. Cody Barton is a starting linebacker with the Philadelphia Eagles. Jackson Barton has had stints as an offensive lineman with five different NFL teams over the past five seasons.
They left big shoes for their younger brother to fill. Lander Barton is doing his best to chart his own course through the program.
"I was definitely familiar with the culture going into my first season, but I try not to think too much about my brothers' history here," Barton said. "I'm here to make my own name for myself."
Creating a name for himself hasn't been a problem.
Before suffering a season-ending injury against USC, Barton registered 34 tackles, three pass breakups, two interceptions and a forced fumble. He also had 46 tackles, eight tackles for loss, 4.5 sacks, and a forced fumble as a freshman last season.
His brothers, Barton said, have been a valuable resource in helping him blossom quickly into a dominant linebacker.
"Being a little kid and watching them through their careers, I've been able to see things I can do myself to help me be a better player," Barton said. "It's been awesome."
Beyond Barton and Elliss, other key contributors for Utah this season have family connections within the football program.
Tevita Fotu is the younger brother of Arizona Cardinals nose tackle Leki Fotu. The elder Fotu started at the same position during his final two seasons at Utah. Tevita Fotu has made two starts at defensive tackle as a redshirt sophomore this season, registering four tackles and a pass breakup.
Spencer Fano and Logan Fano are the nephews of Tenny Palepoi, who played for the Utes from 2012-13 before spending five seasons in the NFL. Spencer Fano is a starting offensive lineman for Utah as a freshman. Logan Fano, a BYU transfer, made three starts at defensive end and had 14 tackles, four tackles for loss and two forced fumbles before his season was cut short by an injury suffered against Oregon State.
___
AP college football: https://apnews.com/hub/college-football and https://apnews.com/hub/ap-top-25-college-football-poll
"
Article Copyright © 2023 The Associated Press, All Rights Reserved.