Florida's Napier provides little insight into latest special teams gaffe for reeling program
Tue, Nov 7, 2023
NCAAF News (AP)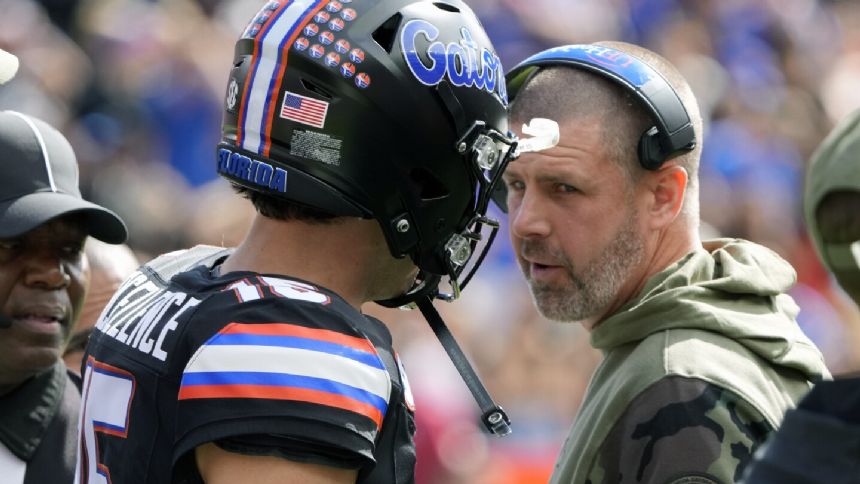 GAINESVILLE, Fla. (AP) - Billy Napier insisted he would "get to the bottom" of one of the most egregious sideline screwups in Florida football history.
So he talked to everyone involved, dug in on what went wrong and vowed to never let it happen again, right?
Not quite.
"I think ultimately we made a mistake there," Napier said Monday.
Other news
USC's lack of progress on defense compelled Lincoln Riley to fire coordinator Alex Grinch
Jalen Green, No. 21 James Madison's sack master, lost for season with knee injury
Ex-college football staffer shared docs with Michigan, showing Big Ten team had Wolverines' signs
That part was indisputable. Two days later, Napier provided little insight and even less clarity about his team's special teams gaffe in crunch time against Arkansas.
With the game tied at 33, Graham Mertz drove the Gators into field-goal range for a winning attempt. But after a 20-yard pass from Mertz to Arlis Boardingham got Florida to the Arkansas 21-yard line with 8 seconds left and no timeouts remaining, someone on Florida's sideline called for the field-goal unit to rush onto the field.
At the same time, the offense was lining up to spike the ball. The Gators were ultimately flagged for illegal substitution - they had roughly 17 players on the field at one point - and the penalty pushed Trey Smack's kick from 39 to 44 yards. Smack barely missed right, a slight push that probably would have been good from the pre-penalty spot.
The Gators lost 39-36 in overtime, ending a six-game home winning streak and likely preventing them from making a bowl for the first time since 2017. Florida (5-4, 3-3 Southeastern Conference) would have to win at No. 18 LSU, at 16th-ranked Missouri or against No. 4 Florida State over the next three weekends to extend its season.
"Every part of our organization is ultimately my responsibility," Napier said. "So I think it's something that we can do better. It's my job to get it done better."
Napier has failed all season to fix recurring special teams issues, a damning look for a former Sun Belt coach who is making more than $7 million a year to rebuild the Gators. He's 11-11 in two seasons and has at least part of the fan base questioning whether he's a viable long-term solution in Gainesville.
His play-calling acumen has been under attack most of the year. His hiring of 30-year-old defensive coordinator Austin Armstrong looks suspect of late, with the Gators giving up 39 or more points in three straight games for the first time since 1917. And his special teams structure might be scrutinized more that anything else.
Napier does not use any of his 10 on-field assistants as a dedicated special teams coordinator. Instead, he allows analyst Chris Couch, who worked for Napier in a similar role at Louisiana-Lafayette, to organize the units.
Couch has been criticized so often that he deleted a social media account weeks ago, and his wife has been outspoken about some of the hate directed at the family. Among the complaints:
- The units also have been penalized repeatedly, including once in the season opener for having two guys wearing the same number. That one allowed Utah to turn a punt into a first down. The Utes promptly scored.
- Florida has since missed four field goals and an extra point, and had a punt blocked for a safety against top-ranked Georgia.
- The Gators also failed to have 11 men on the field for a special-teams situation at least five times this season, including once against the Razorbacks.
The mounting miscues have overshadowed any positive strides special teams have made.
"Look, we can do it better," Napier said. "It's pretty simple: Get 11 out there. Pretty simple."
Added defensive back Devin Moore: "I have trust in the coaches and our special teams and our offense that we'll get that situation handled for sure, and it won't happen again."
Napier said after the Arkansas game that "we have a player that's in charge" of communicating to the sideline when the field-goal unit should run onto the field. He said the player misheard the signal and erroneously called for the field goal.
Napier tried to clear that up Monday, to little avail.
"It's not a player's decision," he said. "For anyone to equate that or write that or think that would be inaccurate. Ultimately, one of the players is in charge of that unit, much like the quarterback when the offense takes the field.
"He calls the play and sets the cadence, and we can take the field. That's always a coaching decision."
___
AP college football: https://apnews.com/hub/college-football and https://apnews.com/hub/ap-top-25-college-football-poll
"
Article Copyright © 2023 The Associated Press, All Rights Reserved.