Gibson scores 22 as DePaul surprises No. 8 Xavier 73-72
Wed, Jan 18, 2023
NCAAB News (AP)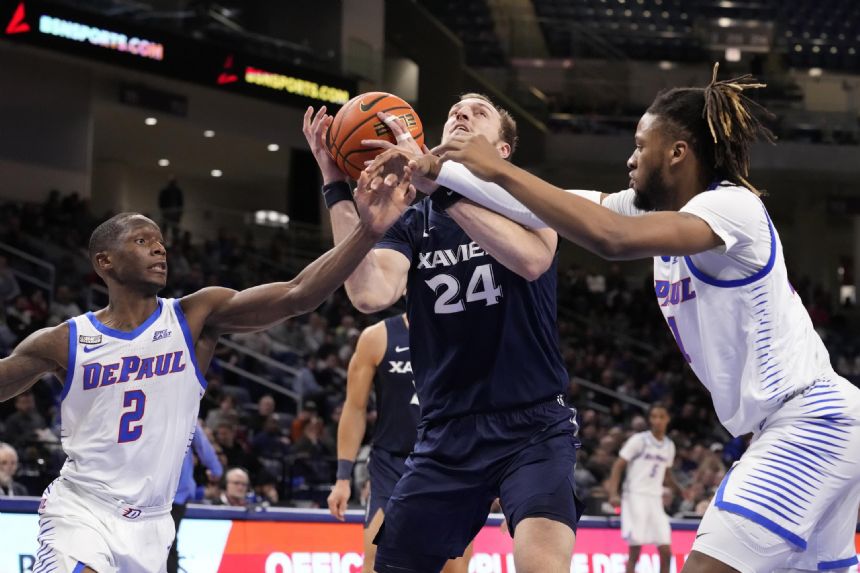 CHICAGO (AP) - Umoja Gibson scored 22 points, Javan Johnson added 16 and DePaul surprised No. 8 Xavier 73-72 on Wednesday night.
The Musketeers (15-4, 7-1 Big East) came in rolling with 11 straight wins - their best run since the 2015-16 team got off to a 12-0 start. But they came up short against the Blue Demons (9-10, 3-5).
DePaul led by seven with about eight minutes remaining and made just enough plays to come away with its first win over a top-10 team since beating No. 5 Butler exactly three years earlier at Wintrust Arena.
Xavier led 70-68 lead after a twisting layup by Adam Kunkel with 1:43 remaining. DePaul's Eral Penn answered with a three-point play, but missed the front end of a one-and-one with a minute to play.
Zach Freemantle put Xavier back on top, 72-71, when he made two free throws with 46 seconds remaining. But Da'Sean Nelson answered with a layup to put DePaul ahead 73-72 with 28 seconds left.
Souley Boum then missed a layup, leading to a scramble and jump ball, giving DePaul possession with 2.4 seconds remaining. That sealed the Blue Demons' first win over a ranked opponent since beating No. 21 Xavier on Feb. 5, 2022.
Gibson made five 3-pointers, and Johnson hit three from beyond the arc. Nelson scored 10, and the Blue Demons won for the second time in three games.
Freemantle had 18 points and 12 rebounds for Xavier. Jack Nunge finished with 16 points and 13 rebounds. But Big East scoring leader Souley Boum scored a season-low four.
Coming off a loss to Seton Hall after beating Villanova last week, DePaul led 64-57 with 7:49 remaining after Caleb Murphy hit a pull-up jumper. But Xavier reeled off seven straight, tying it on Freemantle's layup off a turnover by the Nelson.
Gibson scored 17 in the first half and Johnson added 14 points for DePaul, including a 3 from the wing just before the buzzer that sent the Blue Demons to the locker room leading 45-40.
They were up 31-26 when Xavier went on a 10-2 run that Jerome Hunter finished with a dunk, making it 36-33 with 3:39 left in the half. Gibson then put DePaul back on top with a four-point play.
It was tied at 40 in the closing minute when DePaul's Eral Penn made two free throws. Boum missed a driving layup before Johnson nailed a 3 to give the Blue Demons a five-point halftime lead.
BIG PICTURE:
Xavier: This had the makings of a trap game for the Musketeers and they fell into it. They shot just 38% overall and made 4 of 20 3s.
DePaul: The Blue Demons had the touch from the outside, making 9 of 20 3-pointers.
UP NEXT
Xavier: Hosts Georgetown on Saturday.
DePaul: Visits No. 22 Providence on Saturday.
___
AP college basketball: https://apnews.com/hub/college-basketball and https://apnews.com/hub/ap-top-25-college-basketball-poll and https://twitter.com/AP_Top25
Article Copyright © 2023 The Associated Press, All Rights Reserved.