Griffis throws for 2 TDs as Wake Forest beats Vanderbilt 36-20 in game delayed two hours
Sat, Sep 9, 2023
NCAAF News (AP)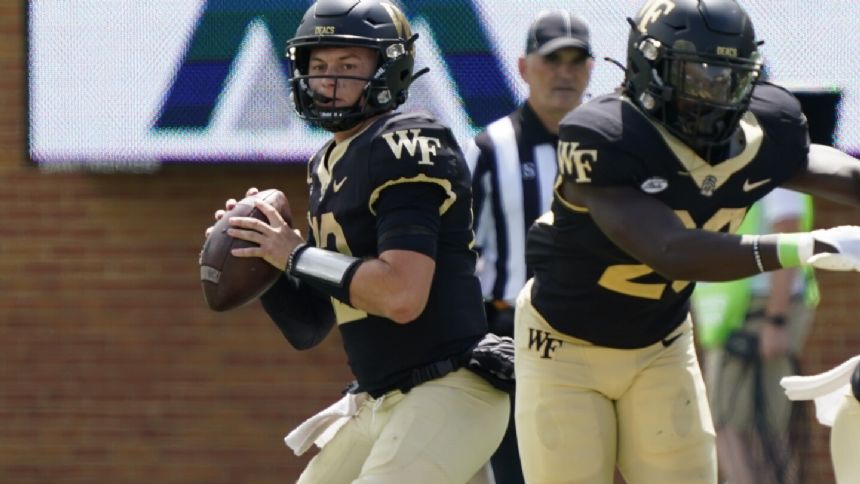 WINSTON-SALEM, N.C. (AP) - Mitch Griffis threw for 196 yards and two touchdowns, Brendon Harris returned a fumble 31 yards for a touchdown against his former team, and Wake Forest held off Vanderbilt 36-20 on Saturday in a game delayed two hours by lightning.
Wake Forest (2-0) seemed in danger of squandering a 10-point lead before Harris capped the game's most-critical play by scooping up a fumble by Vandy punt returner Will Sheppard and running uncontested into the end zone. Walker Merrill caused the fumble with a hit after Sheppard had taken a few strides after making the catch.
Prior to Harris' TD, Vandy (2-1) had scored on Sheppard's 10-yard catch on a pass from AJ Swann to cut the lead to 17-14, and the Commodores' defense then quickly forced the Demon Deacons to punt.
Harris, a Nashville, Tennessee native and hometown recruit for the Commodores, spent four years at Vandy, including a redshirt season, before the safety transferred to Wake before last season.
Other news
Vanderbilt is going for its 1st 3-0 start since 2017 in a trip to Wake Forest
Swann throws 2 TD passes to Sheppard, Vanderbilt beats Alabama A&M 47-13
Vanderbilt Commodores have chance to start 2-0 for 2nd straight season
Vandy threatened to pull within a touchdown in the third quarter, but Wake stopped a fourth-down play at its 1-yard line. The Wake offense later wasted a deep drive when Tate Carney fumbled before crossing the goal line.
Demond Claiborne rushed for 165 yards on 26 carries and Carney added 117 yards on 13 carries.
Swann threw for 314 yards passing on 26-of-39 attempts with three TDs and two interceptions. Patrick Smtih rushed 77 yards on 10 carries.
THE TAKEAWAY
Though Wake Forest never trailed, mistakes were especially costly for Vandy, including two on Harris' pivotal TD return. Swann threw two interceptions, including an early deep pass that was returned 40 yards by Malik Mustapha to set up an early Wake field goal. Wake also cashed in with a Carney TD run after a pass interference penalty provided a first down on a third-and-18 play. On the punt that produced Harris' TD, Vandy committed a running-into-the-kicker penalty that would have left the Deacons with 4th-and-1 at their own 34.
UP NEXT
Vanderbilt plays at UNLV on Saturday.
Wake Forest travels to Norfolk, Virginia for a game with Old Dominion on Saturday.
___
AP college football: https://apnews.com/hub/college-football and https://apnews.com/hub/ap-top-25-college-football-poll
"
Article Copyright © 2023 The Associated Press, All Rights Reserved.