Hartman throws 4 TDs to lead No. 20 Notre Dame to 45-7 win over his former team Wake Forest
Sat, Nov 18, 2023
NCAAF News (AP)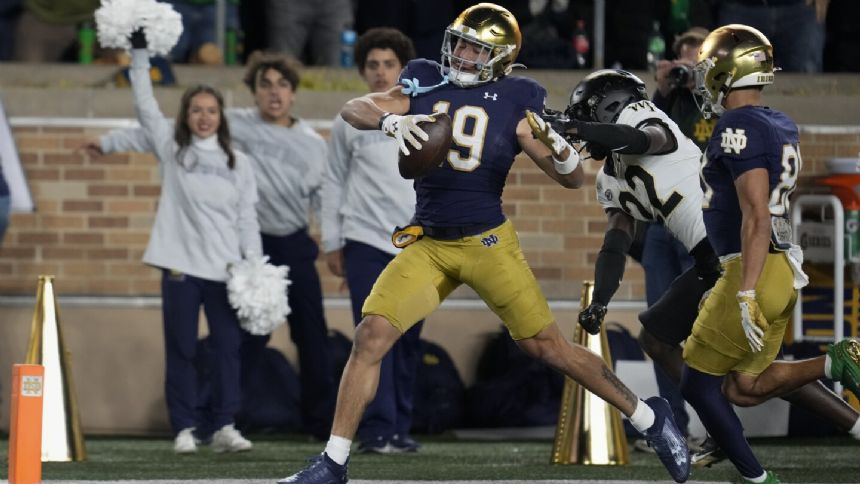 SOUTH BEND, Ind. (AP) - Sam Hartman tormented his former team, passing for 277 yards and four touchdowns to lead No. 20 Notre Dame to a 45-7 win over Wake Forest on Saturday.
Notre Dame (8-3) improved to 6-0 all-time vs. Wake Forest (4-7).
Transferring from Wake Forest to Notre Dame for the 2023 season, Hartman leads all active FBS quarterbacks in career touchdowns (132) and passing yardage (15,516).
Hartman moved into fourth place on the all-time NCAA career TD list with his four-TD performance against Wake Forest. He passed Colt Brennan (Hawaii, 2005-2007), Rakeem Cato (Marshall, 2011-2014) and Baker Mayfield (Texas Tech/Oklahoma, 2013, 2015-17), who were all tied with 131.
Other news
TCU can still get bowl eligible after 42-17 win over Baylor with 2 TDs each from Wiley and Bailey
Fowler-Nicolosi throws 2 touchdown passes and Colorado State defeats Nevada 30-20
Appalachian State ends unbeaten run by No. 18 James Madison 26-23 in overtime
Hartman is now two TDs behind Graham Harrell (Texas Tech, 2005-2008), who is third with 134. Case Keenum (Houston, 2007-2011) is the all-time leader with 155, followed by Kellen Moore (Boise State, 2008-2011) at 142.
Forging much of his legacy as the signal-caller for Wake Forest, Hartman owns Demon Deacon records for career completions, attempts, total touchdowns and total yards. One of six players in FBS history to surpass the 15,000-yard mark for passing, Hartman added to his prolific career numbers at the expense of his former team.
Notre Dame smacked Wake Forest with successive big plays in the opening minute of the second half to take command.
Wake Forest received the opening kickoff to start the third quarter, but on the second play of the drive Fighting Irish linebacker J.D. Bertrand forced a fumble by Wake Forest quarterback Michael Kern. The ball was pounced on by Notre Dame defensive tackle Rylie Mills at the Demon Deacons' 19.
Hartman only needed one play to fire his third passing TD of the game, connecting with Eli Raridon for a 19-yard scoring play as the Fighting Irish grabbed a 24-7 lead. His fourth TD pass of the game was a 48-yard strike to Jaden Greathouse with 13:24 left in the fourth quarter.
Fighting Irish back-up quarterback Steve Angeli finished off the Irish assault with a 17-yard TD pass to Jordan Faison with 3:56 left in the game.
Hartman got the Notre Dame offense on track late in the first quarter. He guided the Fighting Irish 71 yards in nine plays, connecting with Devyn Ford for a 12-yard TD strike to put Notre Dame ahead 7-0 with :54 left in the first quarter.
Wake Forest answered with a nine-yard scoring run by Tate Carney that evened the score at 7-7 with 11:41 left in the second quarter.
Hartman launched his second touchdown pass - 35 yards to Tobias Merriweather - to give Notre Dame a 14-7 advantage at the 7:06 mark of the second quarter.
Spencer Schrader's 37-yard field goal in the final seconds of the first half pushed the Notre Dame lead to 17-7 at halftime.
Notre Dame running back Audric Estime rushed for 115 yards on 22 carries and 1 TD.
Estime surpassed the 1,000-yard mark for the season on his 2-yard TD run in the third quarter.
Kern got his first start for Wake Forest after replacing Mitch Griffis during last week's 26-6 loss to North Carolina State. He was 11-of-20 for 81 yards.
UP NEXT
Wake Forest: The Demon Deacons close out the 2023 campaign at Syracuse on Saturday, Nov. 25.
Notre Dame: Notre Dame travels to the West Coast to play Stanford on Saturday, Nov. 25.
___
AP college football: https://apnews.com/hub/college-football and https://apnews.com/hub/ap-top-25-college-football-poll
"
Article Copyright © 2023 The Associated Press, All Rights Reserved.