Holloway, Broome lead Auburn past Notre Dame 83-59 in Legends Classic
Fri, Nov 17, 2023
NCAAB News (AP)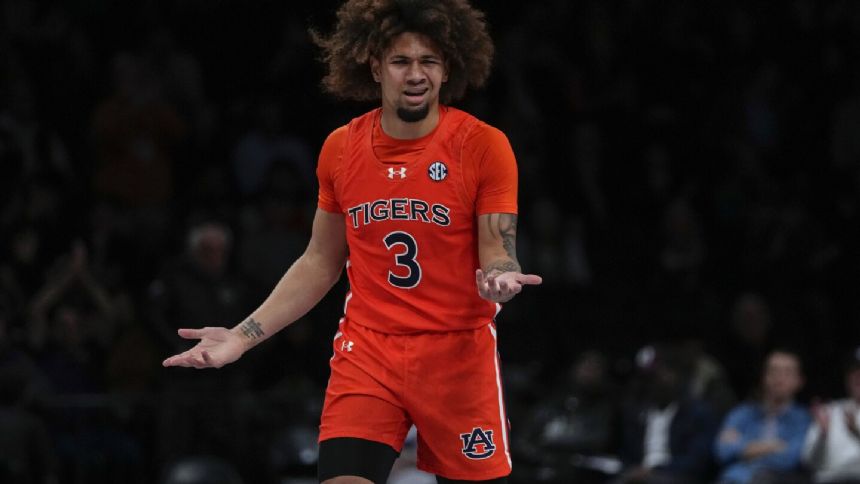 NEW YORK (AP) - Aden Holloway scored 15 points, including seven in a 13-0 run to start the second half, leading Auburn to an 83-59 win over Notre Dame in the Legends Classic on Thursday night.
Jaylin Williams scored 11 points and Chris Moore and Tre Donaldson had 10 each for the Tigers.
J. R. Konieczny scored 20 points with 11 rebounds for the Irish. Tae Davis added 13 points, Markus Burton had 12 and Braeden Shrewsberry 10.
Holloway, a freshman making his first start, ignited the game-changing surge with a 3-pointer and Johni Broome, who also had 15 points, followed with a dunk before Holloway converted a four-point play. When Chaney Johnson hit a jumper the Tigers led 52-33.
Other news
Cryer has 18 points to lead No. 6 Houston to 65-49 victory over Towson at the Charleston Classic
Tyrese Hunter scores 18 points, powers No. 19 Texas past Rice 80-64
UC Irvine leads the entire 2nd half and upsets No. 16 Southern California 70-60
Auburn shot 13 of 19 (68%) in the second half and led 70-47. Auburn ended up 9 of 20 from 3-point range and 31 of 58 (53%) overall.
Notre Dame missed all 13 of its 3s and shot 22% (6 of 27) after halftime.
The game at the Barclays Center was the first-ever between the two schools.
It wasn't until the last 90 seconds that the Irish made consecutive baskets and that was after a string of 10-straight misses, a drought of eight minutes.
Broome had eight points, six in a 9-0 run that put Auburn up 11-2, and when Holloway hit his second 3, the Tigers led 34-19 with less than four minutes before halftime. But Shrewsberry had eight points, including a pair of 3s, and Burton added two jumpers, allowing the Fighting Irish to close within 39-33 at the half.
Auburn (2-1) will play St. Bonaventure on Friday trying to duplicate its 2019 Legends Classic championship.
Notre Dame (1-2) plays Oklahoma State, which lost to the Bonnies 66-64 in the third-place game on Friday.
__ Get poll alerts and updates on AP Top 25 basketball throughout the season. Sign up here ___ AP college basketball: https://apnews.com/hub/ap-top-25-college-basketball-poll and https://apnews.com/hub/college-basketball
"
Article Copyright © 2023 The Associated Press, All Rights Reserved.