House scores 29, Lobos beat No. 23 San Diego State 76-67
Sat, Jan 14, 2023
NCAAB News (AP)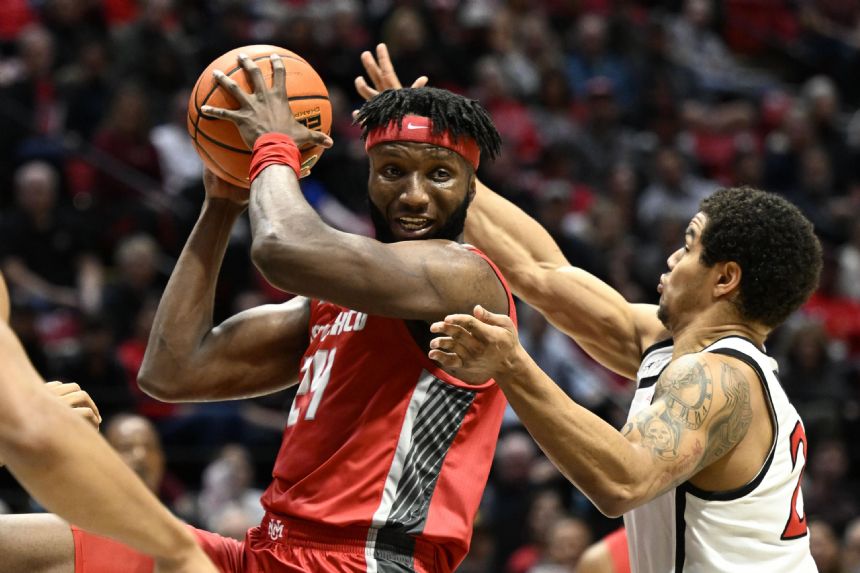 SAN DIEGO (AP) - Jaelen House scored 29 points, including three clutch 3-pointers down the stretch, and Jamal Mashburn Jr. had 22 for the spirited New Mexico Lobos, who used a 12-0 run to take control in beating No. 23 San Diego State 76-67 on Saturday night.
House, who played better the more he was booed by the home crowd, had 10 points during the 12-0 run that gave the Lobos a 60-49 lead, and 13 points in a span of about three minutes.
Morris Udeze had 10 points and 15 rebounds, and Javonte Johnson had 10 points for the Lobos (16-2, 3-2 Mountain West). The Lobos fell out of The Associated Press Top 25 after two losses last week while the Aztecs jumped back into the poll.
Matt Bradley scored 14, Adam Seiko 13 and Keshad Johnson 10 for the Aztecs (13-4, 4-1), who had their six-game winning streak snapped.
SDSU was leading 49-48 when Nathan Mensah was whistled for his fourth foul, and then hit with a technical foul for reacting angrily and appearing to make a move toward a referee before a teammate stepped in. House made both free throws and then hit a 3-pointer for a five-point possession and a 53-49 lead.
Mashburn made a jumper and House made a 3-pointer and another jumper for a 60-49 lead with 6:01 to go. SDSU's Micah Parrish made one of two free throws to end New Mexico's run before House made another 3-pointer for a 63-50 lead.
House was whistled for a technical with about five minutes to go for staring at the crowd.
The Aztecs pulled within four points before Udeze scored inside. Mashburn hit a jumper and two free throws in the final 1:20.
Mashburn and Udeze led the Lobos to a 38-28 halftime lead before the Aztecs tightened their defense and caught up seven minutes into the second half. Keshad Johnson scored six points for the Aztecs early in the second half and Parrish's putback tied it at 45.
The Lobos twice led by 11 points in the first half.
BIG PICTURE
New Mexico: The Lobos had been the last undefeated team in the nation before losing at Fresno State on Jan. 3. They're 2-1 since.
San Diego State: The Aztecs went from having perhaps their best first half of the season in a 74-65 win against Nevada on Tuesday night to having one of their worst. The Aztecs allowed the Lobos to shoot 48.5% while making only 37.5% of their shots in the first 20 minutes. The Aztecs made just one of seven free throws.
UP NEXT
New Mexico hosts San Jose State on Tuesday night.
San Diego State visits Colorado State on Wednesday night.
___
More AP college basketball: https://apnews.com/hub/college-basketball and https://apnews.com/hub/ap-top-25-college-basketball-poll and https://twitter.com/AP_Top25
Article Copyright © 2023 The Associated Press, All Rights Reserved.