It's a Super Bowl rematch with superstar power as the Eagles visit the Chiefs on Monday night
Thu, Nov 16, 2023
NFL News (AP)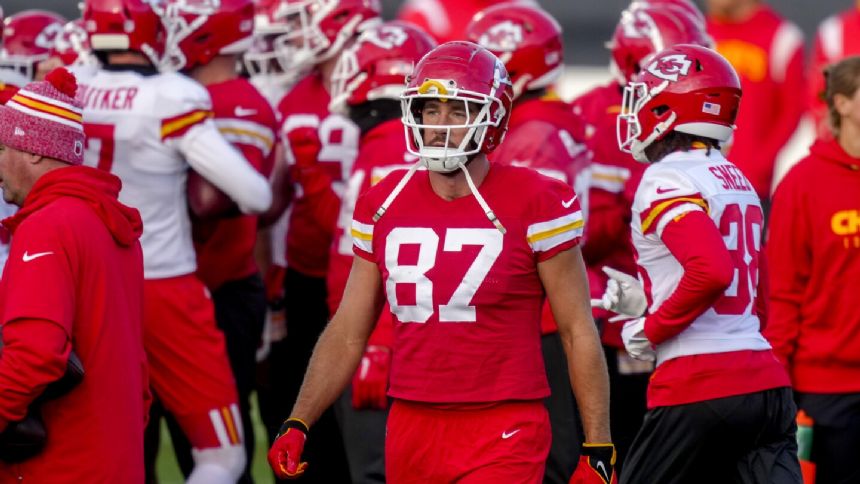 KANSAS CITY, Mo. (AP) - The storylines are ripe for the choosing when the Philadelphia Eagles visit the Kansas City Chiefs on Monday night.
Favor some good, old-fashioned revenge? The NFC-leading Eagles (8-1) will try to exact some when they visit Arrowhead Stadium just nine months after the AFC-leading Chiefs (7-2) used a second-half rally to beat them in the Super Bowl.
Love seeing some points? Eagles quarterback Jalen Hurts and Chiefs counterpart Patrick Mahomes, the MVP of that memorable February showdown, have you covered. They're the triggers behind two of the league's top 10 offenses.
Hankering for some history? Andy Reid can pass Hank Stram as the winningest Chiefs coach, and become the first to hold that distinction with two different franchises; the other just happens to be Philadelphia.
Other news
Vikings and Broncos square off in matchup of teams on heaters after slow starts
Baltimore CB Marlon Humphrey is inactive for the matchup with Cincinnati because of a calf injury
After QB change, Browns will lean on their top-ranked defense against Steelers in AFC North matchup
How about social intrigue, the kind at the intersection of sports and entertainment? Eagles center Jason Kelce and younger brother Travis Kelce will match up one more time. And this time, rumors are flying that pop superstar Taylor Swift, who has been seeing the Chiefs tight end for the past couple of months, could be bringing her parents to meet his for the first time.
"It's going to be a great game. You've got great teams in general," Mahomes said. "Jalen is a great quarterback but I think just the whole entire team on both sides - two teams that usually find a way to get a win, playing on Monday Night Football in front of the whole world. I think it's going to be a great game."
Given the circus surrounding it, the game itself almost seems like an afterthought.
One with important ramifications, though.
The teams are coming off a relatively late bye, which has freshened them up for the back half of the season. And while both currently hold the No. 1 seed in their respective conferences, and the lone playoff bye that comes as the reward, the standings are tight enough that the Eagles and Chiefs need to keep winning if they want to earn a postseason week off.
They know that is the easiest way to get back to the game that matters the most.
"Our job is to get prepared for this game," said Eagles coach Nick Sirianni, who along with Reid could not help but look at video of their Super Bowl showdown this week, and certainly had a much different experience while doing it.
"What happened in the past, happened in the past," Sirianni continued. "We'll learn from our mistakes. We'll get better from the things we did well. But I would be lying if I didn't say, 'Argh, if this would have happened or that would have happened,' once in a while. But we're not dwelling on it."
BIG RED ON A BYE
Reid is so proficient at winning after a week off - he is 31-6 after a bye, including the postseason - that many coaches have tried to get some tips from him. But not even Reid can pinpoint the reasons behind his remarkable record, which includes a 13-1 mark during 14 regular seasons in Philadelphia and a 9-3 record in postseason games.
"I get asked that because we've had success," Reid said, "but we just go play. I don't know. We've had good players."
INJURY UPDATES
While the Chiefs come into the game healthy, the Eagles have had to adapt to some injuries. Defensive back Bradley Roby could be back after missing time with a shoulder strain, linebacker Nakobe Dean went on injured reserve this week after hurting his foot against Dallas, and star tight end Dallas Goedert is out after breaking his forearm in the same game.
"Anytime you lose a player to Dallas Goedert's capabilities, you have to compensate," Sirianni said, "and it's never just one guy's responsibility to take all the brunt of that work. It'll be by committee."
KINGS OF THE CLOSE GAMES
The Chiefs are 4-1 in games decided by fewer than 10 points, which falls in line with their ability under Reid to win the close ones. Philadelphia is 5-1 in games decided by a touchdown or less. Both are coming off close wins before their bye with Kansas City beating Miami 21-14 in Germany and Philadelphia beating Dallas 28-23.
CONFIDENT CHRIS
Chiefs defensive tackle Chris Jones, who ended his holdout in Week 1 and promptly had at least one sack in each of his first five games, has been held without a sack since. But Reid defended the All-Pro this week, pointing out that the attention Jones demands has allowed others on the defensive line to make plays.
"I'm going to hit my numbers regardless," Jones added. "I'm not going to trip over my numbers."
OH, AND ABOUT TAYLOR
Travis Kelce spent part of his week off flying to Buenos Aires to watch Swift resume her Eras Tour, and video of the 12-time Grammy winner embracing the Chiefs tight end at the side of the stage blazed across social media. She was due to perform on Sunday night in Brazil, then does not perform again until Nov. 24, making it possible for her to make kickoff.
Swift is a noted Eagles fan, by the way, which is causing some consternation. The hosts of the "Bex and Buster" show on Q102 in Philadelphia have even "been forced to punt" her from their popular playlist until after the game.
___
AP NFL: https://apnews.com/hub/NFL
"
Article Copyright © 2023 The Associated Press, All Rights Reserved.