Jaguars embarrassed and humbled in a 34-3 loss to 49ers that ended a 5-game winning streak
Sun, Nov 12, 2023
NFL News (AP)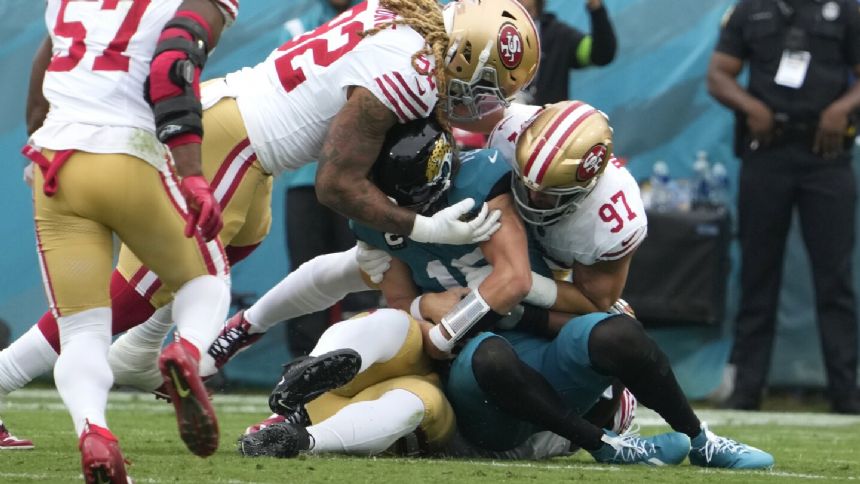 JACKSONVILLE, Fla. (AP) - The Jacksonville Jaguars entered the week as the NFL's hottest team, winners of five in a row.
They were brimming with confidence, eager to show what they could do against a Super Bowl contender.
It was a perfect stage for them to shine. Instead, they flopped.
The Jaguars (6-3) failed to score a touchdown for the second time this season at home and scored their fewest points in coach Doug Pederson's two seasons. In short, they were downright embarrassed in a 34-3 loss to the San Francisco 49ers on Sunday.
Other news
Will Levis looks like a rookie, struggles against pass rush in Titans' loss to Buccaneers
Steelers defense takes another major hit with loss of LB Kwon Alexander to "serious" leg injury
Kyler Murray leads game-winning drive in return from ACL injury as Cardinals beat Falcons 25-23
Trevor Lawrence had three turnovers and was sacked five times. Christian Kirk fumbled and misfired a pass that was open for a big play. Travis Etienne, Calvin Ridley and Evan Engram were mostly non-factors.
And the ball-hawking defense failed to get a takeaway and was gashed for a season-high 437 yards.
"It's terrible. It's one of the worst games I've probably played in my career," Lawerence said. "We couldn't do anything right, but you got to flush it, too. It (stinks), but the reality is that a 31-point loss is the same as a three-point loss.
"We have got to move on. ... There's not much good to take from this one."
It may have been telling, though.
The Jaguars feasted on takeaways in their six wins, but they looked pedestrian without any. And an offense that seemed a little broken, but still manageable for most of the season really fell apart against a dominant defense.
Lawrence now has more turnovers (10) than touchdown passes (9).
"They know what they're doing, and they did it well today," Pederson said while crediting the 49ers. "For us, we're still trying to get there. I told the team, 'We haven't done anything here. We're trying to be like that. We're trying to have that consistency.'
"This will be in some ways good for our players, a little bit of a wakeup call quite honestly, myself included. Coaches, players, we all have to think about what are we willing to give up these next eight games so we don't do this again. I think our players will rebound."
Jacksonville hosts AFC South rival Tennessee (3-6) next Sunday. The Jaguars have lost three of four at EverBank Stadium this season, hardly the sort of home-field advantage they want.
This one turned on errors.
Kirk made three of them. He overthrew Etienne on a trick play in the second quarter, let a punt bounce that ended up getting downed at the 1-yard line on the ensuing possession and then fumbled in the red zone in the third quarter.
The incompletion and fumble were costly.
Kirk took a pitch from Engram and had Etienne wide open down the sideline. He led him way too far and ended up getting Etienne hit by Charvarius Ward. Kirk immediately shouldered blame for the overthrow.
He did the same with the fumble at the 6-yard line. Ambry Thomas stripped the ball out of Kirk's grasp as he was fighting for extra yards.
"You can't do that," Kirk said. "You've got to hold onto the ball. ... We can't expect to be a good football team when we're turning over the ball, especially in the red zone."
Kirk still led the team with six catches for 104 yards.
Even worse than Kirk's miscue was rookie Tank Bigsby's dropped pass that resulted in an interception. Bigsby let a ball slip through his hands for the second time this season. Both resulted in picks.
Bigsby now has four turnovers in 29 touches this season. He has carried 26 times for 59 yards, a 2.3 yards-per-carry average.
He's not the only one struggling, either. The good thing for the Jaguars is they won enough games early to give them a little margin for a game such as this. But they can't make it a habit.
"It's not an eye-opener. We know the type of team we're capable of being," linebacker Foye Oluokun said. "I was telling the boys late in the fourth, 'Thank God it happened.' We're ready to go, but should've been ready to go from the bye.
"But the NFL will humble you. It's about how you finish the season. Let's finish the right way, starting off tomorrow."
___
AP NFL: https://apnews.com/hub/nfl
"
Article Copyright © 2023 The Associated Press, All Rights Reserved.