Kenny Pickett is eyeing consistency as Steelers' homestand ends with a visit from Packers
Thu, Nov 9, 2023
NFL News (AP)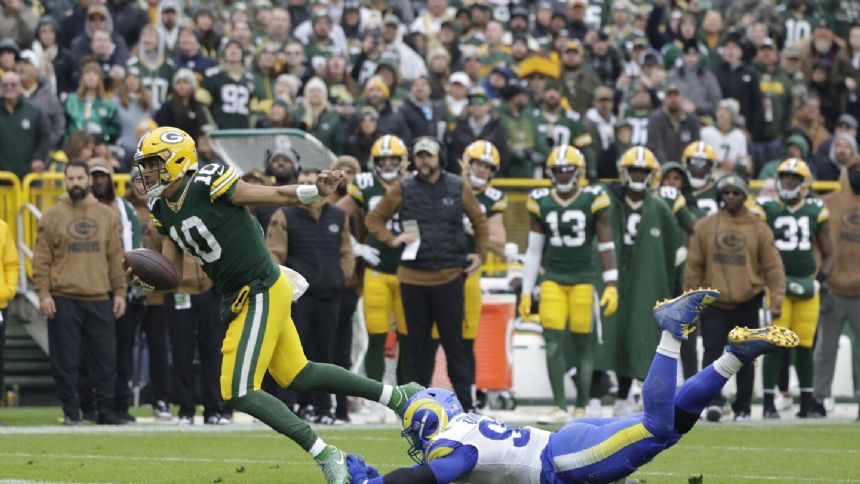 PITTSBURGH (AP) - The Kenny Pickett the Pittsburgh Steelers drafted - the swaggy, sublimely confident and ultra-competitive quarterback who practically willed the University of Pittsburgh to an ACC title two years ago - is not always the Kenny Pickett that takes the field.
Not yet anyway.
More than a full season into Pickett's career as an NFL starter, he remains very much a work in progress. At least during the game's first three quarters, when consistency, accuracy and rhythm seem elusive.
Things change over the final 15 minutes. The happy feet he sometimes displays in the pocket calm. The touch that can temporarily abandon him returns. And his quarterback rating - and the results - skyrocket.
Other news
Struggling Buccaneers defense faces another rookie QB, hosting Will Levis and the Tennessee Titans
Patriots meet Colts in Germany looking to remain unbeaten in regular-season international games
The Chiefs' offense is more fizzle than sizzle. But their defense has kept them atop the AFC
"He's awesome in the fourth quarter," Steelers coach Mike Tomlin said. "Man, he rises up in those moments."
The key for Pittsburgh (5-3) if it wants to stay in the middle of the hotly contested AFC North race is finding a way to have whatever magic Pickett summons in the final frame expand to the first three quarters. He'll get another chance Sunday when Green Bay (3-5) visits Acrisure Stadium.
"It's consistency," Pickett said. "We've shown that we can do it, but we don't do it consistently through those quarters where the lead could've been much greater heading into that fourth, where we didn't have to win it in the fourth."
Not that it has mattered. Four of Pittsburgh's five victories this season have come in games it has trailed heading into the fourth. Yet the Steelers keep finding a way to survive when things get tight thanks to one of the most opportunistic defenses in the league and a quarterback who only truly looks like a franchise cornerstone when he absolutely has to.
It beats the alternative.
"As long as you find ways to win, that's all that matters," Pickett said.
The same goes for Green Bay first-year starter Jordan Love, who rebounded from five largely listless performances by throwing for 228 yards with a touchdown and no picks against the Rams last Sunday.
Like Pickett, Love oversees an offense that has trouble getting going. Unlike Pickett, however, Love has often been a factor in his team's struggles. The win over Los Angeles was Love's first game without an interception since Week 2. And now he faces a defense that is third in the NFL in takeaways (16).
"They do a good job of creating some chaos and getting those turnovers and that's the key for us is to not let that happen in this game," Love said.
PICKENS' PLIGHT
Steelers wide receiver George Pickens downplayed the idea that he was frustratedafter beating Tennessee, even though cameras caught him seemingly sulking after teammate Diontae Johnson's go-ahead touchdown in the fourth quarter.
Maybe, but there's little doubt Pickens wants to be more involved after being limited to three catches for 21 yards over the last two games after averaging 4.5 receptions for 82.5 yards over Pittsburgh's first six contests.
"He's an unbelievable player," Pickett said. "Moving him around, having him do some different things, not being a sitting target where they can count on him being in one place is a start."
RELYING ON ROOKIES
With the NFL's youngest roster, the Packers have been relying quite a bit on their rookie class. Those rookies will try to build on the momentum they established against the Rams.
Tight end Luke Musgrave scored his first career touchdown and Anthony Johnson Jr. got his first interception in that game. Carrington Valentine had three passes defensed, and defensive lineman Karl Brooks had two more. Anders Carlson went 2 of 3 on field-goal attempts. Lukas Van Ness had a tackle for loss. Dontayvion Wicks lost a fumble, but also had four catches for 49 yards. Emanuel Wilson had a 31-yard run.
Jayden Reed had just three catches for 19 yards in that game, but he has a team-high 333 yards receiving this season.
HANDLING THE RUN
Run defense has been one of Green Bay's biggest weaknesses throughout Matt LaFleur's five-year coaching tenure, but the Packers have stepped up in that regard the last couple of weeks.
The Packers gave up just 62 yards on 31 carries in a 24-10 loss to the Minnesota Vikings on Oct. 29. They followed that up by allowing 68 yards on 26 carries in their victory over the Rams.
CANADA ON THE MOVE
Pittsburgh offensive coordinator Matt Canada will be on the sideline for a second straight game. The club moved Canada from the coach's box in an effort to provide Canada with a different perspective and allow for more collaboration. The early results were promising. The Steelers ran for a season-high 166 yards and scored an opening-drive touchdown for the first time this season.
"The reviews were positive," Tomlin said. "And so, we'll continue to work in that area. And we'll probably continue to turn other things over in an effort to continue to improve."
___
AP Sports Writer Steve Megargee in Green Bay contributed.
___
AP NFL: https://apnews.com/hub/NFL
"
Article Copyright © 2023 The Associated Press, All Rights Reserved.