Lionel Messi and Luis Suarez face off in World Cup qualifying. Brazil could field teenager Endrick
Tue, Nov 14, 2023
Soccer News (AP)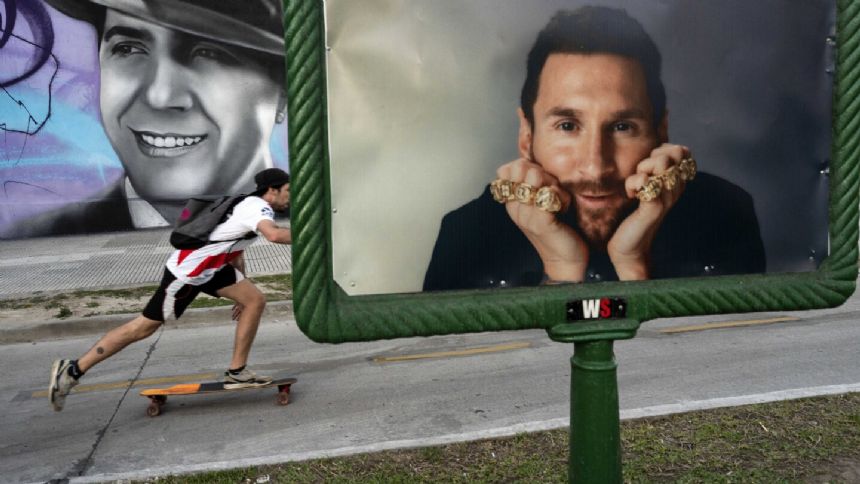 SAO PAULO (AP) - Lionel Messi and Luiz Suarez, close friends and former teammates at Barcelona, will renew their on-the-field rivalry on Thursday in World Cup qualifying.
Messi, who appears to have recovered from a muscle injury in his leg, led Argentina to its third World Cup title last year and has his team in first place in the South American qualifying group for the 2026 tournament. The 36-year-old Suarez has just returned to Uruguay's national team as he nears the end of a high-scoring season in the Brazilian league.
The Argentines will take on two-time World Cup champion Uruguay at La Bombonera Stadium in Buenos Aires.
Also Thursday, Brazil will travel to face Colombia in Barranquilla as it tries to recover from a home draw with Venezuela and a loss at Uruguay in its previous two qualifying matches. Brazil coach Fernando Diniz, who recently won the Copa Libertadores with Fluminense, could use teenager Endrick after calling him up for the first time.
Other news
Chelsea's Emma Hayes formally named coach of the US women's team but she won't take over until May
Israeli soccer team captain displays shoe of kidnapped child ahead of qualifying match in Hungary
Juventus extends Fagioli's contract until 2028 despite midfielder's ban for betting violations
Argentina leads the 10-team South American qualifying group with 12 points from four matches. Uruguay, Brazil and Venezuela have seven points each and are separated by goal difference. Colombia has six points, while Ecuador, Paraguay and Chile have four each. Peru has one point and Bolivia has zero.
The next World Cup in the United States, Mexico and Canada will include 48 teams, meaning direct entry for the top six teams in South America. The seventh-place team will contest an intercontinental playoff for a berth.
ARGENTINA vs. URUGUAY
Messi will likely be playing his last two matches of the calendar year against Uruguay and then Brazil next week at the Maracana Stadium. The eight-time Ballon d'Or winner finished his season with Inter Miami on Oct. 21.
Suarez, a teammate of Messi at Barcelona from 2014-20, will return to Uruguay's national team for the first time under coach Marcelo Bielsa. The veteran striker earned his place despite knee pain, which he doesn't hide during every match for Brazilian club Gremio.
Both Argentina and Uruguay are expected to qualify for the next World Cup, but Messi and Suarez are not guaranteed to be with their national teams in 2026.
Argentina left back Nicolas Tagliafico, however, is hoping Messi will stay in the mix if the team defends its Copa America title next year in the United States.
"If we win, I think he might extend it a little more. If we didn't win the World Cup in Qatar, he would leave. But he did it and wants to enjoy it," Tagliafico told newspaper La Nacion. "If we win Copa America, I am certain that will be an incentive for Leo to continue."
COLOMBIA vs. BRAZIL
Endrick, who is set to join Real Madrid in January, is expected to get some playing time at Colombia.
The 17-year-old forward is likely to join Vinicius Junior and Rodrygo - both already playing for Madrid - up front.
Casemiro and Neymar, two of Brazil's key players in recent years, are out with injuries.
Brazil has had a tough time winning in Colombia in recent World Cup qualifying campaigns, and facing Argentina in the next match on Tuesday could make it more difficult.
"We know that Brazil versus Argentina is a different match because of it all," Brazil midfielder Bruno Guimaraes said Tuesday at the team's training ground in Teresopolis. "We have a big focus on Colombia, it is a tough and physical match. We are giving due attention to Colombia and then we will give it to Argentina."
Colombia will field a recovered Luis Diaz, who on Tuesday was reunited with his father. Luis Manuel Diaz Jimenez was kidnapped by a guerrilla group in late October. He was released last week.
Also Thursday, Bolivia will face Peru, Venezuela will host Ecuador, and Chile will take on Paraguay.
___
AP soccer: https://apnews.com/hub/soccer
"
Article Copyright © 2023 The Associated Press, All Rights Reserved.